June 9, 2016
— NASA's mighty Saturn V moon rocket has just been given the "go" to launch as a LEGO toy.

The Danish toy company on Thursday (June 9) announced that it is starting production of a fan-designed model of the historic booster, which launched the first astronauts to land on the moon.

"That's one small step for a man," declared Hasan Jensen, a community specialist at LEGO's headquarters in Billund, Denmark, repeating the famous words by moonwalker Neil Armstrong." [The designers] have built quite the testament to human exploration."

Felix Stiessen and Valerie Roche created the toy Saturn V and shared it on LEGO Ideas, a website where the public can suggest and vote for the models they would like to see be offered for sale. Once projects reach 10,000 votes, they are reviewed by LEGO.


"During the review, a team of LEGO set designers, as well as marketing and business representatives, evaluate each project to determine its potential," explained Jensen. "This involves analyzing the votes, supporters' survey data, the information that project owners give us, as well as looking at things like playability, safety, how feasible it's to produce and how the project fits within the LEGO brand."

It has taken two years for Stiessen's and Roche's Saturn V to reach LEGO's "launch pad."

First proposed as a way to celebrate the 45th anniversary of the Apollo 11 moon landing mission in 2014, the 2,300-piece Saturn V rocket model registered its 10,000th vote in November 2015. LEGO's review began in January.

"Standing approximately 1 meter tall [3.3 feet], this LEGO rocket will soon be ready for lift off," Jensen said Thursday in a video posted on LEGO Ideas' blog. "We're still working out the final product design, pricing and availability."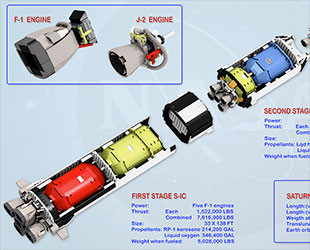 Felix Stiessen's and Valerie Roche's Saturn V includes stages that separate and detailed fuel tanks and rocket engines.
(LEGO Ideas)
"We'll share full details as the launch dates approach," he said, adding that the Saturn V (and a fan-created model of The Beatles' Yellow Submarine that was also approved on Thursday) was expected to be ready by late 2016 or early 2017.

As proposed by Stiessen and Roche (who use the screen names saabfan and whatsuptoday on LEGO Ideas), the Saturn V features stages that can be separated, detailed rocket engines and fuel tanks. The model also includes the Apollo command/service module and lunar module that the astronauts used to fly to the moon, land on its surface and return safely to the Earth.

NASA launched 13 Saturn V boosters between 1967 and 1973, including nine that flew crews to the moon and one that deployed the United States' first space station, Skylab. The towering rocket stood 363 feet tall (110 m). It remains today the tallest, heaviest and most powerful booster ever launched.

Apollo 11's Saturn V, on which Stiessen and Roche based their model, lifted off on July 16, 1969 with astronauts Neil Armstrong, Buzz Aldrin and Michael Collins on board. The model includes two spacesuit-clad LEGO minifigures and a lunar surface base for display.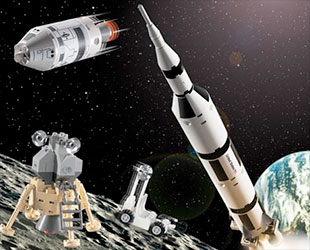 LEGO's 2003 "Saturn V Moon Mission" set included a smaller, less detailed model of the Apollo program rocket.
(LEGO/BrickLink)
The Saturn V is the fifth space exploration-themed project to receive a review on LEGO Ideas since the website was founded in 2008. Fan-created models of the Hubble Space Telescope and the International Space Station were turned down, but LEGO sold kits based on Daisuke Okubo's toy version of Japan's Hayabusa asteroid sampling probe and Stephen Pakbaz's replica of NASA's Curiosity Mars Rover in 2012 and 2014, respectively.

This will be the second Saturn V rocket LEGO has offered, though the first was significantly smaller and less detailed than the one designed by Stiessen and Roche. In 2003, as part of a kit series co-branded with the Discovery Channel, LEGO sold the "Saturn V Moon Mission," a 178-brick set that included the booster, a lunar lander, Apollo command module and moon rover.