March 2, 2016
– Scott Kelly and Mikhail Kornienko, the first astronaut and cosmonaut to log a year on the International Space Station, left a little bit – or rather a little version – of themselves on the orbital outpost before returning to Earth on Tuesday (March 1).

As revealed by their crewmate Tim Peake of the European Space Agency, Kelly and Kornienko had LEGO minifigures of themselves and their crewmates on the station, courtesy of the British astronaut.

"Farewell Expedition 46 – an honour and privilege to serve with such great crewmates," Peake wrote, sharing a photo of the LEGO crew – which in addition to Kelly, Kornienko and himself, also included minifigures of NASA astronaut Tim Kopra and cosmonauts Yuri Malenchenko and Sergey Volkov of Roscosmos.

Kelly, Kornienko and Volkov landed in Kazakhstan aboard Russia's Soyuz TMA-18M capsule on Tuesday night. Their touchdown marked the end of Kelly's and Kornienko's 340-day mission and Volkov's six months on the space station.

It also marked the end of the 46th expedition to the station. Peake, together with Kopra and Malenchenko – and their mini LEGO doppelgängers – now continue on as members of the Expedition 47 crew.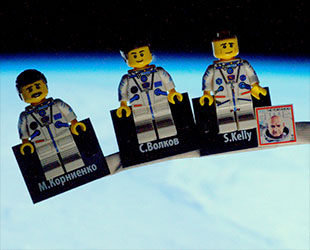 LEGO figures of the Soyuz crew that landed on Tuesday (March 1), Mikhail Kornienko (left), Sergey Volkov and Scott Kelly. Kornienko and Kelly spent a year on the space station.
(ESA/Tim Peake)
All six of the Expedition 46 LEGO minifigures are clad in the Russian Sokol pressure suits that the real crew wore to launch and land from the space station. Each features an expedition or Soyuz mission patch, the logo of their space agency, the flag of their nation and a name tag.

The minifigures were also customized to match hair styles (Kelly is bald so the minifigure exposes LEGO's trademark peg), facial hair (Kornienko's figure features his mustache) and hair color (Peake is a ginger).

Two of the crew's minifigures also include props.

LEGO Scott Kelly has a scale version of the Dec. 29, 2014 issue of TIME magazine that featured the real astronaut on its cover.

And LEGO Tim Kopra has a photo of the astronaut gifting a flown-in-space hockey jersey to Nashville Predators NHL player Pekka Rinne in March 2015.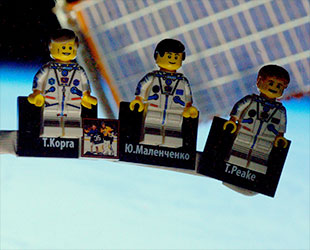 LEGO minifigures of Expedition 47 crew members Tim Kopra, Yuri Malenchenko and Tim Peake.
(ESA/Tim Peake)
The Expedition 46 crew is the second to share the orbiting laboratory with 2-inch-tall (5 cm) LEGO minifigure versions of themselves. Expedition 42 crew members Terry Virts of NASA, cosmonaut Anton Shklaperov and Italian astronaut Samantha Cristoforetti of ESA were the first to reveal their own LEGO counterparts on the station in January 2015.

In both cases, the custom LEGO minifigures were created by Minifigs.me, a UK-based toymaker.

Since 2015, the company has been offering customizable cosmonaut minifigures for sale. In December, Minifigs.me first announced they had made LEGO minifigures for their country's first "official" astronaut.

"Tim Peake asked us to make them as gifts for his fellow crew members and took them up with him," the toymakers wrote on Facebook.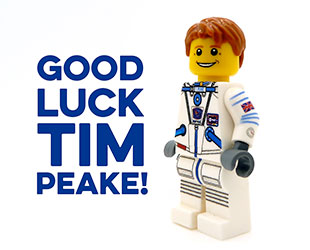 Minifigs.me's Tim Peake custom LEGO minifigure.
(Minifigs.me)
Minifigs.me has also produced LEGO minifigures modeled after Canadian astronaut Chris Hadfield and the Apollo 13 crew, together with their flight director Gene Kranz.

The LEGO Group was not involved in Minifigs.me's space-inspired or flown-in-space minifigures, although separately the Danish company has collaborated with NASA and ESA to fly its kits and figures to the space station and on board planetary probes as part of educational partnerships.