November 1, 2015
— LEGO will not be launching a model of the International Space Station, passing on the orbiting outpost as part of its most-recent review of fan-suggested and supported projects.

The company announced its decision on Friday (Oct. 30), just days shy of the anniversary of the real space station's first crew taking up residency on Nov. 2, 2000, beginning 15 years of a continuous human presence in space.

"This is usually when we happily announce which project will become the next LEGO Ideas product," stated Connie Solheim Lykke, marketing manager with the LEGO Group. "But unfortunately, I am unable to do so this time."

The LEGO Ideas website invites fans to enter designs for models using the company's iconic toy bricks, which are then open to the public to vote on and support. If a project reaches 10,000 votes in the allotted time, it is reviewed by LEGO for possible production as a commercial kit.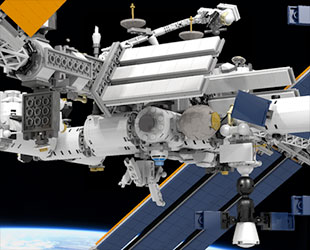 Christoph Ruge designed the space station so it could expand as the real outpost grew in orbit. This detail shot shows the Bigelow Expandable Activity Module launching in 2016.
(LEGO Ideas)
Christoph Ruge, who goes by the LEGO Ideas' username XCLD, designed a scale model of the International Space Station using slightly over 1,000 LEGO bricks. The model featured rotating solar arrays, an articulated robot arm and visiting vehicles that can dock to the complex.

"You can freely reconfigurate (sic) the station to your own ideas," Ruge wrote on his project's page, adding that his idea for the final set "might come with additional pieces to cover upcoming upgrades of the original station."

Ruge's LEGO space station was promoted by NASA and the European Space Agency on social media and reached its requisite 10,000th vote in April.

LEGO batches the projects that qualify into three annual reviews. As such, Ruge's International Space Station was considered with other fans' creations, including models of the RMS Titanic, a 1969 Corvette and a DC-3 airplane, as well as sets based on Disney's "Frozen" and the television sitcom "Golden Girls."

In total, LEGO evaluated 13 projects during its first review of 2015, including the space station.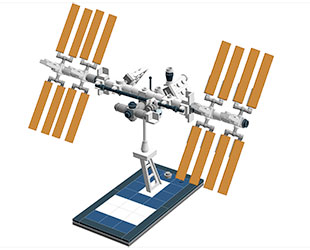 LEGO's plans aside, Christoph Ruge posted the instructions for a smaller version of his space station online.
(Christoph Ruge)
"For a number of reasons, none of the projects made it through our latest review process," Lykke said in a video announcing the results. "We are very disappointed to pass on this news, not least because we know the huge amount of effort the designers put into creating their models and campaigning for the projects."

LEGO's review considered factors including playability and fit with the toy company's brand. Although LEGO did not release why individual projects were rejected, Lykke said that some projects may have come too close to products that the LEGO Group already sells or has plans for in the future, while others may have challenged their production capability for LEGO Ideas products.

"Remember guys, when submitting a big project, it needs to fit in a box," she said.

Ruge, who while waiting for the review's results posted the instructions for ordering the parts and building a miniature version of his station, seemed to be taking the outcome in stride.

"Sad news," he wrote on Twitter, "No ISS this time."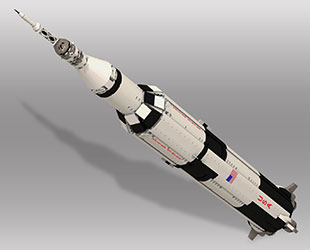 The next space history model rising up the ranks on LEGO Ideas is a scale model of the Apollo 11 Saturn V.
(LEGO Ideas/saabfan)
This was the first time LEGO passed on producing any of the projects that qualified during a single review period.

Since LEGO Ideas began in 2008, three other fan projects based on real space exploration history have qualified for review and two have been made into products.

In 2012, Daisuke Okubo's LEGO brick version of Japan's Hayabusa asteroid sample return probe was released as the second fan-created kit. Two years later, the company chose Stephen Pakbaz's model of NASA's Curiosity Mars rover as its fifth LEGO Ideas set.

The third project, Gabriel Russo's miniature of the Hubble Space Telescope, was rejected in February 2015.

Currently on LEGO Ideas, only one space-themed model has made it beyond the halfway point to 10,000 votes, a scale model of the Apollo 11 Saturn V rocket. Created by Felix Stiessen and Valerie Roche, the 3-foot-tall (1 meter) booster features rocket stages that separate, a retractable lunar module and two astronaut minifigures.