June 6, 2018
— A Russian military pilot, a U.S. physician and a German geophysicist have launched on a six-month mission to the International Space Station, where they will conduct science, perform spacewalks and... play soccer.

Roscosmos cosmonaut Sergey Prokopyev, Serena Auñón-Chancellor of NASA and Alexander Gerst of the European Space Agency (ESA) lifted off for the orbiting outpost (and sometimes football pitch) on Wednesday (June 6).

Their Soyuz FG rocket, adorned with logos celebrating the 20th anniversary of the International Space Station and the FIFA World Cup soccer (or football) competition kicking off in Russia later this month, lifted off at 6:12 a.m. CDT (1112 GMT; 5:12 p.m. local time) from "Gagarin's Start" (Site 1/5) at Russia's Baikonur Cosmodrome in Kazakhstan

Prokopyev, Gerst and Auñón-Chancellor, riding aboard the Soyuz MS-09 spacecraft, had a nine-minute climb to orbit. At the end of their ascent, a small plush doll of "Zabivaka" ("the one who scores" in Russian) – the wolf mascot of the World Cup, began to float as a zero-g indicator.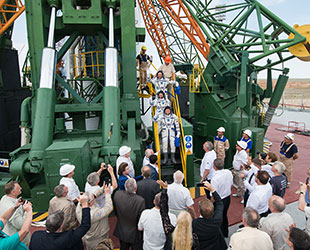 Soyuz MS-09 crewmates Sergey Prokopyev of Roscosmos, Serena Auñón-Chancellor of NASA and Alexander Gerst of ESA seen prior to boarding their rocket on June 6, 2018.
(NASA/Joel Kowsky)
The crew will orbit Earth 34 times before catching up with the space station on Friday (June 8) to dock their Soyuz at the Rassvet module at 8:07 a.m. CDT (1307 GMT). During the two-day rendezvous, the crew's call sign is "Altai."

"Everybody knows about the Altai mountains in Siberia but for some reason, my predecessors forgot about them and did not choose that call sign. I think it is an important call sign that I am happy to use," Prokopyev told collectSPACE in a pre-flight interview.

The "Altai" trio will join the space station's 56th contingent. Expedition 56 commander and astronaut Drew Feustel of NASA, Oleg Artemyev of Roscosmos and Ricky Arnold of NASA arrived at the outpost as Expedition 55 crew mates on March 23 and began Expedition 56 on Sunday (June 3) with the departure and landing of the prior crew.

Prokopyev, Gerst and Auñón-Chancellor will first serve as Expedition 56 flight engineers through early October. Then command will pass to Gerst, who will be the second ESA astronaut to lead a space station crew. Feustel, Artemyev and Arnold will depart for Earth and two new Expedition 57 crew members, Aleksey Ovchinin of Roscosmos and Nick Hague of NASA, will arrive a week later.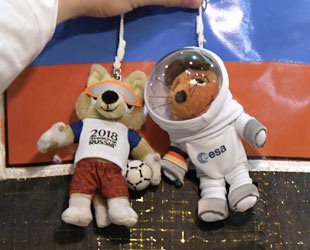 The Soyuz MS-09 zero-g indicators, including "Zabivaka" (left), the wolf mascot of the 2018 FIFA World Cup.
(RSC Energia)
The Expedition 56/57 crew members will continue work on the space station's hundreds of science experiments. They will also manage arriving and departing spacecraft ferrying supplies and science equipment from and to the ground.

"While you're on the ISS, you'll see four spacewalks, three U.S. and one Russian. You'll have six visiting vehicles; you will see a Progress, two SpaceX [Dragons], an Orbital ATK [Cygnus] and a [Japanese] HTV," Kirk Shireman, NASA's space station program manager, told the crew at their final review board before their launch. "In addition, you'll have a very robust scientific program, over 237 investigations, 81 of which have never been conducted on the International Space Station."

In their time off, the crew plans to observe and photograph Earth, share their activities on social media and even face off in a soccer match timed with the final day of the World Cup on July 15.

"We'll inflate our ball and imitate a soccer game. Imitate, of course, because we do not want to break anything," said Prokopyev at a pre-flight press conference. "Please do not think we are really going to play soccer, but we will support however we can. We support all the athletes, and I believe the whole world will enjoy watching our game."

(The recently-landed Soyuz MS-07 crew returned to Earth a regulation Telstar 18 soccer ball that will be used during the opening game of the World Cup on June 14.)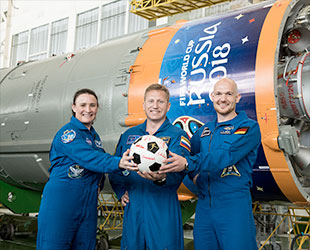 Serena Auñón-Chancellor, Sergey Prokopyev, and Alexander Gerst pose with a soccer ball in front of their Soyuz FG rocket decorated for the 2018 FIFA World Cup.
(Gagarin Cosmonaut Training Center)
Prokopyev, 43, commanded a Russian Air Force squadron prior to his becoming a cosmonaut in 2010. This is his first spaceflight.

Gerst, 42, was conducting research on volcano eruptions when he was chosen for Europe's astronaut corps in 2009. He previously spent 165 days on board the space station as an Expedition 40/41 flight engineer in 2014.

Gerst chose the name "Horizons" to represent his mission on behalf of the European Space Agency.

"Horizons are a symbol for the unknown and when I gaze at the horizon I cannot help but wonder what lies behind it. For this reason we run scientific experiments on the space station: we want to broaden our horizons as humankind," he said in an ESA statement.

Auñón-Chancellor, 42, was a NASA flight surgeon before she became an astronaut in 2009. She had been slated to make her first spaceflight on Soyuz MS-11, but was moved up to MS-09 when NASA pulled astronaut Jeanette Epps from the expedition for unstated reasons in January.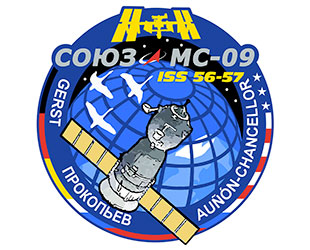 Soyuz MS-09 crew mission patch.
(Roscosmos/spacepatches.nl)
Prokopyev and his crew mates worked with artist Luc van den Abeelen to design their Soyuz MS-09 flight patch. The circular insignia features a trio of white swans flying over Earth toward the International Space Station.

"I think it's a good symbol for three members of [the] crew," said Prokopyev.

Soyuz MS-09 is the 55th Soyuz spacecraft to launch to the International Space Station since October 2000 and 138th since the first Soyuz flight in 1967.