March 21, 2018
— Two U.S. astronauts and a cosmonaut from Russia have left Earth for a five-month mission on the International Space Station.

NASA astronauts Drew Feustel and Ricky Arnold and Oleg Artemyev of Roscosmos lifted off on board Russia's Soyuz MS-08 spacecraft on Wednesday (March 21). Their ride to orbit, a Soyuz FG rocket, launched from Russia's Baikonur Cosmodrome in Kazakhstan at 1:44 p.m. EDT (1744 GMT or 11:44 p.m. Kazakh local time).

"I feel extremely proud I am launching from this spot," said Artemyev, who was born in what is now present-day Latvia but grew up in Baikonur where his father was stationed as a military officer.

About nine minutes into the launch, Artemyev, Feustel and Arnold entered Earth orbit, beginning their two-day journey to the space station. They are expected to dock the Soyuz to the station's Poisk module on Friday (March 23) at 3:41 p.m. EDT (1941 GMT).

Once aboard the orbital laboratory, the three Soyuz MS-08 crew members will join the space station's 55th contingent, already a month underway. Expedition 55 commander and Roscosmos cosmonaut Anton Shkaplerov, Scott Tingle of NASA and Norishige Kanai of JAXA, the Japan Aerospace Exploration Agency, have been on board the space station since Dec. 19.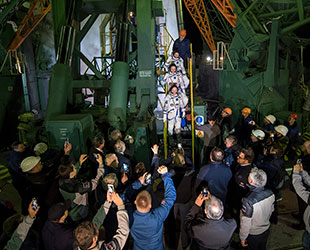 Soyuz MS-08 crew of Oleg Artemyev of Roscosmos, Ricky Arnold and Drew Feustel of NASA are seen prior to boarding their rocket at the Baikonur Cosmdrome, March 21, 2018.
(NASA/Joel Kowsky)
Artemyev, Feustel and Arnold will serve on the Expedition 55 crew until early June, when command of the station will pass to Feustel, as Shkaplerov, Tingle and Kanai leave for Earth. Three more Expedition 56 crew members — Sergey Prokopyev of Roscosmos, NASA astronaut Serena Auñón-Chancellor and Alexander Gerst of ESA (European Space Agency) — will arrive the following week.

Feustel and Arnold will only be inside the space station for several days before they are sent outside on a spacewalk scheduled for March 29. The EVA (extravehicular activity) will see the addition of external wireless antennas to route data from science experiments and the retrieval of jumper cables for the space station's ammonia coolant system.

Feustel and Arnold will also replace cameras mounted on the exterior of the orbiting complex.

"We are going to replace a camera group that gives us the wonderful views of the Earth and also helps us see what is going on around the space station," said Arnold at a press conference preceding the launch.

The spacewalk is one of four slated during Feustel, Arnold and Artemyev's stay on orbit, including two more U.S. and one Russian EVA.

The Expedition 55/56 crew members will also continue the work in the station on hundreds of biology, biotechnology, physical science and Earth science experiments. They will also oversee the arrival and departure of uncrewed cargo spacecraft ferrying supplies and science equipment to and from the ground.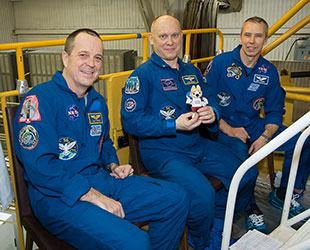 Soyuz MS-08 commander Oleg Artemyev, seated with Ricky Arnold and Drew Feustel, holds their zero-g indicator, the mascot for the 2018 FIFA World Cup.
(NASA/Victor Zelentsov)
Artemyev's, Feustel's and Arnold's own arrival on orbit was signaled by a small plush wolf doll beginning to float inside the Soyuz cabin. The wolf, which is named Zabivaka ("the one who scores" in Russian), is the official mascot of the 2018 FIFA World Cup, which is set to take place in Russia from June 14 through July 15.

The "zero-g indicator," flown for Artemyev's son, is just one of the crew's nods to the soccer championship games.

"We're bringing a [soccer] ball that is going to be thrown on the field during the very first match," said Artemyev. "We're taking it to the ISS and Anton Shkaplerov will bring it down to Earth and it will be used during the first match."

Feustel also plans to celebrate a sport on board the space station. Working with the U.S. Tennis Association's (USTA) Net Generation, Feustel arranged for some micro racquets and tennis balls to be flown.

"Tennis is one of my loves," Feustel said. "Maybe we'll get to play some tennis in space."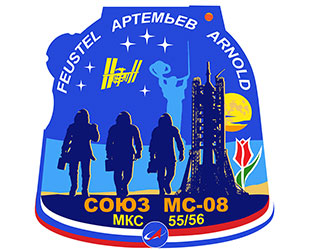 Soyuz MS-08 crew patch.
(Roscosmos/Spacepatches.nl)
Beyond the games, Arnold intends to use his place aboard the station to reach out to students from around the world. A former middle school mathematics and science teacher, he is helping to lead NASA's Year of Education on Station, continuing the effort begun by a fellow educator-astronaut, Joe Acaba, during the previous expedition.

"The space station is a world class laboratory and it is also a world class facility for education in low Earth orbit," said Arnold.

The Soyuz MS-08 launch marked Arnold's and Artemyev's second flights to space and Feustel's third. Arnold, 54, and Feustel, 52, each flew on shuttle missions that visited and helped assemble the station. Artemyev, 47, earlier served on the Expedition 39/40 crew as a flight engineer.

Soyuz MS-08 is the 54th Soyuz spacecraft to launch to the International Space Station since October 2000 and 137th since the first Soyuz flight in 1967.