June 3, 2018
— A Russian spacecraft carrying three crew members home from a five month stay on the International Space Station returned to Earth on Sunday (June 3).

Russian cosmonaut Anton Shkaplerov, Norishige "Neemo" Kanai of the Japan Aerospace Exploration Agency (JAXA) and astronaut Scott "Maker" Tingle of NASA touched down aboard Russia's Soyuz MS-07 spacecraft on the steppe of Kazakhstan. Descending under a parachute, the gumdrop-shape capsule was further slowed by braking thrusters and landed southeast of the town of Dzhezkazgan at 8:39 a.m. EDT (1239 GMT or 6:39 p.m. local Kazakh time).

"That was a good ride!" exclaimed Tingle as he descended toward the ground.

The spacecraft was met on the ground by a recovery team led by Russian forces and joined by NASA and Japanese medical personnel to assist Shkaplerov, Kanai and Tingle as they began their readjustment to gravity.

The crew seemed to be in good health and spirits, smiling, and in Shkaplerov's case, enjoying a bowl of fresh grapes.

"First of all, feeling well," said Shkaplerov after the landing. "We're feeling a bit tired. At the same time, we're proud to have accomplished it and we are glad to be back on Earth. We are glad that the weather is beautiful, it is sunny. And the landing was 'soft.'"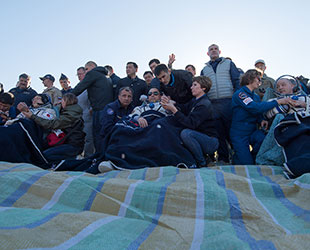 Soyuz MS-07 crew mates Norshige Kanai, Anton Shkaplerov, and Scott Tingle are seen after landing on June 3.
(NASA/Bill Ingalls)
The trio began their journey home about three hours prior to their landing with the undocking of their Soyuz from the space station's Rassvet mini research module at 5:16 a.m. EDT (0916 GMT). The departure marked the official end of Expedition 55, the station's 55th contingent since 2000.

"It's been three months since we started Expedition 55 and I took command," said Shkaplerov during a brief change of command ceremony in orbit on Friday (June 1). "We have been working hard."

Astronauts Drew Feustel and Ricky Arnold with NASA and cosmonaut Oleg Artemyev of Roscosmos, who arrived at the space station on March 23 and served as members of the Expedition 55 crew under Shkaplerov's command, are still aboard the outpost.

Feustel, who took over command of the space station from Shkaplerov, presented the departing crew members with a token of their time together on orbit.

"I offer you an Expedition 56 coin that the three of us have signed and saved for you as a parting gift," Feustel said.

Three more members of the Expedition 56 crew — Sergey Prokopyev of Roscosmos, European Space Agency (ESA) astronaut Alexander Gerst and Serena Auñón-Chancellor with NASA — are scheduled to launch to the space station on Wednesday (June 6) and arrive two days later.

Shkaplerov's, Kanai's and Tingle's landing concludes their 168 days in space together since they launched from the Baikonur Cosmodrome in Kazakhstan on Dec. 17. During their time in orbit, the Expedition 54/55 crew participated in and helped conduct hundreds of science investigations.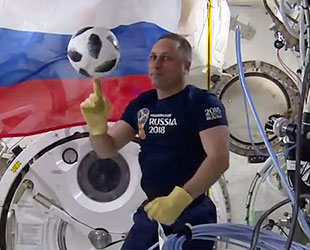 Cosmonaut Anton Shkaplerov with a regulation Telstar 18 soccer ball on board the International Space Station. The ball landed with Shkaplerov for use in the 2018 FIFA World Cup.
(TV Roscosmos)
Shkaplerov also performed an extravehicular activity (EVA, or spacewalk), the second of his career, venturing outside with Expedition 54 commander Alexander Misurkin to help reconfigure communications systems and retrieve science experiments on the Russian side of the space station. At 8 hours and 13 minutes, the spacewalk set a new record for the longest Russian EVA in history.

He now has three space missions to his record, including a prior 165-day stay on board the space station in 2012 and a 200-day expedition in 2015. Shkaplerov has now logged a total of 533 days, 5 hours and 31 minutes off the planet, ranking him 16th worldwide for time spent in space.

Shkaplerov returned to Earth with a soccer ball to be used in the opening match of the 2018 FIFA World Cup, which is set to take place in Russia from June 14 through July 15.

"An official Telstar 18 ball was especially brought to the station for this purpose and the ball planned to be returned to Earth together with my crew," Shkaplerov tweeted a day before the landing.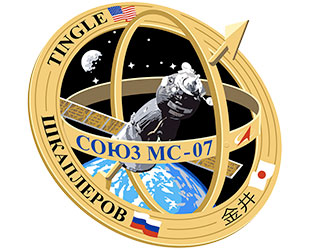 Soyuz MS-07 crew patch.
(Roscosmos/Spacepatches.nl)
Tingle and Kanai also conducted one EVA each, both with Expedition 54 crewmate Mark Vande Hei, to replace and stow a latching end effector, or hand, from the Canadarm2 robotic arm.

This was Tingle's and Kanai's first flight into space. Kanai is Japan's 11th astronaut to fly in space since 1992. Tingle is the seventh member (out of nine) of NASA's 20th group of astronauts to fly since their selection in 2009.

Now back on Earth, the three Soyuz MS-07 crewmates will return to their respective agencies after a brief stopover in the Kazakh town of Karaganda. Shkaplerov will be flown to Star City, outside of Moscow; Tingle and Kanai will return on a NASA jet to Johnson Space Center in Houston.

Soyuz MS-07 was the 53rd Soyuz to fly to the International Space Station. It traveled a total of 71.2 million miles (115 million kilometers) over the course of 2,688 orbits of Earth.