June 1, 2022
— When the next American astronauts walk on the moon, they will do so wearing spacesuits furnished either by the company behind the historic Apollo lunar garments or the firm building a commercial outpost to be tested at the International Space Station.

NASA on Wednesday (June 1) selected Collins Aerospace and Axiom Space to develop, build and operate the next generation of U.S. spacesuits and spacewalk systems to be used outside of the space station and on Artemis missions to the moon. The two companies will vie for missions under the agency's Extravehicular Activity Services (xEVAS) contract, which has a potential total value of $3.5 billion to be awarded over the next 12 years.

"This is a historic day for us," Vanessa Wyche, director of NASA's Johnson Space Center in Houston, said in a press conference on Wednesday. "History will be made with these suits. When we get to the moon. we will have our first person of color and our first woman who will wear and use these suits in space, so this is a very important day."

The first task orders to be competed under the xEVAS contract will include the development and services for the first demonstration outside the space station and the Artemis III mission, which is planned to be the first human lunar landing since the last Apollo mission touched down 50 years ago.

Collins Aerospace, a Raytheon Technologies business, has partnered with ILC Dover and Oceaneering to develop its xEVAS spacesuit. NASA's Apollo spacesuit and the Extravehicular Mobility Unit (EMU) that is still in use on the space station today were developed by the Hamilton Sundstrand division of Collins (then Hamilton Standard) and ILC.

"Our heritage corporations ... designed and developed and fielded and operated the Apollo suit, so we've got some surface experience. We've also got more than four decades with a spacesuit design for the space shuttle that has evolved and in its current iteration has been supported for six years on board the space station with only crew members working on it. In the process of doing that we've learned an awful lot," said Dan Burbank, senior technical fellow at Collins Aerospace and a retired NASA astronaut.

"So the goal is to take the foundations that NASA has laid ... and evolve that technology and create a suit that is compatible with the entire spectrum of crew members," said Burbank. "So that commander of Artemis III, she has got a suit that is appropriately sized and tailored for her that doesn't feel like a spacecraft but feels like a ruggedized set of extreme sport outerwear."

Axiom Space, which earlier this year launched the first all-private crew to the space station and holds a NASA contract to dock and test out components for its own private orbital outpost at the ISS, has already been at work developing a spacesuit, the AxEMU, to support its own needs.

"We are building a space station, so we have a need for a spacesuit. We have a number of customers who already would like to do a spacewalk and we had planned to build it soon as part of our program," said Michael Suffredini, president and chief executive officer for Axiom Space and NASA's former space station program manager. "So it's fantastic to have a partnership where we can benefit from the years of experience that NASA has and all the work they've done to to advance a design to where it is today and then, as a commercial company, come in and work with them to build it in a way that's lowest cost so that we can both utilize the suit to meet our needs."

Axiom Space's partners for the AxEMU include KBR, Air-Lock, David Clark Company, Paragon Space Development Corporation, Sophic Synergistics and A-P-T Research.

NASA has defined the technical and safety standards by which the spacesuits will be built, but Collins and Axiom will own the spacesuits and will be responsible for their certification and production, along with the equipment needed to support space station and Artemis missions. This approach to spacewalk services is intended to encourage an emerging commercial market for a range of customers.

For the past several years, work has been underway at Johnson Space Center to develop a spacesuit known as the Exploration Extravehicular Mobility Unit, or xEMU. Work on that in-house design will continue through the end of this fiscal year, in parallel with the commercial procurement, before the team migrates to an oversight and collaborative role with Collins and Axiom.

"They're putting it through a lot of testing. In fact, the life support system is in a chamber as we speak, running through a test," said Lara Kearney, manager of NASA Johnson's Extravehicular Activity and Human Surface Mobility Program. "We're making all of the results from the NASA tests available to these companies so they can use any and all of it as they choose."

NASA designed the xEVAS contract so it can evolve as the needs of the agency and space industry change. The contract also provides NASA with the option to add additional vendors that were not selected as the commercial space services market matures.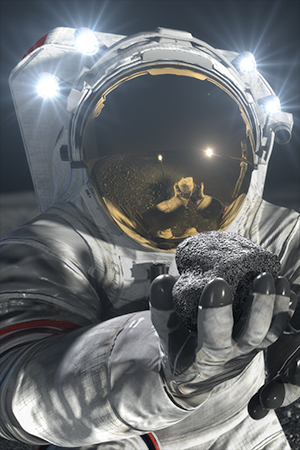 NASA artist's rendering of spacesuited astronauts working on the moon's surface during a future Artemis mission. (NASA)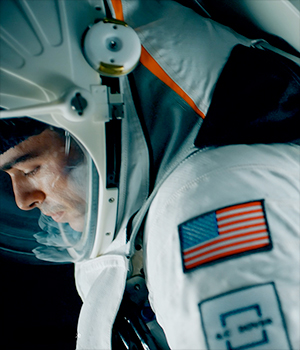 Collins Aerospace's prototype spacesuit, developed with ILC Dover and Oceaneering, draws from the company's history with the Apollo and space shuttle-era spacesuits. (Collins Aerospace)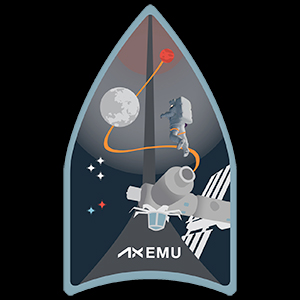 Patch representing Axiom Space's Extravehicular Mobility Unit (AxEMU). (Axiom Space)