January 28, 2020
— The International Space Station will soon have more space for commercial activities.

NASA has selected Axiom Space of Houston to attach at least one new room, if not several multi-use modules, to the forward-facing port of the space station's U.S. segment. The addition is part of NASA's efforts to open the orbiting laboratory to private use.

"We are transforming the way NASA works with industry to benefit the global economy and advance space exploration," NASA Administrator Jim Bridenstine said in a statement on Monday (Jan. 27). "Axiom's work to develop a commercial destination in space is a critical step for NASA to meet its long-term needs for astronaut training, scientific research and technology demonstrations in low-Earth orbit."

Axiom's plans for the International Space Station (ISS) include a connecting node, a research and manufacturing facility, a crew habitat and a large-windowed Earth observatory to form a new "Axiom Segment." The company's first module, which it is targeting to launch in late 2024, will connect to the space station's Unity node.

"Axiom exists to provide the infrastructure in space for a variety of users to conduct research, discover new technologies, test systems for exploration of the moon and Mars, manufacture superior products for use in orbit and on the ground and ultimately improve life back on Earth," Axiom Space co-founder, CEO and president Michael Suffredini said.

"As we build on the legacy and foundation established by the ISS program, we look forward to working with NASA and the ecosystem of current and future international partners on this seminal effort," said Suffredini, who was NASA's space station program manager from 2005 to 2015.

Axiom, which was founded in 2016, was chosen for the opportunity under NASA's NextSTEP-2 (Next Space Technologies for Exploration Partnerships-2) initiative, which offered private industry the use of space station utilities and a port for one or more commercial elements. Axiom was selected ahead of 11 other companies that NASA chose to complete studies about the commercialization of low-Earth orbit and the space station, including Blue Origin, Lockheed Martin, NanoRacks, Sierra Nevada Corporation and the space tourism company Space Adventures.

Axiom's team includes Boeing, KBR, Thales Alenia Space Italy, Intuitive Machines and Maxar Technologies.

"We appreciate the bold decision on the part of NASA to open up a commercial future in low Earth orbit," said Suffredini.

The Axiom Segment will remain berthed to the space station until the ISS is decommissioned, at which point the company plans to launch a power platform to enable the segment to detach and operate as a free-flying orbital facility. Axiom plans to fly crews two to three times a year to utilize the ISS segment and later, the standalone complex.

"A commercial platform in Earth orbit is an opportunity to mark a shift in our society similar to that which astronauts undergo when they see the planet from above," said Kam Ghaffarian, Axiom's executive chairman. "I am glad to see the Axiom team, with its advanced human spaceflight, engineering and operations expertise, recognized for its potential to do just that and build off of ISS."

"Our goal is to advance the state of humanity and human knowledge," said Ghaffarian, who founded Stinger Ghaffarian Technologies (today a part of KBR), which was NASA's second-largest engineering services provider, responsible for training astronauts and operating the station.

With its selection of Axiom, NASA will next will begin negotiations with the company on the terms and price of a firm-fixed-price contract with a five-year base performance period and a two-year option.

The Axiom Segment is one of five initiatives that NASA is undertaking to open the station to commercial and marketing opportunities. Other elements include a new commercial use and pricing policy and the enabling of private astronaut missions.

The Axiom Segment will be the second commercial expansion to the station after the addition of Bigelow Aerospace's BEAM, or Bigelow Expandable Activity Module, in 2016. Unlike the Axiom modules though, the BEAM is only used for storage and supports only brief crew access inside.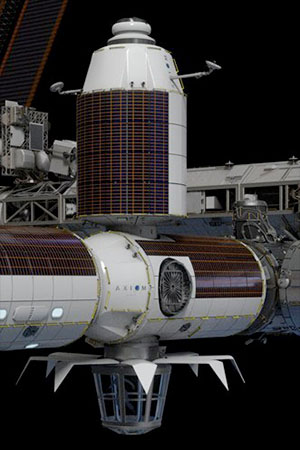 Axiom Space's commercial modules will be attached to forward facing port on the International Space Station's Unity Node 2 to provide more space for commercial activities in orbit. (Axiom)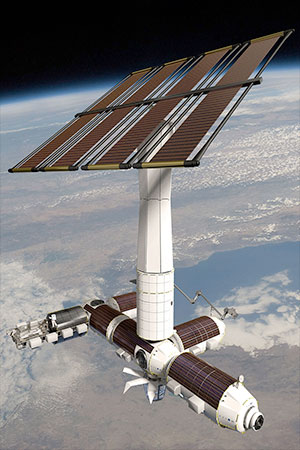 After being outfitted and tested while attached to the International Space Station, Axiom Space will add its own power platform and detach its segment to serve as a free-flying complex. (Axiom)