June 7, 2019
— NASA is extending its support on board the International Space Station to include new commercial activities, including hosting private astronauts, in an effort to eventually turn over low Earth orbit operations to private industry.

The space agency on Friday (June 7) rolled out its five-part plan for fostering a low Earth orbit economy at the Nasdaq MarketSite in New York City.

"NASA is opening the International Space Station to commercial opportunities and marketing these opportunities like we have never done before," said Jeff DeWit, NASA's chief financial officer. "We're announcing the ability for private astronauts to visit the space station on U.S. vehicles and for companies to engage in profit-making opportunities."

"This will open space to new companies to unleash corporate innovations and ingenuity in new markets," said DeWit. "The commercialization of low Earth orbit will enable NASA to focus resources to land the first woman and next man on the moon by 2024 as the first phase of creating a sustainable lunar presence to prepare for future missions to Mars."

The new NASA directive enables commercial manufacturing and production and allows both NASA and private astronauts to conduct new commercial activities aboard the space station, so long as they make use of the unique microgravity environment, have a connection to NASA's mission or support the development of a sustainable low-Earth orbit economy.

The directive also sets prices for industry use of government resources aboard the orbiting laboratory for commercial and marketing activities.

Seats available

NASA's pricing for the new commercial activities covers the launch and return of cargo, the use of U.S. government astronaut time on the station and the costs to support private astronauts in orbit.

"If you average out the commercial crew program, our cost is coming down to about $58 million a seat, so theoretically [for] a private astronaut, I expect the cost to be in that range," said DeWit. "The two companies that can now do it are Boeing and SpaceX and so they would have to contract with them and whatever price Boeing and SpaceX set is on them. But when they get to the station, there will be a [NASA-assessed] cost."

"If you look at the pricing and add it up, back of the napkin, it will be roughly about $35,000 a night per astronaut, but it won't come with any Hilton or Marriott points," he said to laughter.

As a federal agency, NASA would not be able to retain the funds collected for the commercial activities, but it is expected to reduce the costs of operating the space station, freeing up funds for its exploration programs.

NASA is enabling up to two private astronaut-dedicated, commercial crew flights per year, beginning as soon as 2020, said Robyn Gatens, deputy director for the International Space Station at NASA Headquarters.

"So depending on how many seats they want to carry, that would be a dozen or so private astronauts a year on the International Space Station," Gatens said.

The flight arrangements will need to be made through a commercial company, and those firms would be expected to do more than negotiate the contract.

"We're looking to the private sector to do the training, the transportation, to work out the accommodations [and] be the interface between the [entities] that want to fly the private astronauts and us," explained Bill Gerstenmaier, NASA's associate administrator for human exploration and operations.

Stepping up

Once at the space station, the private astronauts would be allowed to take part in for-profit activities that NASA astronauts are prohibited from doing, including those related to marketing products for sale on Earth.

Over the course of the International Space Station's past 20 years, a number of commercials and marketing promotions have been filmed on the orbiting outpost, but only by non-U.S. astronauts and cosmonauts, as well as privately-funded spaceflight participants that reached the station aboard Russian Soyuz spacecraft.

NASA has enabled some marketing-related activities on the space station, flying products for LEGO and Disney, as well as uplinking movies for Hollywood studios, but those projects have generally fallen under educational outreach and astronaut support. The agency still needs to work out if such partnerships can continue or if they would be seen as competition to the private sector, Gerstenmaier said.

"I think we need to see what comes forward in these proposals and what happens with the private sector stepping up," he said, replying to a question from collectSPACE. "We still have the need to do education and outreach to inspire the next generation to help students get inspired for science, technology, engineering and math. We'll see the private sector steps up and if there is enough there."

"What we've got to be careful of is that we don't want to compete with the private sector, so we have to figure out a way that we're not creating another path to the space station that undermines what they are trying to do," said Gerstenmaier. "We are going to have to balance and learn how to do this going forward."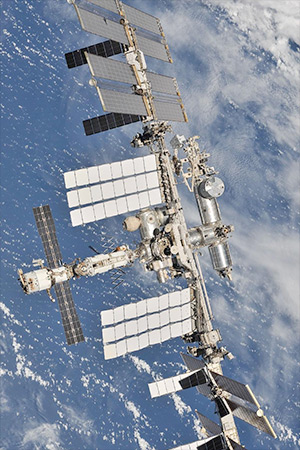 NASA is opening the International Space Station for commercial business so U.S. industry innovation and ingenuity can accelerate a thriving commercial economy in low-Earth orbit. (NASA)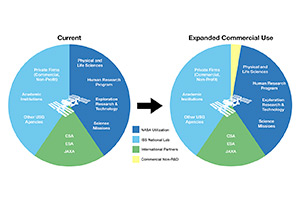 Chart comparing NASA's current and expanded commercial use of the International Space Station and its resources. (NASA)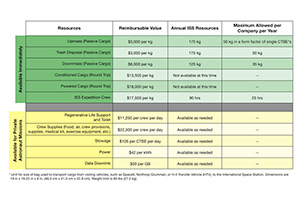 NASA's price list for commercial activities and private astronauts to use the International Space Station and its resources. (NASA)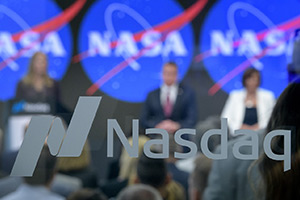 NASA announced its five-part plan to open the International Space Station to expanded commercial activities and private astronaut missions, as well as to enable additional commercial destinations in low Earth orbit on Friday, June 7, 2019, at the Nasdaq MarketSite in New York City. (NASA/Bill Ingalls)