April 25, 2022
— The first private crew to visit the International Space Station is back on Earth after a mission that lasted almost a week longer than planned.

Axiom Mission-1 (Ax-1) commander Michael Lopez-Alegria, pilot Larry Connor and mission specialists Mark Pathy and Eytan Stibbe returned home Monday (April 25) on SpaceX's Crew Dragon Endeavour. The splashdown, at 1:06 p.m. EDT (1706 GMT) off the coast of Jacksonville, Florida, brought the history-making Ax-1 flight to an end after it was extended five days due to strong winds at the landing zones.

SpaceX's recovery team was staged to meet Endeavour in the Atlantic Ocean, to then hoist the capsule and crew onto a ship to be brought back to shore.

The Ax-1 crew's trip back to Earth began on Sunday, when Dragon Endeavour undocked from the space-facing port of the space station's Harmony node at 9:10 p.m. EDT (0110 GMT on April 25). The capsule then autonomously fired thrusters to back away and safely distance itself from the station.

"Thanks once again for all the support through this amazing adventure that we've had, [which was] even longer and more exciting than we thought," Lopez-Alegria radioed to NASA's Mission Control in Houston as Endeavour exited the vicinity of the orbiting laboratory.


The Ax-1 mission, which was organized by the Houston-based space services company Axiom Space under an agreement with NASA, marked the first time that private astronauts flew on a commercial spacecraft to the International Space Station (ISS). NASA supported the flight as part of an effort to bolster a low Earth orbit economy capable of operating commercial outposts. Axiom has a contract with NASA to attach at least one commercial module to the ISS as the first step to deploying its own, privately-operated station.

The cost of the Ax-1 mission was not disclosed, though in separate statements, Axiom and NASA both said that the additional days spent waiting for acceptable weather conditions did not add an additional cost for either Axiom or its clients.

During the Ax-1 crew's 15 days at the space station, the four private astronauts shared the orbital complex with the seven-person Expedition 67 crew to complete 25 science experiments and technology demonstrations. The Ax-1 research was conducted in partnership with the ISS U.S. National Lab and organizations chosen by the crew, including the Montreal Children's Hospital and Cleveland Clinic.

Lopez-Alegria, who became the first former NASA astronaut to return to the space station, tested hardware and software for edge computing that could simplify operations of future spacecraft, including enabling "smart" space stations. He also tested TESSERAE tiles, which launched flat but when activated on orbit formed a robotic swarm of autonomous and self-assembling units.

Connor, an entrepreneur and non-profit activist investor from Ohio, worked with the Mayo Clinic to examine the effects of microgravity on human heart cells in an effort to better understanding aging.

Pathy, an investor, philanthropist and now the 12th Canadian to launch into space, worked with Canadian Space Agency astronauts David Williams and Joshua Kutryk to conduct the first-ever two-way holoportation session from the station. The augmented reality (AR) technology could enable future crews to virtually bring friends, family and physicians with them on missions into deep space.

Stibbe, an investor, philanthropist and the second Israeli citizen to fly into space, partnered with the Ramon Foundation to continue some of the research started by the late Ilan Ramon, Israel's first astronaut who died on board the space shuttle Columbia in 2003. Stibbe completed an observation experiment (ILAN-ES), which like the MEIDEX experiment that was on board Columbia, studied the electrical phenomena above thunderstorms.

Stibbe, Lopez-Alegria and Connor also took part in neurowellness research using a helmet developed by the Israeli company Brain.Space. The crew members took turns wearing the helmet to test their cognitive performance and brain activity.

When not working on science, the four Ax-1 crew members led outreach activities from the space station.

Connor connected with the president of the Dayton History Museum to share his pride in his home state's aviation history, exhibiting a piece of the Wright Brothers' 1903 Flyer that he took with him to space.

Lopez-Alegria made music and space history, performing a piano and keyboard duet with neo-classical piano prodigy BLKBOK, including an original composition and a 50th anniversary tribute to Elton John and Bernie Taupin's "Rocket Man."

Stibbe spoke with Israeli President Isaac Herzog and, during a call with the artists participating in his Rakia mission, presented artwork that was designed to adapt to the microgravity environment, including a sculpture created by radio waves and a ring designed to be worn in space.

Pathy also highlighted art, working with the Royal Canadian Geographical Society to reveal the winning entry from schools serving indigenous students to convey the importance of Earth preservation for future generations.

In addition, the Ax-1 crew initiated a set of NFTs (non-fungible tokens), including works that they designed and digital mission patches. A photo that Lopez-Alegria took of the station's solar arrays backdropped by the horizon of Earth became the first-ever photo based NFT captured by an astronaut and minted from space.

Connor, Pathy and Stibbe landed after 17 days, 1 hour and 49 minutes in space. Lopez-Alegria already had 258 days to his credit from four previous NASA flights. He now has a career total of 275 hours and 32 minutes in space.

Ax-1 was the third flight for Dragon Endeavour, which previously flew on SpaceX's Demo-2 and Crew-2 missions to the space station.

With the Ax-1 mission complete, Axiom Space's next crew is targeted to launch in early spring 2023. Ax-2 will be commanded by former NASA astronaut Peggy Whitson and piloted by John Shoffner, a champion race car driver and supporter of life science research from Knoxville, Tennessee. Two additional crew members are still to be announced.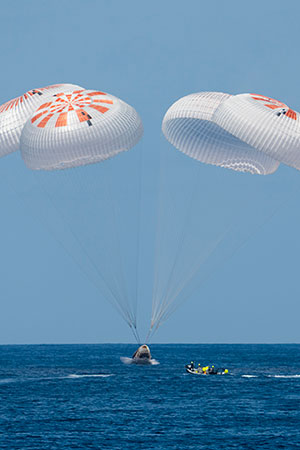 SpaceX's Crew Dragon Endeavour splashes down in the Atlantic Ocean, off the coast of Jacksonville, Florida, with the Axiom-1 (Ax-1) crew after 15 days at the International Space Station, Monday, April 25, 2022. (SpaceX)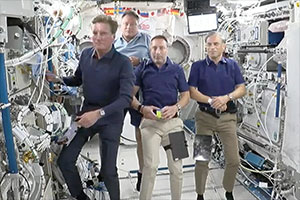 Axiom-1 crewmates on the International Space Station, from left to right: Larry Connor, Michael Lopez-Alegria, Mark Pathy and Eytan Stibbe. (Axiom Space/NASA)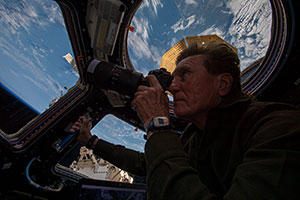 Ax-1 pilot Larry Connor take photographs through the windows of the International Space Station's Cupola. (Axiom Space/NASA)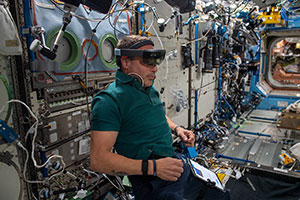 Ax-1 mission specialist Mark Pathy participates in the first demo of two-way holoportation on the space station. (Axiom Space/NASA)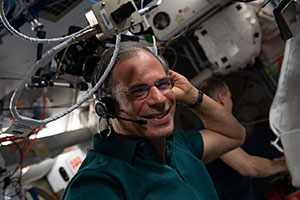 Eytan Stibbe, Ax-1 mission specialist and second Israeli astronaut, on the International Space Station. (Axiom Space/NASA)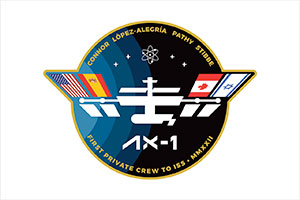 The Axiom-1 (Ax-1) crew mission patch. (Axiom Space)