Four-time cosmonaut Oleg Makarov dies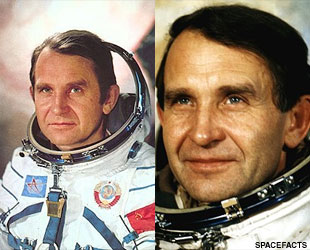 Soviet-era cosmonaut Oleg Makarov, who flew on four launches and three spaceflights, died May 29. (Roscosmos/Spacefacts.de)
May 29, 2003 — Oleg Makarov, 70, a veteran cosmonaut selected for the first Soviet lunar missions and who made four launches and three spaceflights, died today (May 29).

Makarov's first flight was Soyuz 12 in September 1973, the first Soviet manned mission after the loss of Soyuz 11. Makarov and commander Vasily Lazarev had been training for a long duration mission aboard a Salyut space station, but the outpost failed to reach orbit and the crew was instead assigned to a two day test of the redesigned Soyuz spacecraft.

Two years later on April 5, 1975, Makarov was once again paired with Lazarev on Soyuz 18 for a planned 60 day mission aboard Salyut 4. Only minutes into the flight, problems developed with the booster and the Soyuz module separated and plunged back to Earth. The abort had forced the crew to endure as many as 20 Gs, more than twice the normal load, and Lazarev never flew again due to internal injuries sustained.

Makarov did, twice, with better luck.

He was on Soyuz 27 in January 1978, a week long flight during which he and commander Vladimir Dzhanibekov docked with the Salyut 6 station, swapping vehicles with the Soyuz 26 crew. It was a rehearsal for future crews to remain on-board Salyut for missions lasting nine months.

In November 1980, Makarov returned to Salyut 6 as a member of the Soyuz T-3 crew. The three-man crew of Makarov, Leonid Kizim and Gennady Strekalov re-built several systems inside Salyut 6 during their 13 days in space, permitting the station to be occupied in early 1981 for another long duration mission.

Oleg Grigoryevich Makarov was born January 6, 1933, in Udomlia in the Kalinin region near Moscow. As a boy he became interested in space travel, attending the Bauman Higher Technical School in Moscow in hopes of becoming a rocket scientist.

His timing was perfect: upon graduation in 1957, he went to work in Korolev's spacecraft design bureau and was involved in the development of Vostok, the world's first manned spacecraft. He also lectured to the cosmonaut group. In 1961, he joined the Communist Party.

Makarov played an important role in the preparations for Voskhod 1 during 1964. One of the crewmen was a friend and former boss, Konstantin Feoktistov. As soon as he learned that Feoktistov had been chosen to fly in space Makarov applied himself and two years later he joined the cosmonaut team.

From 1966 to 1969, Makarov was involved in the Soviet manned lunar program. Had such a space flight occurred, Makarov might have been one of the first cosmonauts to walk on the Moon. However the program was put on hold in early 1969, and Makarov began to train for a mission to the Salyut space station.

In addition to his four launches, Makarov was backup for Soyuz T-2 in 1980. Between training for missions, he continued to serve at the spacecraft bureau as a senior engineer. In 1981, he earned a technical sciences degree and wrote the futuristic The Sails of Stellar Brigantines, with Grigory Nemetsky.

He is survived by his wife Valentina and two sons, Leonid and Konstantin.

Biographical details reprinted with permission from "Who's Who in Space: The First 25 Years" by Michael Cassutt.