Full Coverage: Carpenter, Stafford memoirs
Article index:
---

Stafford to tour with We Have Capture

September 23, 2002 — Matt Litts, Publicity Manager at Smithsonian Institution Press, was very kind to provide the details of General Stafford's book signing tour for We Have Capture: Tom Stafford and the Space Race.

The following schedule provides when and where Stafford will appear across the country:


Houston, TX
Oklahoma City, OK
Washington, DC
Dayton, OH
Titusville, FL
New York, NY
Los Angeles, CA
October 19
October 23
November 4, 15-16
November 19
December 7
TBA
TBA

All dates and cities remain subject to change. For details about each event, see Sightings.


---

Carpenter to tour with For Spacious Skies

September 10, 2002 — According to his publisher (Harcourt, Inc.), Scott Carpenter will depart on a twelve-city, three-week tour to promote the release of his memoirs, For Spacious Skies: The Uncommon Journey of a Mercury Astronaut.

Though exact venues are still being confirmed, the following schedule provides when and where Carpenter will appear across the country:


Boulder, CO
Denver, CO
Ridgewood, NJ
Greenwich, CT
New York, NY
Washington, DC
Miami Beach, FL
Fort Lauderdale, FL
San Diego, CA
Los Angeles, CA
Lake Forest Park, WA
Seattle, WA
January 9, 31
January 10, 29 - 30
January 11
January 13
January 14
January 15 - 16
January 17
January 18
January 20 - 21
January 22 - 24
January 27
January 28

All dates and cities remain subject to change. As exact venues are known, we will add each event to Sightings.


---

Skies delayed, Capture still on schedule

September 3, 2002 — We had heard rumors for a few weeks, but now its official: Scott Carpenter's For Spacious Skies: The Uncommon Journey of a Mercury Astronaut has been delayed.

Originally scheduled to be released in November, both the publisher's website and online retailers (like Amazon.com) now list a shelf date of January 2003.

Meanwhile, Thomas Stafford's We Have Capture: Tom Stafford and the Space Race still appears set for an October release. His first announced book signing is scheduled for November 15, in Washington, DC (see the Sightings calendar for more details).


---

Two astronaut memoirs due out this fall

May 25, 2002 — Two veteran astronauts will share their space adventures and life experiences in two new books set for release this fall.

"We Have Capture: Tom Stafford and the Space Race" by the Gemini and Apollo astronaut and "For Spacious Skies: The Uncommon Journey of a Mercury Astronaut" by Original 7 flyer Scott Carpenter are expected to hit bookstore shelves in October and November respectively.

Both astronauts-turned-authors plan to make appearances to promote their new titles, though dates and venues have yet to be confirmed. For now, publishers have released a brief synopsis and cover art, which has been reproduced below: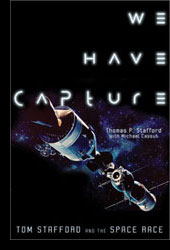 We Have Capture: Tom Stafford and the Space Race by Thomas P. Stafford, Michael Cassutt

Smithsonian Institution Press; ISBN: 1588340708; (October 2002)

What an amazing career.

Tom Stafford attained the highest speed ever reached by a test pilot (28,547 mph), carried a cosmonaut's coffin with Soviet Secretary Leonid Brezhnev, led the team that designed the sequence of missions leading to the original lunar landing, and drafted the original specifications for the B-2 stealth bomber on a piece of hotel stationery. But his crowning achievement was surely his role as America's unofficial space ambassador to the Soviet Union during the darkest days of the Cold War.

In this lively memoir written with Michael Cassutt, Stafford begins by recounting his early successes as a test pilot, Gemini and Apollo astronaut, and USAF general. As President Nixon's stand-in at the 1971 Soviet funeral for three cosmonauts, he opened the door to the possibility of cooperation in space between Russians and Americans. Stafford's Apollo-Soyuz team was the first group of Americans to work at the cosmonaut training center, and also the first to visit Baikonur, the top-secret Soviet launch center, in 1974. His 17 July 1975 "handshake in space" with Soviet commander Alexei Leonov (who became a lifelong friend) proved to the world that the two opposing countries could indeed work successfully together.

Stafford has continued in this leadership role right up to the present, participating in designing and evaluating the Space Shuttle, Mir, and the International Space Station. He is truly an American hero who personifies the broadest spirit of exploration and cooperation.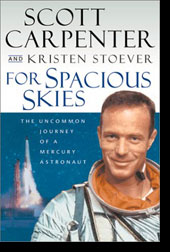 For Spacious Skies: The Uncommon Journey of a Mercury Astronaut by Scott Carpenter, Kristen Stoever

Harcourt; ISBN: 0151004676; (November 2002)

A rich story of remarkable accomplishment and sacrifice. Not only do we learn about the early years of space travel, we learn how one man became one of America's modern heroes. -- John Glenn

Coming from a family of early Colorado settlers, astronaut Scott Carpenter grew up with a frontier tradition of exploration. He went on to become one of seven astronauts to take part in the Project Mercury mission during America's burgeoning space program in the sixties. Here he tells the exciting and heart-stopping tale of his famous orbit and splashdown in his spacecraft, Aurora 7, and provides details of the science and biomedicine of early space flight.

Carpenter also shares a family story of tenderness and fortitude. Raised by his grandparents while his mother lay sick with tuberculosis, his childhood experiences of bravery and endurance set the context for his life as a Navy pilot, a Mercury astronaut, and an undersea explorer.

Written with his daughter, Kristen, For Spacious Skies is filled with insider stories of the early days of NASA and the astronaut's version of his controversial flight and splashdown, and tells a wonderful American family story.
back to News



© 2018 collectSPACE.com All rights reserved.
Questions? E-mail contact@collectspace.com