Original cosmonaut Khrunov laid to rest

May 23, 2000 — Cosmonaut Yevegny V. Khrunov was remembered during a memorial ceremony today in north Moscow after his "instant death" on May 19, according to the Russian News Agency ITAR-TASS. He was 66.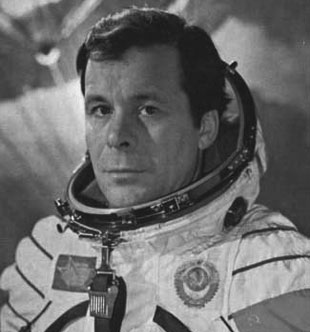 Yevgeny Khrunov became the first person to transfer from one manned spacecraft to another when he took a walk in space from Soyuz 5 to Soyuz 4 on January 15, 1969. Khrunov and fellow cosmonaut Alexei Yeliseyev completed the historic transfer in one hour.

Following their daring transfer to Soyuz 4, piloted by Vladimir Shatalov, Khrunov and Yeliseyev returned to Earth aboard that spacecraft, having spent 48 hours in space.

Soviet publicity at the time claimed that Soyuz 4 and Soyuz 5 formed the first "experimental" manned space station, which was questionable. It was later revealed that Khrunov and Yeliseyev were testing pressure suits and transfer techniques for a Soviet manned lunar landing.

Khrunov was born September 10, 1933, in the village of Prudy, Volovsky District, Tula Region, south of Moscow. He attended the Kashirsky Agricultural-Technical school but a lifelong interest in flying caused him to join the Soviet air force in 1953. After graduation from the Serov Higher Air Force School in Bataisk in 1956, he served with future cosmonaut Viktor Gorbatko (who was one of his Bataisk schoolmates as well) in the 86th Air Guards Regiment, 199th Air Division of the 48th Air Army in Moldavia.

Chosen as one of the first cosmonauts in March 1960, Khrunov was a communications operator (capcom) during the flight of Yuri Gagarin. In the fall of 1962 he began to train for the world's first space walk, which was performed by Alexei Leonov in March 1965. Khrunov was his backup.

Later in 1965 Khrunov joined the group of cosmonauts training for the first Soyuz missions, which were designed to demonstrate rendezvous, docking, and EVA crew transfer. In September 1966 Khrunov was confirmed as a member of the Soyuz 2 team with commander Valery Bykovsky and flight engineer Alexei Yeliseyev. The commander of Soyuz 1 was Vladimir Komarov.

Shortly after the launch of Soyuz 1 on April 23, 1967, however, it became apparent that the spacecraft was difficult to control. The Soyuz 2 launch was canceled. When Komarov was killed in a reentry accident, Khrunov and Yeliseyev realized how close they had come to joining him.

The Soyuz 1/2 mission was finally flown as Soyuz 4/5 almost 2 years later.

Following his spaceflight, Khrunov returned to the Zhukovsky Air Force Engineering Academy, which he attended from 1961 to 1968, to perform graduate work, eventually earning a candidate's degree (1971). In 1972 he also graduated from the Lenin Military-Political Academy.

In the spring of 1969, Khrunov was briefly assigned as backup commander for the Soyuz 6/7/8 missions, but was removed for disciplinary reasons, which kept him from future crew assignments for the next 11 years. He was a training director and communications operator for the Salyut-Almaz 3 flights in 1974.

In September 1979 Khrunov was named backup commander of the joint Soviet-Cuban mission, flown as Soyuz 38 mission in September 1980. Khrunov left the cosmonaut team that December.

From 1981 to 1983 Khrunov was a researcher on the staff of the NII-30, a military research institute based in Chkalovskaya. He then worked with the USSR State Commitee for Foreign-Economic Relations until leaving military service in October 1989.

Khrunov has published several books, including textbooks on astronautics such as Man as an Operator in Open Space (1974); a science fiction novel, The Way to Mars; and an autobiography, The Conquest of Weightlessness (1976). He is also the subject of a book, Cosmonaut, Son of the Land of Tula (1970).


---
The preceding biography was reprinted from Who's Who in Space, International Space Station Edition by Michael Cassutt. Copyright © 2000, 1999, 1993, 1987 by Michael Cassutt. It is used with permission of the author.
back to News



© 2023 collectSPACE.com All rights reserved.
Questions? E-mail contact@collectspace.com