May 21, 2023
— The 600th person to enter Earth orbit is now on her way to the International Space Station aboard the second commercial mission to fly there.

Rayyanah Barnawi on Sunday (May 21) lifted off with fellow Saudi Space Commission (SSC) astronaut Ali AlQarni, privately-funded astronaut John Shoffner of Tennessee and former NASA astronaut Peggy Whitson on the second mission organized by Houston-based space services company Axiom Space. The four Axiom 2 (Ax-2) crewmates launched at 5:37 p.m. EDT (2137 GMT) on the SpaceX Dragon spacecraft "Freedom" atop a Falcon 9 rocket from Pad 39A at NASA's Kennedy Space Center in Florida.

Less than nine minutes later, Barnawi and her crewmates began circling the planet. AlQarni and Shoffner are first-time fliers as well, but based on a precedent set in 2021 when the 600th person entered space — a figure that also included suborbital flights — the count is based on the astronauts' mission designations.

As pilot, Shoffner became number 598. AlQarni is number 599, flying as mission specialist 1. As such, Barnawi, as mission specialist 2, claimed the round number. With Barnawi, only 72 women help comprise the 600-person total.

"I feel incredibly humbled to follow in the footsteps of the many astronauts and pioneers before me," said Barnawi in a statement. "As the 600th person to enter orbit around Earth, I am excited to represent the Kingdom of Saudi Arabia and the Saudi Space Commission during this historic mission. It is a true honor to be a part of a mission that is expanding access to low-Earth orbit for people like me and you and to be able to inspire people around the world to reach for the stars and pursue their dreams."

Barnawi is also now the first Saudi woman to fly in space and first Arab woman to orbit Earth, and with AlQarni, the first Arabs and Saudis to launch together on the same mission. The first Saudi (and Arab) astronaut to fly, Sultan bin Salman Al Saud, did so as a payload specialist aboard the space shuttle Discovery in 1985.


Once they arrive at the International Space Station, which is expected at 9:24 a.m. EDT (1324 GMT) on Monday, Barnawi and AlQarni will be greeted by the station's Expedition 69 crew, including Emirati astronaut Sultan AlNeyadi, marking the first time three Arab astronauts have been in space at the same time.

Barnawi, 33, and AlQarni, 31, are not the only record-setters on the Ax-2 crew. Shoffner, 67, is the first person to have been born in Alaska (Fairbanks) to fly into space.

Whitson, as a former NASA astronaut, already holds the distinction as the most experienced American and woman to fly into space, having previously logged more than 665 days on three long duration stays aboard the space station. She will add to that count on this mission, which is expected to last about 10 days.

Whitson, 63, is now also the first woman to command a commercial spaceflight. She joined Axiom Space after retiring from NASA in 2018, becoming the company's director of human spaceflight. Whitson is the second former NASA astronaut to fly for Axiom, following Michael Lopez-Alegria on Ax-1 in 2022, and the third NASA astronaut to return to space after leaving the agency, following John Glenn in 1998.

During the next week at the space station, Whitson will assist Shoffner, AlQarni and Barnawi proceed through their planned science and outreach programs. The Ax-2 crew plans to conduct more than 20 different experiments, including research into stem cells, DNA-based nanomaterials and cancer countermeasures. They will also photograph lightning strikes and high-altitude transient luminous events (TLEs) known as sprites and test a wearable skinsuit that simulates Earth's gravity to counteract the negative effects of microgravity.

Shoffner, a race car driver who has aspired to fly into space since his childhood, will use part of his time to announce the winners of a Crayola-sponsored art and poetry contest that was open to children from around the world. AlQarni and Barnawi with interact with students in Saudi Arabia with the goal of inspiring an interest in science, technology, engineering and mathematics (STEM) education.

"We're going to be doing three education awareness experiments with the kids," said AlQarni during a pre-launch press conference. "It's going to be a live event, which is going to be amazing for them because it's going to be a huge opportunity to compare the results that they had [on] the ground with the ones we are going to have aboard the ISS."

AlQarni and Barnawi are also bringing a taste of their country to their temporary home in orbit.

"We are taking with us Saudi coffee and dates to share with the astronauts on board the ISS," said AlQarni in a reply to a question posed by collectSPACE.

Barnawi has a Saudi flag and packed earrings from her grandmother, who was not able to attend her launch but gave her blessing for Barnawi to fly into space.

Whitson has again flown a necklace that she wore at her wedding and then flew on her three previous missions. Shoffner chose something that represents his life-long dream of flying in space.

"When I was eight years old, I built a model of the Gemini spacecraft. It had little astronauts in it that could come out and I happen to still have one from 1963. So one of those little guys — probably Ed White, I imagine — is going with me to space again," he said.

One other "astronaut" aboard the spacecraft was "GiGi," the mission's "zero-g indicator" and Ax-2 "fifth crew member." The result of a partnership between Axiom Space and Build-A-Bear Workshop, the fuzzy bear was dressed in a miniature version of Axiom's prototype AxEMU spacesuit, which the company is developing for NASA astronauts to wear on the Artemis III moon landing in 2025.

Private missions like Ax-2 are part of NASA's strategy to help build a low Earth orbit economy, such that companies like Axiom can operate commercial orbital facilities after the International Space Station is retired.

Ax-2 is the second flight for Dragon Freedom, which previously flew SpaceX's Crew-4 to and from the space station.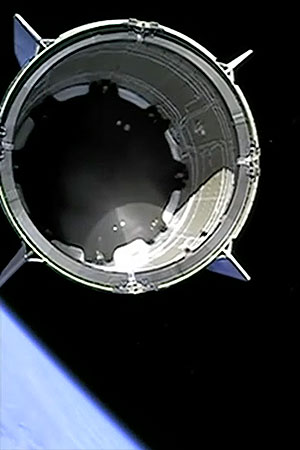 SpaceX's Crew Dragon spacecraft "Freedom" begins its journey to the International Space Station with the 600th person to enter Earth orbit after launching from NASA's Kennedy Space Center in Florida on Sunday, May, 21, 2023. (SpaceX)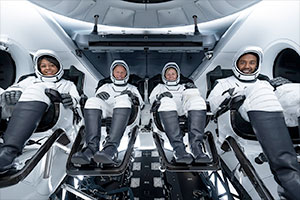 Axiom Space's Ax-2 crew are seen in SpaceX's Dragon spacecraft "Freedom," from left: mission specialist Rayyanah Barnawi, pilot John Shoffner, commander Peggy Whitson and mission specialist Ali AlQarni. (SpaceX)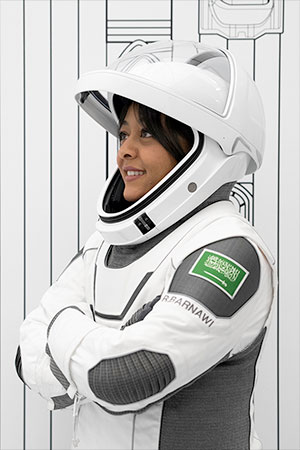 Ax-2 mission specialist Rayyanah Barnawi with the Saudi Space Commission has become the 600th person to orbit Earth. She is also the first Arab woman to circle the planet, first Saudi woman to fly into space and 72nd woman worldwide to orbit Earth. (SpaceX)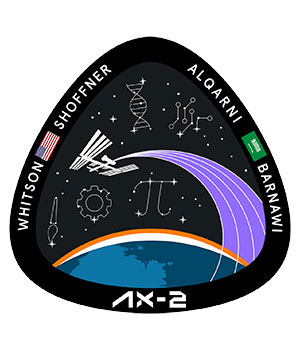 Axiom Space patch for the Axiom-2 (Ax-2) mission. (Axiom Space)