Space collection available to researchers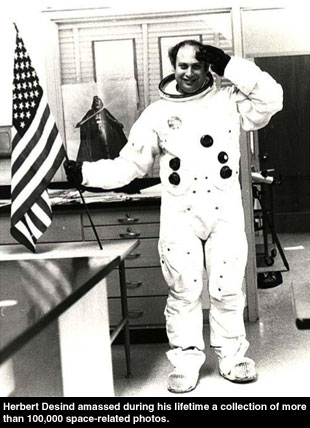 May 14, 2003 — Herbert Desind, a Maryland science teacher with a passion for rockets and space exploration, amassed a remarkable collection of space-related photos, tapes and documents during his lifetime. Desind died in 1992, and in 1997 his family donated the collection to the Smithsonian's National Air and Space Museum.

After years of cataloging by museum archivists, the collection is now available to researchers at the archives of the National Air and Space Museum in Washington.

Desind's sizable collection — 109 cubic feet of photos and documents — covers the history of manned and unmanned space flight. It includes materials from U.S. government, military and corporate sources, as well as from international sources including Australia, Brazil, Germany, Great Britain, Japan and South Africa. While the collection focuses heavily on the space program, it also contains a considerable number of aircraft images from the 1960s through 1980s.

Besides being a dedicated, popular and enthusiastic teacher, Desind also was a freelance writer and lecturer on space history and an avid model rocketeer. He used his collection of more than 100,000 black-and-white and color images to illustrate his class lectures and articles.

He also used them as a reference for building accurate scale models for national and international sport model rocketry competitions held under National Association of Rocketry guidelines. He launched more than 11,000 model rockets in his career, and created a model rocket club at Laurel High School in Laurel, Maryland.

Desind, a 1967 graduate of the University of Maryland, College Park, taught at Cabin John Junior High School in Montgomery County and Eisenhower Middle School and Laurel High School in Prince Georges County, Maryland.

In 1985, Desind applied for NASA's Teacher in Space program. On his application, Desind said, "If I can inspire a future scientist, astronomer, poet, or parent who will pass on the love of science to children, I will know my time and efforts were worth it."

In 1991, Desind was named Outstanding Science Teacher of the Year by Prince George's County and the Potomac Electric and Power Company (PEPCO).

Access to Desind's collection is available to researchers by calling (202) 633-2320 or writing to: National Air and Space Museum Archives, National Air and Space Museum, MRC 322, P.O. Box 37012, Washington, D.C. 20013-7012.
back to News



© 2023 collectSPACE.com All rights reserved.
Questions? E-mail contact@collectspace.com