May 12, 2017
— The first launch of NASA's new heavy-lift rocket will forgo an astronaut crew, space agency officials announced on Friday (May 12).

NASA nixed the idea of adding astronauts to its previously uncrewed Exploration Mission-1 (EM-1) after completing a study into what it would take to carry a crew on the maiden flight of the Space Launch System (SLS). Further, agency officials confirmed that the uncrewed EM-1 mission will slip from late 2018 to sometime in 2019.

"The decision was made not to fly [a] crew on the first flight after weighing the data and assessing all the implications," Robert Lightfoot, NASA's Acting Administrator, wrote in an agency-wide memo sent on Friday. "After evaluating cost, risk and technical factors in a project of this magnitude, it is difficult to accommodate changes needed for a crewed EM-1 mission at this time."

Lightfoot announced in mid-February that he was directing Bill Gerstenmaier, NASA's chief for human exploration and operations, to assess the feasibility of adding astronauts to EM-1, the first integrated flight of SLS and the Orion space capsule. To launch a crew, EM-1's Orion would need flight control displays, an abort system and (at least) a partial life support system — all components that were planned to fly for the first time on EM-2, targeted for 2021.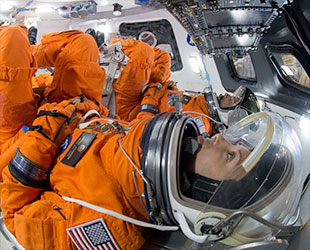 Astronauts will not fly on the maiden mission of the Space Launch System, per the results of a NASA study.
(NASA/Robert Markowitz)
"I thought there would be a lot of negative work that would actually make this not very attractive to us, because we're not just doing one flight. We're really building a system that can move humans into space in a sustained way," stated Gerstenmaier. "What we learned from the study is that we could actually add in the right components."

To Gerstenmaier's surprise, adding a crew was technically feasible, but there were others factors to consider.

"We saw some additional schedule concerns that would be there because we had to add some new systems that are not yet developed," he explained. "And then it was going to cost more."

Launching astronauts on EM-1 would have required $600 to $900 million more than budgeted, Gerstenmaier said. It would also have meant waiting longer to begin flying.

"The earliest we were looking would be a very late 2019 date, but really, realistically, Bill and I felt it was more likely, probably, the first or second quarter of 2020 that we would have gotten there with crew," Lightfoot said.

Even without astronauts, EM-1 will face a delay. Originally slated for late 2018, the mission has encountered several recent challenges, including a tornado disrupting SLS work at NASA's assembly facility in Louisiana and complications with the Orion service module that is being provided by the European Space Agency (ESA).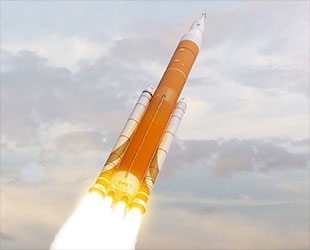 Artist's rendering NASA's Space Launch System (SLS).
(NASA)
The EM-1 mission will slip into 2019, though exactly when — before or after the 50th anniversary of the Apollo 11 first moon landing in July — is still to be determined.

"We have got a little more work to do," said Gerstenmaier. "We're probably a month or two away from coming up with a final schedule for the 2019 actual launch date."

EM-1, as baselined, will launch with an uncrewed Orion on a three-week mission that will fly about 62 miles (100 km) above the lunar surface and then use the moon's gravity to propel the spacecraft into a retrograde orbit about 40,000 miles (70,000 km) from the moon. The spacecraft will then return to Earth, entering the atmosphere faster and hotter than ever before.

"It really stresses the exploration service module engine's performance, it stresses our navigation capability. We want to push the vehicle really hard from a test standpoint, and that's one difference when we put a crew on and when we don't," explained Gerstenmaier. "When we put crew on the vehicle, we would not do this same flight test sequence."

"We would stay close to the Earth for several orbits before we go around the moon to check out systems. We would be poised if something goes wrong, so the crew could get back immediately," he said. "But since we don't have crew on this vehicle, we will push [it] as hard as we can."