February 15, 2017
— NASA is looking at flying astronauts on the first launch of its next-generation heavy-lift rocket, a mission that could possibly send a crew to orbit the moon about the same time as the 50th anniversary of Apollo 11, the first lunar landing, in 2019, according to the agency's acting chief in a memo sent on Wednesday (Feb. 15).

Exploration Mission-1 (EM-1), as it is currently manifested, would see the first flight of NASA's Space Launch System (SLS) fly in late 2018 with an uncrewed Orion capsule on a journey to orbit the moon. The first crewed mission would then follow sometime in the 2021 to 2023 timeframe.

"It is imperative to the mission of this agency that we are successful in safely and effectively executing both the SLS and Orion programs," wrote Robert Lightfoot, NASA acting administrator, in an email to employees, sharing what he told the vehicles' suppliers at a conference on Wednesday. "Related to that, I have asked Bill Gerstenmaier [associate administrator for the human exploration and operations] to initiate a study to assess the feasibility of adding a crew to Exploration Mission-1, the first integrated flight of SLS and Orion."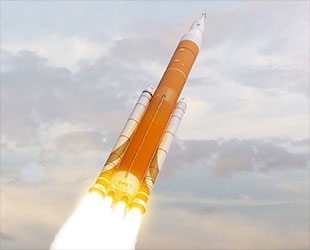 Artist's rendering NASA's Space Launch System (SLS).
(NASA)
Such a plan, if adopted, would require NASA to accelerate its work to build and test the 322-foot-tall (98-meter) SLS rocket and complete the Orion crew spacecraft, which flew on an uncrewed test flight into Earth orbit in 2014 without a full life support system, crew seats and flight controls.

"I know the challenges associated with such a proposition, like reviewing the technical feasibility, additional resources needed and clearly the extra work would require a different launch date," said Lightfoot. "That said, I also want to hear about the opportunities it could present to accelerate the effort of the first crewed flight."

Lockheed Martin, NASA's lead contractor for Orion, said it would support NASA in studying the feasibility of launching a crew on Exploration Mission-1.

"We'll look at accelerating remaining crew system designs, as well as potential technical and schedule challenges and how to mitigate them," said Allison Miller, Lockheed Martin spokesperson.

The idea comes as a new administration, led by President Donald Trump, is reportedly debating the direction it wants NASA to adopt going forward, either continuing on the SLS path begun under Barack Obama or turning to commercial launch providers to offer less expensive means of sending U.S. astronauts into space.

"There has been a lot of speculation ... about NASA being pulled in two directions — what has come before and what we want to do now. At NASA, this is an 'and' proposition, not an 'or,'" said Lightfoot. "We must work with everyone to secure our leadership in space and we will."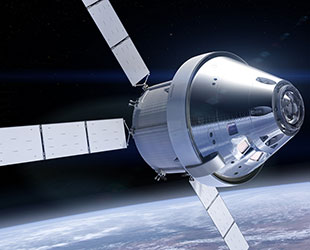 Artist's rendering of NASA's Orion crew spacecraft.
(NASA)
If approved, the crewed EM-1 mission would not mark the first time NASA astronauts have flown on the first launch of a new U.S. vehicle. The space shuttle lifted off for the first time in 1981 with a crew, but unlike the SLS, the reusable winged orbiter was not designed to fly without astronauts.

The space shuttle and SLS also differ in the sense that the latter has a launch escape system, whereas the earlier did not.

A decision to fly a crew on board EM-1 would also harken back to NASA's first mission that sent astronauts to orbit the moon in 1968. Originally planned as a crewed mission to Earth orbit, the Apollo 8 mission accelerated the United States' pursuit of the moon in a space race with the former Soviet Union. It marked the second crewed mission of the Apollo spacecraft and the first crewed launch of the Saturn V rocket, after two unmanned flights.

NASA is currently working toward launching astronauts to orbit Mars in the next two decades, but is planning to use cis-lunar space in the moon's vicinity as a proving ground for its spacecraft and deep space operations.

"This is indeed an exciting time for our agency," Lightfoot wrote to NASA's employees. "Your innovation and creative thinking will drive America's influence in the coming years and decades."