The Return Of Buzz Aldrin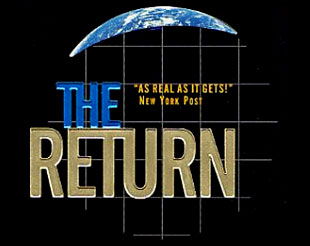 May 12, 2000 — Buzz Aldrin, the second man to walk on the Moon, will embark on an ambitious 18-state, 43-city, 2-month tour tomorrow to promote the release of his new technothriller The Return according to his publisher Forge (a division of Tom Doherty Associates). The 358-page hardcover is scheduled to hit shelves nationwide May 15.

Beginning in Florida, where he twice launched into space, Aldrin will also visit museums, planetariums, universities, military bases and stores located in Alabama, California, Colorado, Illinois, Kentucky, Maryland, Massachusetts, New Jersey, New York, Ohio, Pennsylvania, Tennessee, Virginia, Washington and in the capital, Washington, DC.


---
Read an excerpt from The Return
---

Appropriately, Aldrin's trip will end where he completed what may be his most famous tour — to the Moon — in Texas.

In The Return, Aldrin and co-author John Barnes tell the story of Scott Blackstone, a former NASA astronaut and the agency's choice to manage its new Citizen Observer program. Tasked with flying everyday Americans to orbit, Scott's project is cancelled before it can even begin after a tragedy with the Space Shuttle.

When it appears that the loss may have been intentional, Scott, along with those who share his ideas are forced to mount a daring rescue of the International Space Station, of the space program and of American idealism itself.

The release marks the second collaboration for authors Buzz Aldrin and John Barnes, who first joined together in 1996 to write Encounter With Tiber. Barnes is the award winning author of Orbital Resonance, A Million Open Doors, Mother of Storms, and many other titles. Aldrin's previous work includes his autobiography Return to Earth and Men From Space, in which he describes his voyage to the Moon as well as his thoughts on the United States' future in space.

While touring with The Return, Aldrin is also scheduled to appear on over 20 television broadcasts, including the Late Late Show with Craig Kilborn, Late Night with Conan O'Brien, The Rosie O'Donnell Show, and The Late Show with David Letterman.


---
Note to collectors: According to his office, Aldrin will only sign copies of The Return during this tour. He will not autograph memorabilia or copies of his other books.
---

Here are the dates and locations for Aldrin's tour:


| | | | | | | |
| --- | --- | --- | --- | --- | --- | --- |
| Date | | Time | | City | | Location |
| | | | | | | |
| 5/13 | | 2:00pm | | Lake Buena Vista, FL | | 2 R's: Reading & Riting |
| 5/15 | | 7:00pm | | San Diego, CA | | Mysterious Galaxy |
| 5/16 | | 6:30pm | | Pasadena, CA | | Vroman's |
| 5/18 | | 1:00pm | | New York, NY | | Borders Books & Music |
| 5/18 | | 7:00pm | | New York, NY | | Museum of Natural History |
| 5/19 | | 12:00pm | | Philadelphia, PA | | Barnes & Noble |
| 5/20 | | 2:00pm | | Dayton, OH | | Wright Patterson Air Force Base |
| 5/20 | | 4:30pm | | Dayton, OH | | Books & Co. |
| 5/22 | | 7:00pm | | Cincinnati, OH | | Joseph-Beth Booksellers |
| 5/24 | | 5:30pm | | Chicago, IL | | University Club of Chicago |
| 5/25 | | 7:00pm | | Chicago, IL | | Borders Books & Music |
| 5/31 | | 7:00pm | | Lexington, KY | | Joseph-Beth Booksellers |
| 6/01 | | 4:00pm | | Fort Knox, KY | | Fort Knox Military Base |
| 6/01 | | 7:00pm | | Louisville, KY | | Hawley-Cooke Booksellers |
| 6/02 | | 4:00pm | | Fort Campbell, KY | | Fort Campbell |
| 6/03 | | 12:00pm | | Nashville, TN | | Davis-Kidd Booksellers |
| 6/03 | | 6:00pm | | Jackson, TN | | Davis-Kidd Booksellers |
| 6/05 | | 12:00pm | | Cape Canaveral, FL | | Kennedy Space Center |
| 6/05 | | 7:00pm | | Winter Park, FL | | Borders Books & Music |
| 6/06 | | 12:00pm | | West Palm Beach, FL | | South Florida Science Center |
| 6/06 | | 7:00pm | | Sebastian, FL | | Performing Arts Center |
| 6/07 | | 7:30pm | | Boca Raton, FL | | Liberties |
| 6/08 | | 1:00pm | | Davie, FL | | Buehler Planetarium |
| 6/08 | | 7:00pm | | Ft. Lauderdale, FL | | Borders Books & Music |
| 6/09 | | 8:00pm | | Miami, FL | | Miami Museum of Science |
| 6/10 | | 2:00pm | | Annapolis, MD | | Waldenbooks |
| 6/10 | | 7:30pm | | Bailey's Crossroads, VA | | Borders Books & Music |
| 6/11 | | 1:00pm | | Huntsville, AL | | US Space & Rocket Center |
| 6/12 | | 1:30pm | | Washington, DC | | Grand Deli |
| 6/13 | | 12:00pm | | Washington, DC | | Pentagon Books |
| 6/13 | | 7:00pm | | Washington, DC | | Olsson's |
| 6/14 | | 11:00am | | Washington, DC | | Air & Space Museum |
| 6/15 | | 7:00pm | | Baltimore, MD | | Bibelot |
| 6/16 | | 12:30pm | | Cambridge, MA | | Barnes & Noble |
| 6/16 | | 7:00pm | | Cambridge, MA | | MIT Center for Space Research |
| 6/17 | | 2:00pm | | Boston, MA | | Borders Books & Music |
| 6/23 | | 1:00pm | | Jersey City, NJ | | Liberty Science Center |
| 6/23 | | 6:00pm | | New York, NY | | Columbia University |
| 6/24 | | 4:00pm | | Alexandria, VA | | Barnes & Noble |
| 6/26 | | 7:00pm | | Seattle, WA | | Museum of Flight |
| 6/27 | | 7:00pm | | Seattle, WA | | University of Washington |
| 7/01 | | 2:00pm | | Los Angeles, CA | | Brentanos |
| 7/02 | | 1:00pm | | Santa Monica, CA | | Museum of Flying |
| 7/05 | | 7:30pm | | Menlo Park, CA | | Kepler's Books |
| 7/06 | | 12:30pm | | Moffet Field, CA | | Space Camp |
| 7/06 | | 7:30pm | | Corte Madera, CA | | Book Passage |
| 7/07 | | 7:30pm | | San Francisco, CA | | Morrison Planetarium |
| 7/08 | | 7:30pm | | Denver, CO | | Tattered Cover |
| 7/09 | | 2:00pm | | Colorado Springs, CO | | McKinzey-White |
| 7/10 | | 7:00pm | | Arvada, CO | | Waldenbooks |
| 7/11 | | 7:00pm | | Denton, TX | | Hastings |
| 7/12 | | 1:00pm | | Houston, TX | | Space Center Houston |
| 7/13 | | 7:00pm | | Dallas, TX | | Borders Books & Music |
back to News



© 2023 collectSPACE.com All rights reserved.
Questions? E-mail contact@collectspace.com