Full Coverage: 2003 Astronaut Hall of Fame
Article index:
---

Story, Sally, Hoot and Dan honored

June 22, 2003 — Daniel Brandenstein, Robert "Hoot" Gibson, Story Musgrave, and Sally Ride were inducted into the Astronaut Hall of Fame yesterday during a rain-soaked ceremony attended by their families, fellow astronauts, and the public.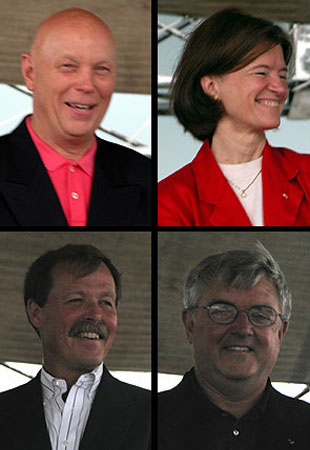 With darkening clouds gathering overhead, actor Lance Henrickson, who portrayed Walter Schirra in the movie "The Right Stuff", served as master of ceremonies and introduced the astronauts.

In attendance were Mercury astronauts John Glenn, Scott Carpenter, and Gordon Cooper; Gemini and Apollo veterans Buzz Aldrin, James Lovell, John Young, Edgar Mitchell, Walt Cunningham, and Al Worden; Skylab crew members Owen Garriott and Ed Gibson; and Space Shuttle commanders Bob Crippen and Frederick Hauck.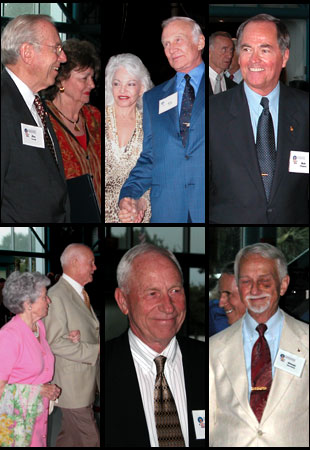 Each of this year's honorees were presented by a fellow astronaut. Musgrave, a Skylab back-up, was paired with Garriott; Ride with her commander for both her flights, Crippen; Brandenstein with fellow commander Hauck; and Gibson with Glenn.

Musgrave thanked those who supported him, including his fellow astronauts and KSC workers. "You took care of me, for which I will be forever thankful."

Crippen, who was commander of both of Ride's flights, remembered the media attention placed on the first U.S. female astronaut. "In the media, the crew was known as 'Sally Ride and the others,'" joked Crippen.

"I always dreamed of flying in space," said Ride. "I still can't believe that dream came true."

Gibson was introduced by Glenn by way of comparison to a cowboy who shared his name. "He was not what one might call handsome, maybe a little on the homely side, nor did he cut a dashing figure on horseback, though he could ride like a demon".

"I never would have imagined that a quarter of a century ago, when Dan Brandenstein, Sally Ride and I all started at NASA, that I would ever be accepting an honor like this," said Gibson. "But thank you so very much for it."

Brandenstein spoke during the hardest of the rain. "I had tremendous opportunity to work with a great space team, great crews."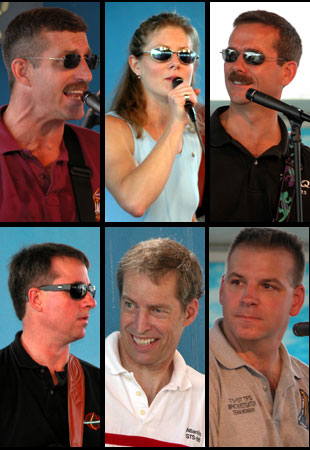 Earlier in the day, the public was treated to the music of Max Q, the all-astronaut band. Active astronauts Dan Burbank, Tracy Caldwell, Chris Hadfield, Steve Robinson, Jim Wetherbee, and Gregory H. Johnson played two sets and signed autographs.

Also signing were Henrickson and two of his fellow "The Right Stuff" cast members, Pamela Reed (Trudy Cooper) and Scott Wilson (Scott Crossfield).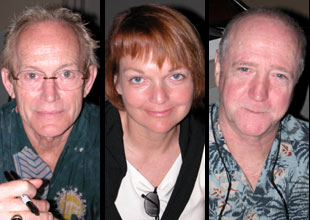 The actors' were on hand on behalf of Warner Brothers, which sponsored the induction celebration and a Friday night gala at the Apollo Saturn V Center.

Other special guests noted in attendance included Bill "Jose Jimenez" Dana, former Pad Leader Guenter Wendt, and astronauts Brian Duffy, Brewster Shaw, and STS-118 educator mission specialist Barbara Morgan.

collectSPACE was a proud sponsor of the celebration.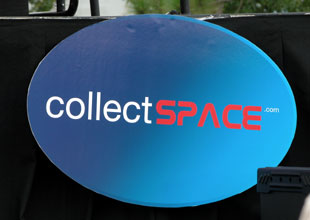 ---

Hall of Fame to also honor Musgrave

May 15, 2003 — His schedule now clear, six-time shuttle mission specialist Franklin "Story" Musgrave will join Daniel Brandenstein, Robert "Hoot" Gibson, and Sally Ride when they are inducted into the Astronaut Hall of Fame on June 21.

Musgrave was identified for the honor at the same time as his fellow inductees but a scheduling conflict had been cited by the Astronaut Scholarship Foundation as precluding his involvement. Instead, Musgrave was to be included with the 2004 class.

With little fanfare and without explanation, Musgrave's name was added to the list of inductees on the Kennedy Space Center Visitor Complex website earlier this week.

As a mission specialist on six flights, Musgrave was the first to space walk from the Space Shuttle, conducted scientific experiments, deployed and retrieved satellites, operated classified payloads for the military and helped to repair the Hubble Space Telescope.


---
Hall of Fame to add three shuttle fliers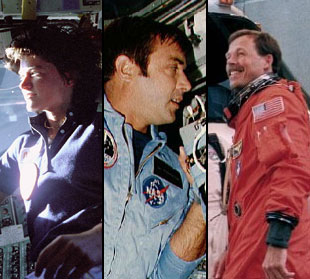 May 9 -- Two veteran Space Shuttle commanders and the first American woman to fly in space will be enshrined in the U.S. Astronaut Hall of Fame during a June 21 ceremony at the Kennedy Space Center.

Daniel Brandenstein, Robert "Hoot" Gibson and Sally Ride were selected for the honor by a blue ribbon committee made up of former NASA, space industry officials, flight directors, members of the media who covered the shuttle, historians and others connected to the program.

The committee also selected Story Musgrave, who flew on six shuttles as a mission specialist. But a schedule conflict will prevent Story from making this year's event. Instead, he will be inducted during the 2004 ceremony.

Brandenstein piloted one mission and commanded three others, skillfully guiding the orbiter to within a few feet of satellites, enabling crewmates to corral and return a bus-size package of experiments, and later to retrieve, repair and re-deploy a disabled Intelsat. He later served as Chief of the Astronaut Office.

Gibson commanded four of his five shuttle missions, including the first docking of a shuttle with Russia's Mir space station. Following the 1986 explosion of Challenger, he participated in the investigation of the accident and contributed to the redesign of the solid fuel rocket boosters, which caused the disaster.

On the seventh shuttle mission, Ride became the first American woman to fly in space. She helped deploy two satellites and conducted experiments. Sixteen months later she returned to space with six others on an Earth science mission. She served on the Challenger Accident Investigation Board and recently was appointed to the Columbia Accident Investigation Board.

"Each contributed his or her talents toward advancing the exploration of space, and each is most deserving of this honor," said Jim Lovell on behalf of the Astronaut Scholarship Foundation.

The Foundation is responsible for the selection of Hall of Fame inductees. It appointed the selection committee members and oversaw the balloting.

The general public can attend the June 21 Hall of Fame ceremony. Tickets are on sale for $60 and include a ribbon cutting ceremony at the newly refurbished Hall of Fame, a lunch (or brunch) with astronaut guests, and a commemorative poster.

Astronauts currently scheduled to attend the induction include Buzz Aldrin, Scott Carpenter, Gene Cernan, Gordon Cooper, Bob Crippen, Walter Cunningham, Fred Haise, Edward Gibson, Owen Garriott, John Glenn, Dick Gordon, Rick Hauck, James Lovell, James McDivitt, Ed Mitchell, Richard Truly, Al Worden, and John Young.

Brandenstein, Gibson and Ride will become the second group of Space Shuttle fliers inducted. They will join 48 other astronauts who have been enshrined in the Hall of Fame since it opened in 1990.

collectSPACE editor Robert Pearlman was a member of the committee that selected this year's inductees.
back to News



© 2023 collectSPACE.com All rights reserved.
Questions? E-mail contact@collectspace.com