May 7, 2017
— The U.S. Air Force's secretive X-37B mini-space plane has landed after a record 718 days in Earth orbit, touching down for the first time on the Florida runway historically used by NASA's space shuttles.

"The Air Force X-37B OTV-4 has returned from orbit and has landed safely at NASA Kennedy," the Air Force wrote on Twitter just before 8 a.m. EDT (1200 GMT) on Sunday (May 7). Local residents reported on social media of being woken by sonic booms as the vehicle decelerated through the speed of sound.

The uncrewed X-37B, or Orbital Test Vehicle (OTV), came to a wheels stop along Runway 15 at the Kennedy Space Center's Shuttle Landing Facility (SLF). Launched on May 20, 2015, Sunday's touchdown brought the OTV-4 mission to its end at one year, 11 months and 17 days, the X-37B's longest flight to date.


"Today marks an incredibly exciting day for the 45th Space Wing as we continue to break barriers," Brig. Gen. Wayne Monteith, commander of the unit at Patrick Air Force Base, said in a statement. "Our team has been preparing for this event for several years, and I am extremely proud to see our hard work and dedication culminate in today's safe and successful landing of the X-37B."

According to the Air Force's Rapid Capabilities Office, the X-37B program performs risk reduction, experimentation and concept of operations development for reusable space vehicle technologies. Not much is known about what the winged vehicle was doing for its almost two years in orbit, or why this fourth mission lasted as long as it did, though the Air Force said in 2015 that this was its first X-37B flight to focus on testing experimental payloads.

Among the few payloads known to have been launched on OTV-4 was an XR-5A 'Hall' thruster, an electric device that ionizes and accelerates a noble gas to produce thrust. The propulsion experiment, built by Aerojet Rocketdyne, was a modified version of the unit that propelled three Advanced Extremely High Frequency communications satellites that were launched between 2010 and 2013.

The X-37B also flew with NASA's Materials Exposure and Technology Innovation in Space (METIS) payload that was designed to expose almost 100 material samples to space. The experiment included a variety of polymers, composites and coatings to test as candidates to replace obsolescent materials used on spacecraft and the International Space Station with environmentally-friendly options.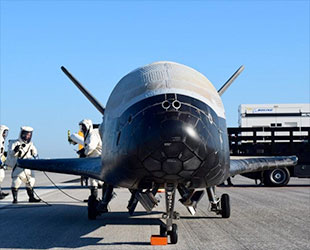 The U.S. Air Force's X-37B Orbital Test Vehicle (OTV) is seen after landing in Florida after a record 718 days in Earth orbit.
(USAF)
"The landing of OTV-4 marks another success for the X-37B program and the nation," X-37B program manager Lt. Col. Ron Fehlen said. "We are incredibly pleased with the performance of the vehicle and are excited about the data gathered to support the scientific and space communities."

"This mission once again set an on-orbit endurance record and marks the vehicle's first landing in the state of Florida," Fehlen said.

The previous three OTV missions each launched from the Cape Canaveral Air Force Station in Florida and landed at Vandenberg Air Force Base in California. OTV-1 orbited for 224 days in 2010; OTV-2 landed after 469 days in 2012; and OTV-3 flew for 675 days, touching down in 2014.

With OTV-4, the Air Force's two X-37B space planes have now logged a total of 2,085 days in flight.

Sunday's landing in Florida was possible as a result of two agreements between NASA and Space Florida, the state's agency responsible for aerospace economic development, to privatize use of facilities at the Kennedy Space Center. In 2014, Boeing leased the use of a former space shuttle hangar, Orbiter Processing Facility-1, to support the X-37B (the space planes were built and are serviced by Boeing's Phantom Works division).


And in June 2015, NASA transferred control of the Shuttle Landing Facility to Space Florida for a period of 30 years. In addition to its use by the X-37B, the SLF has also been repurposed as a testing ground for new technologies and a workspace for the refurbishment of a full-size space shuttle mockup intended for a future traveling exhibition.

The X-37 began as a NASA research project. Lacking the funding needed to move the program forward, the civilian space agency transferred the space plane to DARPA (the Defense Advanced Research Agency) in 2004. Two years later, the Air Force took over responsibility for the project.

"The hard work of the X-37B team and the 45th Space Wing successfully demonstrated the flexibility and resolve necessary to continue the nation's advancement in space," Randy Walden, director of the Air Force Rapid Capabilities Office, said. "The ability to land, refurbish, and launch from the same location further enhances the OTV's ability to rapidly integrate and qualify new space technologies."

The Air Force is preparing to launch OTV-5, its fifth X-37B mission, from Cape Canaveral Air Force Station in Florida, later this year.