October 17, 2014
— The U.S. Air Force's secretive X-37B space plane has returned to Earth after nearly two years in orbit.

The unmanned mini space shuttle, which is also referred to as an Orbital Test Vehicle (OTV), landed on Runway 12 at Vandenberg Air Force Base in California on Friday (Oct. 17) at 9:24 a.m. PDT (1624 GMT).

"I am extremely proud of our team for coming together to execute this third safe and successful landing," Col. Keith Balts, commander of the 30th Space Wing at Vandenberg Air Force Base, said in a release. "Everyone from our on console space operators to our airfield managers and civil engineers take pride in this unique mission and exemplify excellence during its execution."

Launched on Dec. 11, 2012, the winged spacecraft logged 675 days orbiting the Earth. What the X-37B was doing for all that time however, has been kept secret.

The clandestine flight marked the third mission for the X-37B program and the first re-flight of one of the fleet's two vehicles. The 29-foot-long by 9.5 foot-tall (8.8 by 2.9 m) space plane, with a 15 foot (4.6 m) wingspan, first flew in space in 2010 for 225 days.


A second OTV was launched in March 2011 and returned to Earth in June 2012 after 469 days in space.

"The landing of OTV-3 marks a hallmark event," said the X-37B's program manager, whose name was not released. "The mission is our longest to date and we're pleased with the incremental progress we've seen in our testing of the reusable space plane."

The reusable X-37B vehicles, which were built for the U.S. Air Force by the Boeing Company's Phantom Works, had been rated to spend 270 days in space but has now twice exceeded that (on this, its third mission, by more than 400 days). The OTVs launch on board United Launch Alliance (ULA) Atlas V rockets from the Cape Canaveral Air Force Station in Florida.

"With a program total of 1,367 days on orbit over the three missions, these agile and powerful small space vehicles have completed more days on orbit than all [of NASA's] 135 space shuttle missions combined, which total 1,334 days," said Ken Torok, director of Experimental Systems at Boeing.

The OTVs are equipped with a payload bay about the size of a pickup truck's bed. They are powered by a deployable solar array.

The Air Force did not say what, if anything, OTV-3 carried in its payload bay or what specifically the spacecraft did in orbit. Military officials have said the spaceplane serves as a platform for testing new technologies after the retirement of NASA's space shuttle fleet in 2011.

The X-37B orbital test vehicle "is designed to demonstrate reusable spacecraft technologies for America's future in space and operating experiments which can be returned to, and examined, on Earth," Air Force officials said at the time of this latest mission's launch.

In addition to methods for the X-37B's autonomous orbital flight, reentry and landing, the OTV program is also testing advanced guidance, navigation and control, avionics, high temperature structures, and thermal protection systems.

The Air Force is preparing to launch its fourth flight of the X-37B from Cape Canaveral Air Force Station in 2015.

Earlier this month, the Air Force and NASA entered into an agreement to repurpose two hangars, known as Orbiter Processing Facilities (OPF), at the Kennedy Space Center in Florida for servicing the X-37B between flights. Boeing is upgrading OPFs 1 and 2 to process the secretive space planes for their next use. The modifications are targeted to be complete in December.

The X-37B program has also conducted demonstrations at Kennedy's Shuttle Landing Facility to confirm that landing the vehicle at the shuttle runway is technically feasible.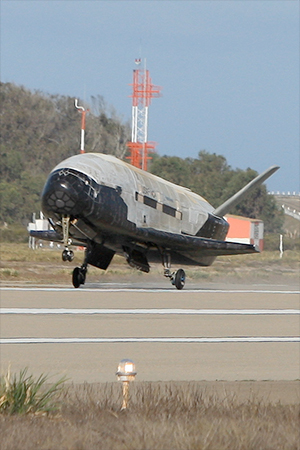 The U.S. Air Force's X-37B space plane lands at Vandenberg Air Force Base on Oct. 17, 2014 after 675 days in space. (Boeing)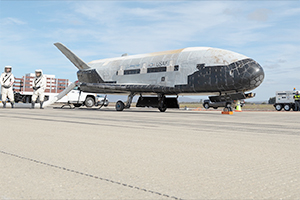 The U.S. Air Force's X-37B space plane, as seen at Vandenberg Air Force Base, Calif., after landing on Oct. 17, 2014. (Boeing)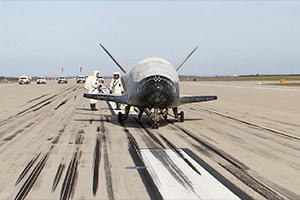 The U.S. Air Force's X-37B space plane, as seen at Vandenberg Air Force Base, Calif., after landing on Oct. 17, 2014. (Boeing)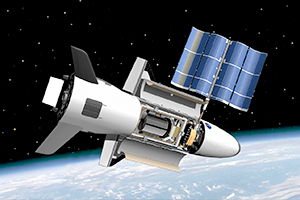 Artist concept of the ir Force's X-37B space plane in orbit. (NASA)