Analyzing Aurora: auction aftermath

May 6, 2002 — When the final lot closed on April 28, at Aurora Galleries' first space and aviation memorabilia auction, there was only one bidder left in the audience. Had it not been for an unidentified Internet user, lot 1427 — a philatelic cover flown to Mir — might have gone to the proverbial "book."

Just one day earlier, at the start of the auction, those same empty seats at the Santa Monica Museum of Flying were nearly all filled by collectors. A bank of phones at the rear of the hall connected to even more bidders, as did a laptop station tuned to icollector.com.


---
View the results of Aurora's April 27-28 auction
---

The setting may have seemed familiar — with the possible exception of the tuxedo-clad Aurora staff (some of whom only added to the similarities) and the attendance of a few of the astronauts who consigned artifacts — collectors may have mistaken the auction for one hosted by Superior Galleries just a year earlier.

Superior of Beverly Hills had long been the collectors' source for space memorabilia. Then, in October 2001, they abruptly ended a nine year tradition of bi-annual space sales citing the retirement of their department head, Michael Orenstein.

Orenstein didn't stay retired for very long, accepting a role as consultant at Aurora. So if Superior's and Aurora's auctions appeared similar, it wasn't a complete surprise as to why.

That's not to say that there weren't noticeable changes.

Through their website, Aurora encouraged collectors to identify and submit corrections to their catalog.

Vague terms such as "possibly flown" were all but absent from the lot descriptions.

And then there were the aforementioned astronauts who had consigned material, including Apollo 15 crewmates David Scott and Al Worden and Apollo 12 CMP Richard "Dick" Gordon, who agreed to make in-person appearances on behalf of Aurora.

Perhaps the most talked about change however, was one even Aurora hadn't accounted for: low hammer prices.

Take for example, the modest selection of Neil Armstrong autographs offered. With the exception of a signed index card, Aurora's own published estimates placed the autographs at a minimum of $500.00 each. Even that may have been labeled as conservative; the first moonwalker's scrawl has often been valued at $650 to $800 for an authentic, clean signature.

Yet when bidding concluded, the average closing was $325.00 to $375.00. (Multi-signed Apollo 11 pieces returned a wide variety of results, with a photocard closing at $450.00 and a cover reaching $1700.00.)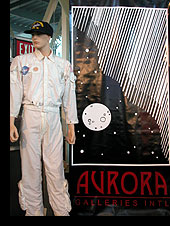 Even the sure things weren't so sure: an Apollo 11 cover (lot 125) carried to the Moon by Buzz Aldrin sold for $18,000.00. While certainly impressive, similar covers from the same set of 101 flown cachets have reached nearly double that in past auctions.

And just how much is the first Apollo-era flown flight suit to be available for sale really worth? Not that $80,000 should be considered disappointing by anyone's standards, but even Aurora estimated Dick Gordon's Apollo 12 beta cloth two-piece (lot 177) to surpass the $100,000 mark.

Not to mention Dave Scott's nametag, flown and exposed to the lunar surface, which closed at $20,000. His crewmate, Jim Irwin's swatch from the same mission and same spacesuit component topped $300,000 at Christie's in 1999.

Of course times change, and markets do as well.

It would be irresponsible to imply that depressed values were due solely to apprehension about or the trade practices of a new company. As stated, for better or for worse, the situation at Aurora hasn't differed too greatly from their predecessors.

Numerous factors could have contributed to the results: the selection of memorabilia, the post- 9/11 market, the ever growing popularity of eBay, etc.

Aurora plans to host another auction at the end of October, which will provide another data point to take into consideration. Until then, collectors will need to decide for themselves the true impact of Aurora's first auction.
back to News



© 2018 collectSPACE.com All rights reserved.
Questions? E-mail contact@collectspace.com