May 2, 2017
— Spaceflight and "Star Trek" fans take note: now may be your only chance to own an artifact from the real-life intersection of a NASA mission and James T. Kirk.

William Shatner, who famously portrayed the captain of the Starship Enterprise on the original "Star Trek" television series, is auctioning off his "Captain Kirk in Environmental Suit" action figure that launched aboard NASA's first Orion spacecraft in 2014.

"How about a Capt. Kirk action figure that [really] went into space 🚀 and orbited the Earth on the Orion EFT-1 flight?" Shatner wrote on Twitter on Sunday (April 30).

A day later, the 9-inch-tall (23-cm) figure opened for bids as part of Shatner's Hollywood Charity Horse Show online auction. The sale, which includes 160 lots of entertainment and equine memorabilia, runs through June 4 and benefits more than 25 causes and non-profit organizations.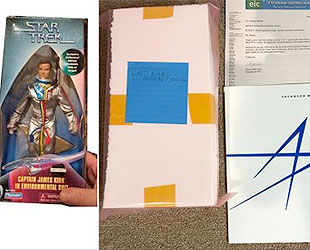 Lot A72 in the 2017 Hollywood Charity Horse Show online auction includes William Shatner's Captain Kirk action figure flown to orbit on NASA's Orion EFT-1 mission.
(Hollywood Charity Horse Show)
As of Monday night (May 1), bidders had already "beamed up" the 1999 Playmates Toys' action figure to $325 – more than six times the minimum bid of $50 — with more than a month remaining before the auction closes.

EFT-1, or Exploration Flight Test-1, launched NASA's first next-generation spacecraft atop a United Launch Alliance (ULA) Delta IV rocket from the Cape Canaveral Air Force Station in Florida. The EFT-1 mission made history circling high above Earth for two orbits on Dec. 5, 2014.

Traveling farther into space than any spacecraft designed for astronauts since the Apollo 17 command module that carried the last crew to the moon in 1972, the Orion EFT-1 capsule reached a peak altitude of 3,600 miles (5,800 km) — or 14 times higher than the International Space Station.

EFT-1 demonstrated the Orion heat shield could withstand a plummet from deep space back into Earth's atmosphere, surviving temperatures nearing 4,000 degrees Fahrenheit (2,800 degrees C). The uncrewed capsule splashed down under three parachutes and was recovered.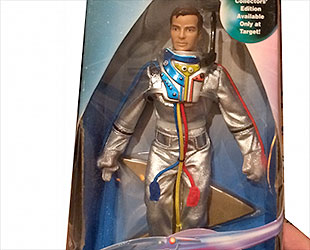 "Captain James Kirk in Environmental Suit" action figure launched on the Orion EFT-1 mission in 2014.
(Hollywood Charity Horse Show)
Though no astronauts were along for the ride, a package of mementos flew on the Orion as ballast — including the Captain Kirk action figure. The auction includes the original packaging used to protect the toy on its trip, as well as a letter of authenticity from Lockheed Martin, NASA's prime contractor for the Orion spacecraft.

"A noted space enthusiast, William Shatner is thrilled to send Kirk back to space and support Orion, while inspiring future generations about space travel," the Entertainment Industries Council, which organized the figure's flight, told collectSPACE in 2014.

As if owning the space-flown Kirk was not enough, Shatner has offered to autograph the figure for the winning bidder, if he or she so chooses.

In addition to the Orion EFT-1 artifact, the online auction also includes six "Destination Mars" T-shirts, as designed by Apollo 11 moonwalker Buzz Aldrin and autographed by Shatner. Each of the shirts opened for bids at $15.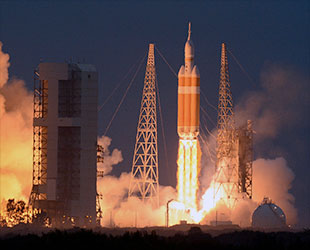 Launch of NASA's first Orion space capsule on Exploration Flight Test-1 from Cape Canaveral, Fla., on Dec. 5, 2014.
(collectSPACE)
Founded by Shatner in 1990, the Priceline.com Hollywood Charity Horse Show will be held this year on June 3 (the day before the online auction ends). The show, at the Los Angeles Equestrian Center in California, is free and open to the public, and is followed by a ticketed dinner featuring a musical performance still to be announced.

NASA is targeting its next Orion flight, Exploration Mission-1 (EM-1), on the first launch of its Space Launch System heavy-lift booster in 2019. The agency may add a crew to the mission, pending the outcome of a recently-completed feasibility study. EM-1, as currently planned, will circle the moon before returning to Earth.

Ultimately, NASA intends Orion to be a part of a cis-lunar gateway, which will enable astronauts to travel farther into space and onto Mars by the 2030s.

For more information or to bid, see the Hollywood Charity Horse Show website.