Dec. 1, 2014
— Captain Kirk, Iron Man, Sesame Street's Slimey the Worm, and a Tyrannosaurus Rex are set to lift off to space later this week on the first test flight of Orion, NASA's next-generation spacecraft.

This eclectic 'crew' flying aboard NASA's unmanned Orion Exploration Flight Test-1 (EFT-1) are among the souvenirs and mementos packed for the four-hour, two-orbit mission. The Orion capsule with its cargo of sensors, instruments, and memorabilia is scheduled to launch Thursday (Dec. 4) at 7:05 a.m. EST (1205 GMT) on board a United Launch Alliance (ULA) Delta 4 Heavy rocket from Cape Canaveral Air Force Station in Florida.

The mementos, which include a Star Trek action figure, a Marvel challenge coin, a muppet, a dinosaur fossil, and an Apollo lunar spacesuit part, were collected for the flight by Lockheed Martin, NASA's prime contractor for Orion and the company responsible for the EFT-1 mission.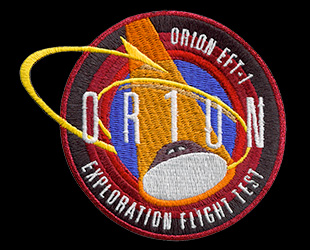 NASA's Orion Exploration Flight Test mission patch.
(AB Emblem)
The toys and artifacts packed aboard the Orion continue a long tradition dating back to the early days of U.S. human spaceflight, when astronauts carried small trinkets for their families, friends, and organizations that helped make their mission possible.

To boldly go

The Orion is NASA's first crewed space capsule since the Apollo command module. It is designed to take astronauts farther into the solar system than ever before. The EFT-1 mission will test systems that are critical to future human missions to an asteroid and ultimately to Mars.

During the flight, the Orion will fly 15 times farther out than the International Space Station before plummeting back to Earth to test its heatshield at speeds nearing what it would experience if it was returning from the moon. After reentry, the Orion will deploy parachutes and then splash down in the Pacific Ocean, where it will be recovered by the Navy.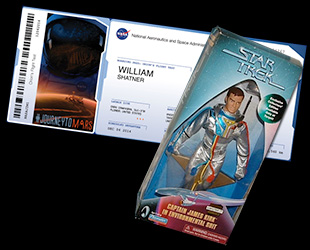 William Shatner's NASA-issued Orion EFT-1 "boarding pass" and an example of the Captain Kirk figure he provided to fly aboard.
To raise public awareness about EFT-1, Lockheed worked with the Entertainment Industries Council (EIC) to recruit items from science fiction-related celebrities to fly onboard Orion.

"A noted space enthusiast, William Shatner is thrilled to send Kirk back to space and support Orion, while inspiring future generations about space travel," EIC vice president Skylar Jackson told collectSPACE.

Shatner provided his "Captain Kirk in Environmental Suit" collector's edition action figure to symbolize his iconic role on "Star Trek."

Director Jon Favreau offered an "Iron Man" challenge coin to represent engineering, technology and flight.

"'Iron Man' transcends generations and even has had his own adventures in space making this contribution one that will further enhance the conversation among young people about the importance of space research and discovery for years to come," Jackson said.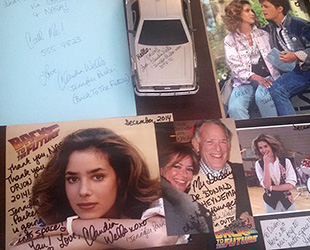 Actress Claudia Wells' "Back to the Future" autographed photos and Delorean model that are packed on Orion for EFT-1.
(EIC)
Other sci-fi celebrity items flying on Orion include signed cast photographs and Delorean time machine model from "Back to the Future" actress Claudia Wells, and photos of Mayim Bialik's ancestors given by "The Big Bang Theory" actress and real-life neuroscientist. EIC's co-founder Brian Dyak and executive vice president Larry Deutchman also provided a "Crash Test Dummy" action figure, a character they invented to promote the use of seat belts.

In a similar collaboration to Lockheed's and EIC's, NASA and Sesame Workshop, the nonprofit organization behind the children's television show "Sesame Street," partnered to fly items that will inspire a new generation of explorers.

Oscar the Grouch's pet worm Slimey, who previously flew to the moon as part of the TV show, is launching on Orion, as are Ernie's rubber ducky, Cookie Monster's cookie and Grover's cape (from when the furry blue monster becomes "Super Grover"). The Muppets' items, once back from the mission, will take prized spots on the Sesame Street set where millions of children will be able to see them.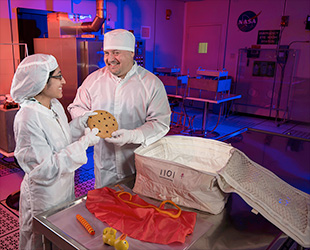 Orion EFT-1 technicians pack Cookie Monster's cookie and other Sesame Street items to fly onboard the space capsule.
(NASA)
From Jurassic Park to Tranquility Base

Also packed aboard the historic Orion test flight are some historical artifacts.

The Denver Museum of Nature and Science, located near Lockheed Martin's space systems division in Colorado, is loaning part of a Tyrannosaurus Rex. The prehistoric fossil "will make the flight as a reminder of how much life the Earth has seen during its existence," NASA explained on its website.

From the land before time to the moon landings, Orion is also launching an Apollo spacesuit oxygen hose. A spare that did not fly in space prior to this mission, the 45-year-old artifact is on loan from the Smithsonian's National Air and Space Museum in Washington, D.C.

Together with the hose, Orion is holding a small sample of lunar soil that NASA says will be used to inspire students toward science and engineering fields.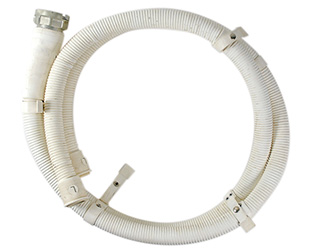 An oxygen hose from an Apollo lunar spacesuit. An artifact like this is packed aboard Orion for Exploration Flight Test-1.
"The artifacts chart humanity's progress and technological advancement as the nation takes a critical step forward on the journey to Mars," the space agency stated.

Art aboard Orion

Lockheed Martin also commissioned several artistic works to fly on Orion.

The recordings include "Mars" from Gustav Holst's "The Planets" performed by the National Symphony Orchestra and "We Shall Overcome" by Denyce Graves, as arranged by Nolan Williams. The latter features the words "we shall live in peace," which NASA explains is "a theme common throughout America's civilian space program and efforts."

Several poems by Marshall Jones and Maya Angelou will also be on Orion, including Angelou's "Brave and Startling Truth," as will a small sculpture, titled "Pioneer Woman," by sculptor Ed Dwight. Dwight was the United States' first black astronaut candidate.

"The [flown] works will help expand the cultural connection between the arts and science," the space agency stated.

Medallions, mementos and a microchip

Lockheed Martin, collaborating with NASA, loaded several lockers aboard the Orion spacecraft with an assortment of flags, medallions, patches and pins that after the flight will be given to EFT-1 team members, museums and schools.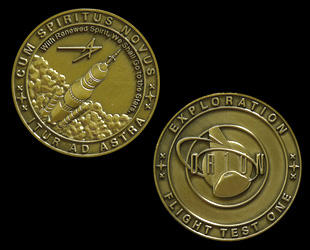 Lockheed Martin's Orion EFT-1 medals include the Latin phrase, "Cum Spiritus Novus, Itur Ad Astra."
(collectSPACE)
The Lockheed Martin medals are inscribed with the Latin phrase, "Cum Spiritus Novus, Itur Ad Astra," or translated, "With Renewed Spirit, We Shall Go To The Stars." Each features the Exploration Flight Test-1 emblem on one side and the Space Launch System rocket on the reverse.

Among the banners flying aboard the capsule is a custom flag created by EIC using the image of the astronomical constellation Orion. The flag's design "shows the unity of entertainment [and] journalism [with] science, engineering and technology to create "The Art of Making a Difference," Skylar said.

Rounding out the Orion EFT-1 commemorative payload is a microchip with the names of more than a million people who signed on to be a part of NASA's "Journey to Mars" program. The online campaign collected 1,379,961 names from more than 200 countries on digital boarding passes.

This article has been updated to correct the description of the Apollo oxygen hose flying on Orion.