High interest, values highlight auction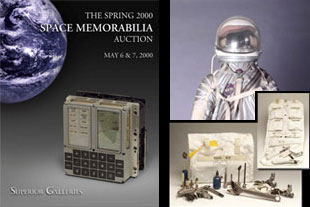 May 8, 2000 — When the final hammer fell on Sunday, Superior Galleries' closed their most successful auction in seven years selling space exploration artifacts and memorabilia. While excited with the results, the Beverly Hills firm says this is just the beginning.

The two day 1,650 lot sale lured nearly 150 bidders to the gallery, where space suited mannequins, hardware- and model-filled cases and framed autographs lined the walls.


---
View the results of the Spring 2000 auction
---

As the bidding began, it did not take long for the auction to show its strength.

Lot number 76, the silver outer layer of a Mercury-era spacesuit was sold to a bidder for $90,000. The suit was originally sourced from the manufacturer B.F. Goodrich's traveling museum of space memorabilia.

"I was on the phone when that went," said Alan Lipkin, Director of Stamps and Space Memorabilia for Superior. "It went to... a collector and he is thrilled with it."

The high, but by all accounts appropriate closing price was an early indication of Superior's ability to attract new but experienced clientele.

"Some of the items in the sale where we had estimates for $1,000 went for over $6,000, showing there were knowlegdeable people on the floor," said Lipkin. "Even if we under estimate something, people see that it goes for what it should go for anyway."

"The buyers both on the floor and through the mail pretty much pointed out values," added Superior Senior Buyer and Appraiser Michael Orenstein. "We had a lot of bids on virtually all lots and as a normal sale should be, 50 percent of them were too high and 50 percent were too low. The floor took care of those that were too low and backed off those that were too high so everything filled in uniformly. Which means that it was a good sale — good material brought what it was worth."

Orentstein credits two primary factors for the increased attention and success of this auction: the selection and variety of the items offered and a higher quality catalog.

"If you have an attractive catalog that says 'I'm class' the non-traditional collectors, not the investors but the people with disposable income are going to open it, read — stuff jumps off pages at them and they become involved."

That said, even the experienced collectors (and bidders) were impressed by the change and the outcome.

"I think the prices reflect the true market value of most of the items," said Florian Noller, who has been collecting and dealing for close to 15 years. "If you look back at the items on [the auction website] eBay over the past week, it was pretty weak there, so I think Superior really did a good job."

In addition to the Mercury suit, other highlights included:

A Mercury-era helmet (lot 77), similar to the type used by astronaut Walter Schirra, closed at $12,500.


Astronaut Charles "Pete" Conrad's outer layer of his Gemini training suit (lot 160) sold for $7,000, $2000 more than Superior's highest pre-auction estimate.


A Hasselblad Lunar Surface Camera (lot 213), the only such camera to be auctioned in more than 40 years, saw a hammer price of $31,000.


Selling for $30,000 was the Apollo 17 flown Command Module tool kit (lot 602), believed to be the last complete set in existence.


A complete "Yastreb" Soviet space suit (lot 920A), thought to be the first time a complete suit has been offered, sold for $17,000.
"Normally the Soviet material is not as popular as the U.S. The autographs vary back and forth. We had a very uniform demand for across the board material. Anything of value brought value," Orenstein said.

Early tallies indicated a sale total of over $1 million.

"That's impressive, considering we've only been doing it for seven years and we don't have the market that Christie's and Sotheby's have. We have developed this thing from nothing, and each sale is an incremental or a larger than incremental in this case, improvement," said Orenstein.

Looking towards the next auction, Orenstein commented "My shelves are already full."
back to News



© 2023 collectSPACE.com All rights reserved.
Questions? E-mail contact@collectspace.com