April 28, 2017
— The last member of NASA's first group of space shuttle astronauts to still work for the agency has retired after more than three decades of service.

Anna Lee Fisher, who was recruited in 1978 as one of the United States' first six women astronauts and who became the first mother to fly into space, left NASA on Friday (April 28), the space agency announced in a press release.

"We appreciate all of the years that Anna has dedicated to our space program," said Chris Cassidy, chief of NASA's Astronaut Office at the Johnson Space Center in Houston. "Anna, and that first class of astronauts to include women, set the stage for decades of female astronauts after them."


A medical doctor and chemist who was selected with the eighth class of NASA astronauts (the so-called "TFNG" or Thirty-Five New Guys), Fisher flew as a mission specialist on the second flight of the space shuttle Discovery, STS-51A, in November 1984. Fisher was assigned to the crew two weeks before delivering her first daughter, Kristin, and launched just 14 months later, making her the first mom to fly in space.

"I totally embarrass my younger daughter when I say 'Well, half of your DNA was in space,'" Fisher said in an interview for a NASA oral history in 2011. "She goes, 'Mom!' At least when she was younger, she would get embarrassed. She's probably proud of it now."

"There's a very small number of people who both parents have been in space," added Fisher, referring to Kara, her second daughter. Fisher was previously married to William Fisher, a member of the 1980 NASA astronaut class and a mission specialist on Discovery's sixth mission.

During her shuttle mission, Fisher and her crew deployed two satellites, Canada's Anik D-2 (Telesat H) and Hughes' LEASAT-1 (Syncom IV-1), and, as the first space salvage mission, retrieved the Palapa B-2 and Westar VI satellites for their return to Earth. Fisher assisted the recovery of the Westar by taking control of the Canadarm robotic arm from Discovery's aft flight deck.

"The thing I remember so vividly is all the motion," Fisher told a NASA interviewer. "When I was operating the arm, the satellite is spinning, because it's stabilized, very slowly. The shuttle is moving a little bit. I'm moving the arm. You're going by the Earth. The clouds are moving."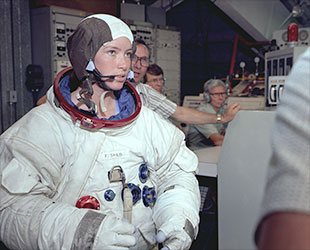 Anna Lee Fisher dons an Apollo spacesuit in 1980 for training on an underwater mockup of the Hubble Space Telescope.
(NASA)
Fisher and her 51-A crewmates landed aboard Discovery on Nov. 16, 1984, after 7 days, 23 hours and 44 minutes in space. Footage of their touchdown at the Kennedy Space Center in Florida was used in the 1985 IMAX movie "The Dream is Alive."

Fisher was assigned to launch again, joining the STS-61H crew on the shuttle Columbia in June 1986. The mission however, was cancelled following the loss of Challenger in January of that year. So Fisher instead resumed technical roles in the Astronaut Office.

She served on the astronaut selection board for the 1987 class of astronauts and joined the Space Station Support Office, where she worked for the operations branch. Fisher also was the crew representative supporting space station development in the areas of training, operations concepts and the health maintenance facility.

In 1989, Fisher took a rare leave of absence to raise her family, returning in January 1996. During the early phase of building the International Space Station, through 2002, she served as the space station branch chief, coordinating inputs to the operations of the burgeoning outpost, working closely with NASA's international partners and supervising assigned astronauts and engineers.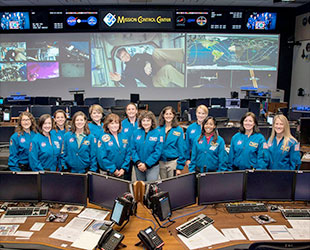 Anna Lee Fisher (sixth from left) joins NASA's women astronauts for a portrait in Mission Control on March 8, 2017.
(NASA)
Later, from early 2011 through mid-2013, Fisher served as a space station capcom (capsule communicator), working in Mission Control and was the lead capcom for Expedition 33. Most recently, she contributed to developing the crew displays for NASA's new Orion spacecraft.

In 1984, Fisher became the sixth woman worldwide to fly into space. She leaves NASA as the 61st prepares to fly next year. Two of NASA's most recent astronaut trainees, both women, were born in 1979, a year after Fisher joined the corps.

"She has provided insight to many incoming astronauts, as well as new programs," said Cassidy.

Fisher retired from the space program to spend more time with her family, NASA said.