April 27, 2022
— Four astronauts are now on their way to the International Space Station, flying on the fourth crew rotation flight on a U.S. commercial spacecraft.

Mission commander Kjell Lindgren, pilot Bob Hines and mission specialist Jessica Watkins, all with NASA, together with Italian astronaut Samantha Cristoforetti of the European Space Agency (ESA), launched as SpaceX's Crew-4 on Wednesday (April 27). Riding atop a Falcon 9 rocket on a new Dragon spacecraft named "Freedom," the four astronauts lifted off from Pad 39A at NASA's Kennedy Space Center in Florida at 3:52 a.m. EDT (0752 GMT).

Less than 15 minutes later, Freedom pulled away from the Falcon's second stage, beginning the Crew-4 astronauts' 17-hour rendezvous with the space station. The Dragon is scheduled to dock with the space-facing port on the Harmony module at 8:15 p.m. EDT (0015 GMT April 28).

Aboard the station, Lindgren, Hines, Watkins and Cristoforetti will join the seven members of Expedition 67, serving as flight engineers with NASA astronauts Tom Marshburn, Raja Chari and Kayla Barron, Russian cosmonauts Oleg Artemyev, Denis Matveev and Sergei Korsakov of the federal space corporation Roscosmos and German astronaut Matthias Maurer with ESA.


Marshburn, Chari, Barron and Matthias, who arrived at the space station as Crew-3 in November, will depart on SpaceX's Dragon "Endurance" after about a five day handover with the Crew-4 astronauts.

Lindgren, Hines, Watkins and Cristoforetti are scheduled to stay on the space station through September. During that time, they will help conduct hundreds of science experiments, perform and assist with spacewalks and oversee the arrival of visiting vehicles including the second uncrewed orbital flight test (OFT-2) for Boeing's Starliner crew spacecraft.

Firsts among the 4

Each of the Crew-4 astronauts are making personal or program firsts on the flight.

For Lindgren, it is his first time launching from the United States. A former flight surgeon who became an astronaut in 2009, Lindgren's first spaceflight was on a Russian Soyuz spacecraft, which delivered him to the International Space Station for a 142-day stay in 2015.

"I am just so excited to get to launch from Kennedy Space Center. Just the heritage and history of that launch site," said Lindgren, 49, in a NASA interview.

Hines is also flying from Kennedy for the first time as Crew-4 is his first mission. Known by his call sign "Farmer," Hines, 47, is the first NASA research pilot-turned-astronaut to fly into space in more than a decade.

"The opportunity to fly on a new vehicle is very small and very short lived," Hines told reporters about "Freedom," SpaceX's newest Dragon. "It is really an honor to get to pilot it and be a part of this amazing crew."

Like Hines, who is a fellow "Turtle" (or member of NASA's 22nd astronaut class), Watkins, 33, is the first Black woman to serve on a space station crew.

"I am just really honored to be part of the long legacy of Black astronauts and Black women astronauts who came before me. I am grateful for the opportunity to be a small part in that," said Watkins.

Cristoforetti already holds the record for completing the longest single spaceflight by a European, which she set at almost 200 days during her first mission in 2015. She is the first ESA astronaut to have a Barbie doll modeled after her and, if given the "go" on this flight, Cristoforetti, 44, will become the first Italian woman to go out on an extravehicular activity (EVA).

"If I get to do a spacewalk, which I am not 100 percent sure that I will, it will be a spacewalk in the Russian Orlan spacesuit," Cristoforetti said.

Dragon-flies

The four Crew-4 astronauts are also the first of the space station rotation crews to launch with SpaceX and forgo depicting a mythical dragon on their mission patch.

"The dragon is such a neat concept and we really appreciate the lineage of patches from Crew-1, -2 and -3, but I think that we wanted to reconnect with Earth in our patch and and so looked for some elements that could do that," Lindgren told collectSPACE. "And what better element than our namesake, the dragonfly?"

On the patch, a free-flying Dragon capsule forms the thorax of the dragonfly, "a beautiful and agile flyer" and the central element of the insignia.

The dragonfly, an insect known for its transparent wings and colored patches, is also considered a symbol of good fortune for many cultures.

"I wouldn't say it is good luck charm, but it's something that has popped up before every [Crew] launch," said Lindgren. "I was out at the launch gantry [for Crew-1] and saw a dragonfly land on the crew [access] arm. On subsequent launches, folks from the support teams has sent me photos of dragonflies they have seen as they've landed during the preparation for launch."

"And that's the other cool thing," he added, "you are walking around and you see a dragonfly and it just warms your heart a little bit."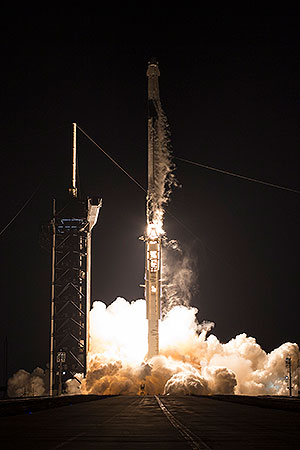 A SpaceX Falcon 9 rocket launches the Crew Dragon "Freedom" and four Crew-4 astronauts from Pad 39A at the Kennedy Space Center in Florida on April 27, 2022. (NASA/Aubrey Gemignani)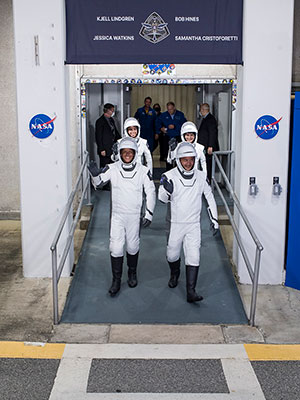 Crew-4 astronauts Bob Hines, Kjell Lindgren, Jessica Watkins and Samantha Cristoforetti walk out from the Armstrong Operations & Checkout Building at NASA's Kennedy Space Center in Florida on Wednesday, April 27, 2022. (NASA/Aubrey Gemignani)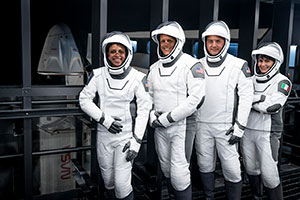 Crew-4 astronauts, from left, Jessica Watkins, Bob Hines and Kjell Lindgren, and European Space Agency (ESA) astronaut Samantha Cristoforetti stand inside the crew access arm at Kennedy Space Center's Pad 39A, backdropped by their spacecraft, Crew Dragon "Freedom," on April 20, 2022. (SpaceX)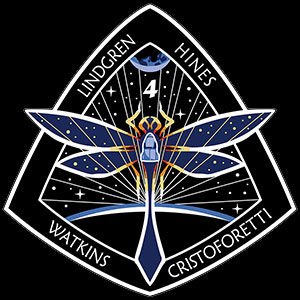 The Crew-4 mission patch features a dragonfly as a reference to the Dragon spacecraft and to connect with Earth. (NASA)