April 23, 2018
— Jim Bridenstine began his tenure as the administrator of NASA on Monday (April 23) by addressing some of his employees — the three U.S. astronauts on the International Space Station.

Bridenstine spoke with Expedition 55 flight engineers Scott Tingle, Drew Feustel and Ricky Arnold via a live downlink connecting the space station with NASA's Headquarters in Washington, DC. The exchange began a few minutes after Vice President Mike Pence swore Bridenstine into office.

"I just wanted to say that America loves what you guys are doing and we are thrilled for your levels of education, your commitment to the program, and your commitment to our country," said Bridenstine. "And we're thrilled that you were able to join us today on this very special day."

"I am deeply honored," said Bridenstine.

"A hardy congratulations to our new administrator," radioed Tingle as he floated between Feustel and Arnold inside the U.S. Destiny laboratory. "Congratulations on your selection to lead NASA as you report to duty."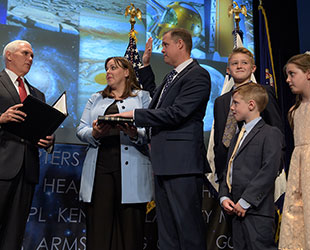 Flanked by his family, Jim Bridenstine is sworn in as NASA's 13th administrator by Vice President Mike Pence.
(NASA/Bill Ingalls)
Bridenstine now heads an agency of 44 active astronauts, 12 astronaut candidates and a workforce spread across 20 centers and facilities spanning the U.S. He was nominated by President Donald Trump on Sept. 1, 2017. The Senate voted to confirm Bridenstine on Thursday (April 19).

He is the thirteenth NASA Administrator since the agency's founding in 1958 and at age 42, is NASA's first chief to be born after the Apollo moon landings almost 50 years ago.

"Today marks the beginning of a new and exciting chapter for this storied agency because the President has chosen a distinguished leader to serve as administrator," remarked Pence. "Above all, Bridenstine brings an unrivaled passion for America's space program, and an unwavering respect for the more than 18,000 scientists, engineers, astronauts, lawyers, contractors, officers, analysts and other personnel of this great organization."

"Jim Bridenstine understands the words of NASA's vision," Pence said.

"I will do my best to serve our storied agency to the utmost of my abilities as we reach for new heights and reveal the unknown for the benefit of humankind," said Bridenstine.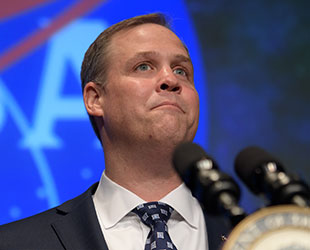 NASA's new administrator Jim Bridenstine.
(NASA/Bill Ingalls)
Bridenstine's arrival ends the longest period in NASA's 60 years without an administrator. Robert Lightfoot, a veteran engineer and director, served as acting administrator for a record 458 days.

"I want to thank Robert Lightfoot for his strong leadership as the acting administrator during a time of transition, and for his decades of service to NASA and our great country," Bridenstine said.

Before being chosen to lead NASA, Bridenstine served his home state of Oklahoma as a member of the U.S. House of Representatives. His career in federal service began in the Navy, logging the majority of his 1,900 flight hours and 333 carrier-arrested landings while flying combat missions in Iraq and Afghanistan.

After transitioning to the Navy Reserve, Bridenstine served for two years as the executive director of the Tulsa Air and Space Museum and Planetarium, where he led an effort to display a space shuttle in Oklahoma. The orbiters' payload bay doors were built in Tulsa, as were another set of large NASA hardware that launched in the shuttle's cargo hold.

"All the truss structures on that International Space Station were built in my hometown, Tulsa, Oklahoma," Bridenstine proudly told Pence and the astronauts aboard the orbiting outpost on Monday.