Photo Gallery:
How to display a retired space shuttle
March 29, 2011

— On April 12, NASA will announce where its three space shuttle orbiters, Discovery, Atlantis and Endeavour, as well as the prototype Enterprise, will be going for public display after they are retired. Beginning in 2008, the space agency requested that museums submit statements of interest, including details about how they would meet the requirement of exhibiting a space shuttle orbiter in an environmentally-controlled, enclosed display.

NASA has set aside Discovery for the Smithsonian but the retirement homes for Atlantis and Endeavour, as well as the soon-to-be-displaced Enterprise, won't be known until the NASA Administrator makes his announcement next month. In the interim, some of the 21 organizations vying for an orbiter have released concepts showing how they plan to exhibit a retired shuttle, should they receive one.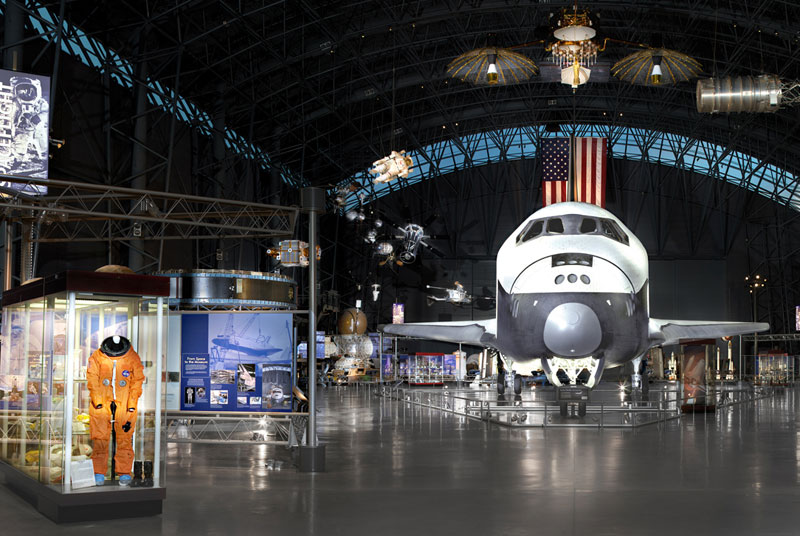 Above:
Space shuttle Enterprise, on display since 2003 at the Smithsonian's Steven F. Udvar-Hazy Center in Chantilly, Viriginia, would be replaced on exhibit by Discovery, according to National Air and Space Museum curators.
(Credit: Dane Penland/NASM)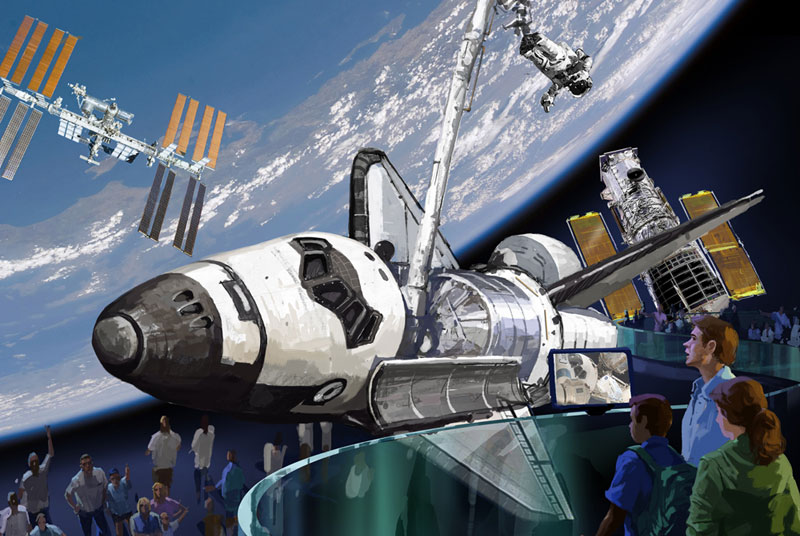 Above:
The Kennedy Space Center Visitor Complex in Florida plans a $100 million, 64,000 square foot exhibit that would display the orbiter "in flight, showing how the spacecraft worked in space and providing a unique vantage point for guests." (Credit: KSCVC)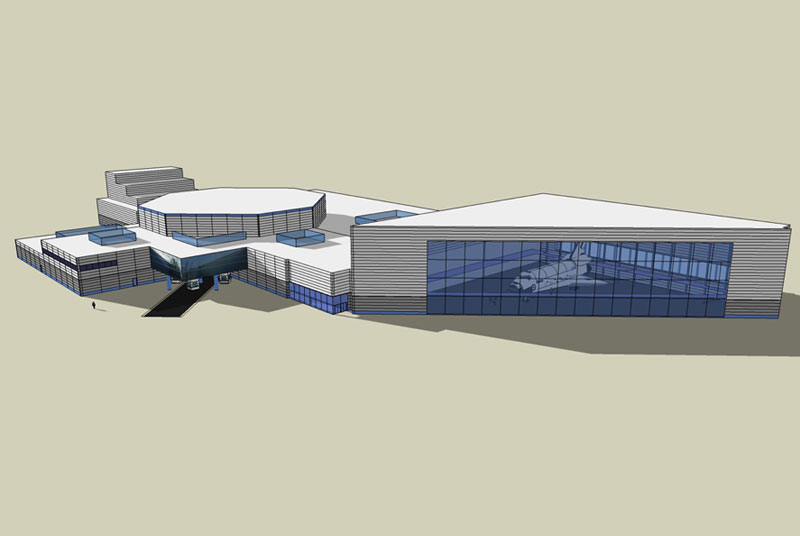 Above:
The new 53,000-square-foot space shuttle exhibit at Space Center Houston, the official visitor center for NASA's Johnson Space Center in Texas, will focus on the human side of shuttle operations, including astronaut activities.
(Credit: Space Center Houston)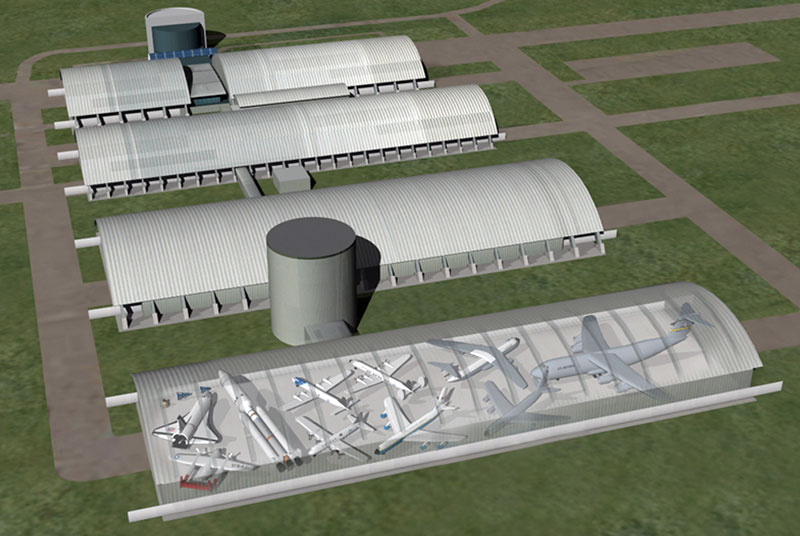 Above:
The National Museum of the U.S. Air Force in Dayton, Ohio, had existing plans to ad a new hangar to its facility, with an area set aside as a "Space Gallery." The museum has cited the USAF's role in the shuttle program as why it merits an orbiter.
(Credit: USAF)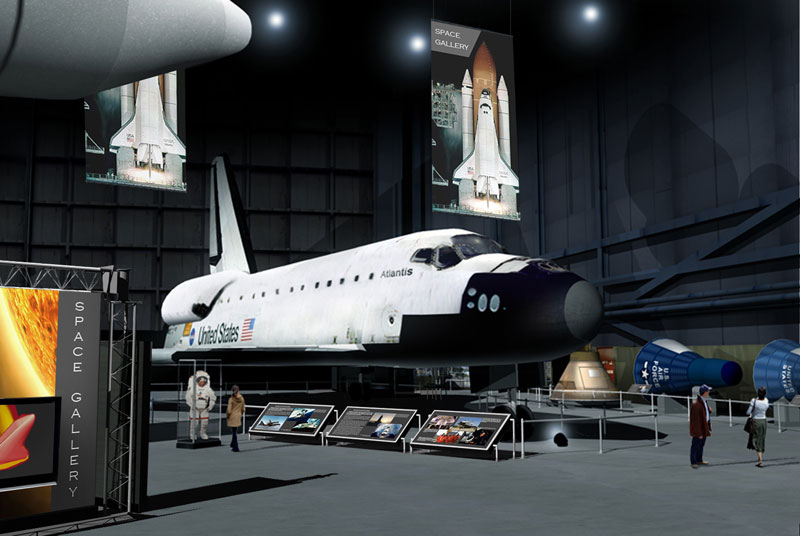 Above:
The Air Force Museum's "Space Gallery" display would also include Mercury, Gemini and Apollo spacecraft.
(Credit: USAF)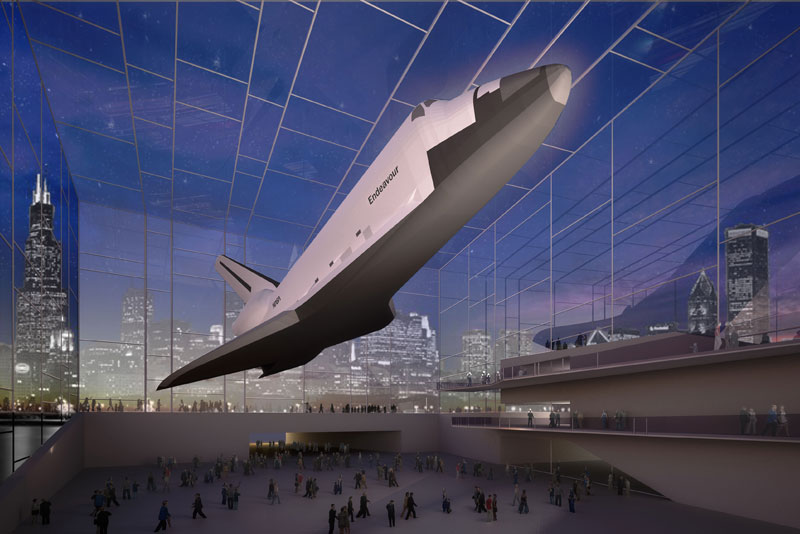 Above:
The Adler Planetarium's state-of-the-art glass pavilion and learning center would suspend a shuttle against the backdrop of Lake Michigan to one side and the Chicago, Illinois skyline to the other.
(Credit: Adler Planetarium)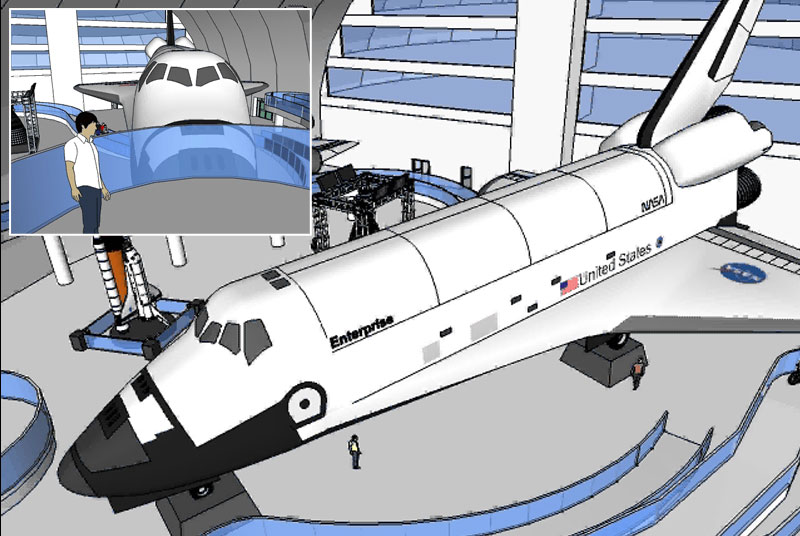 Above:
Stills taken from an animated tour of the U.S. Space & Rocket Center's proposed display of an orbiter. The Huntsville, Alabama museum acquired the Orbiter Protective Enclosure built to protect and shield an orbiter from prying eyes if it was ever forced to land outside the U.S. while carrying classified cargo, which could be an appropriate home for a retired orbiter. (Credit: U.S. Space & Rocket Center)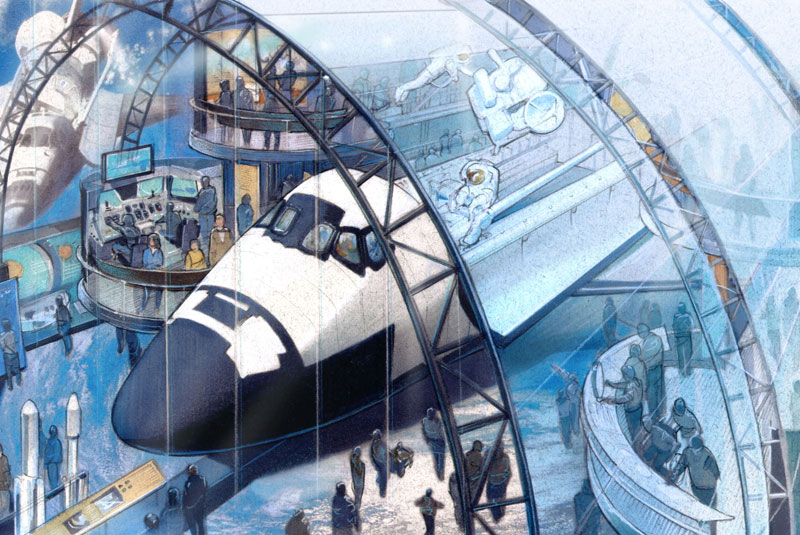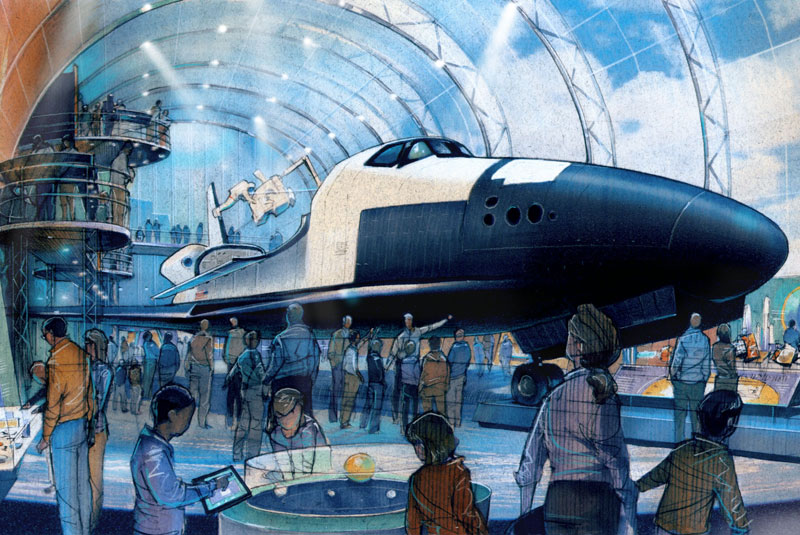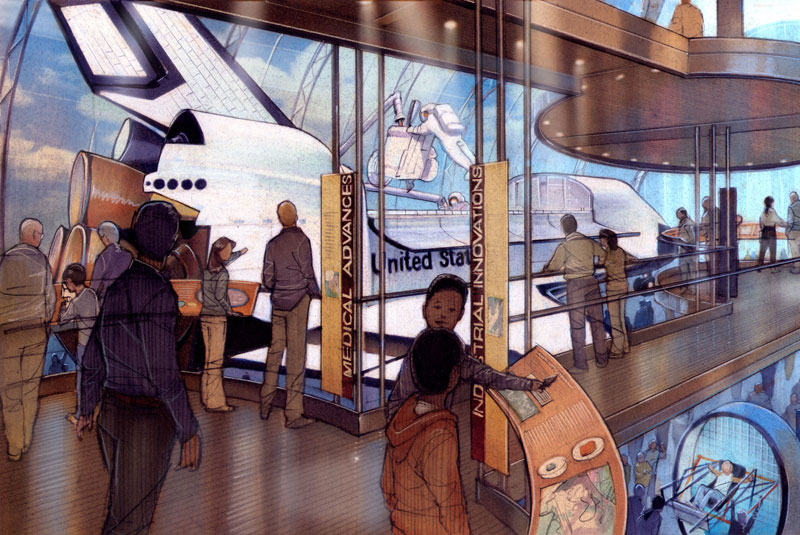 Above:
New York City's Intrepid Sea, Air & Space Museum would display the orbiter inside an enclosed hangar located along Hudson River Park Pier 86 where the aircraft carrier is berthed, just blocks from Times Square.
(Credit: Intrepid Sea, Air & Space Museum)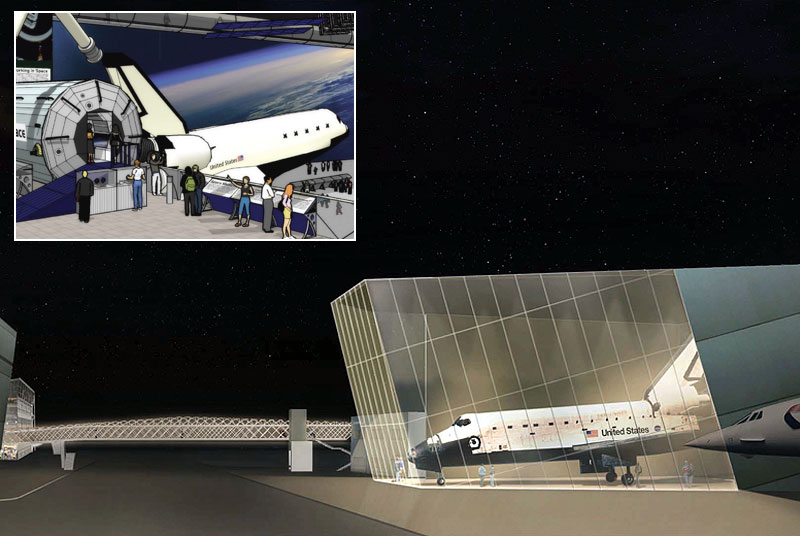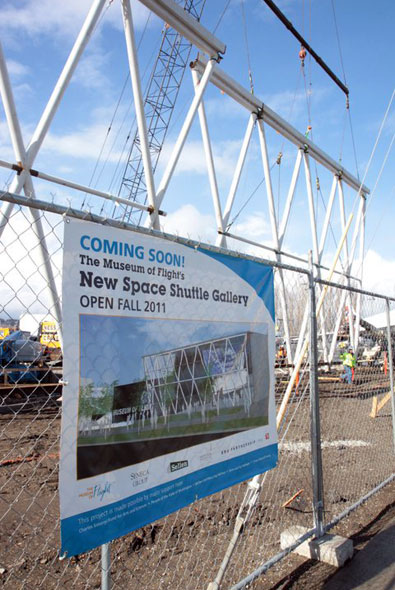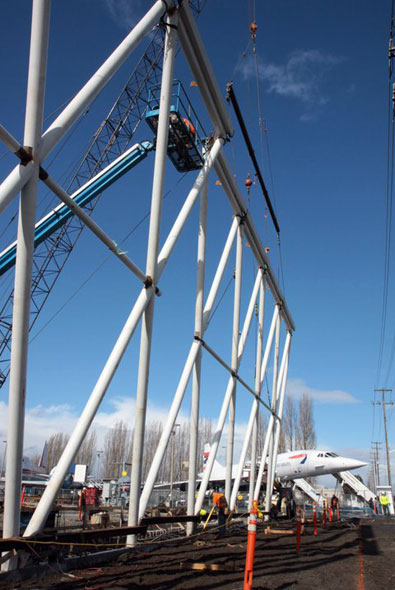 Above:
The Museum of Flight's glass-enclosed "Human Spaceflight Gallery" is already under construction. The Seattle, Washington museum broke ground for the $12 million facility in June 2010 and is on track to have it ready to receive a shuttle this fall.
(Credit: Museum of Flight)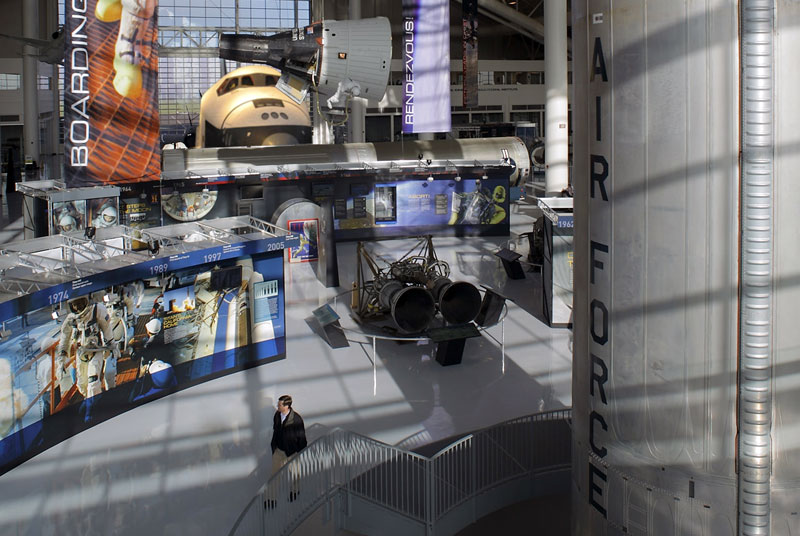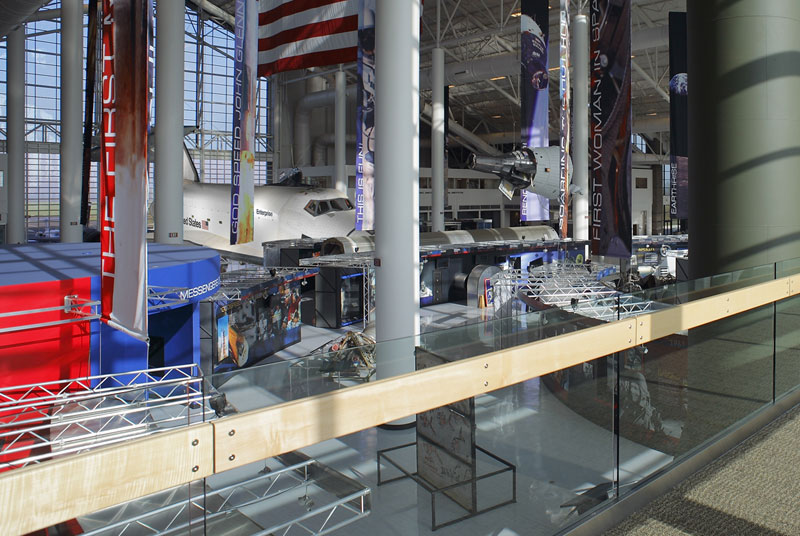 Above:
The Evergreen Aviation & Space Museum in McMinnville, Oregon is no stranger to displaying large craft: they already house the Hughes H-4 Hercules Spruce Goose. Here, an artist shows how an orbiter would fit among their displays.
(Credit: Evergreen)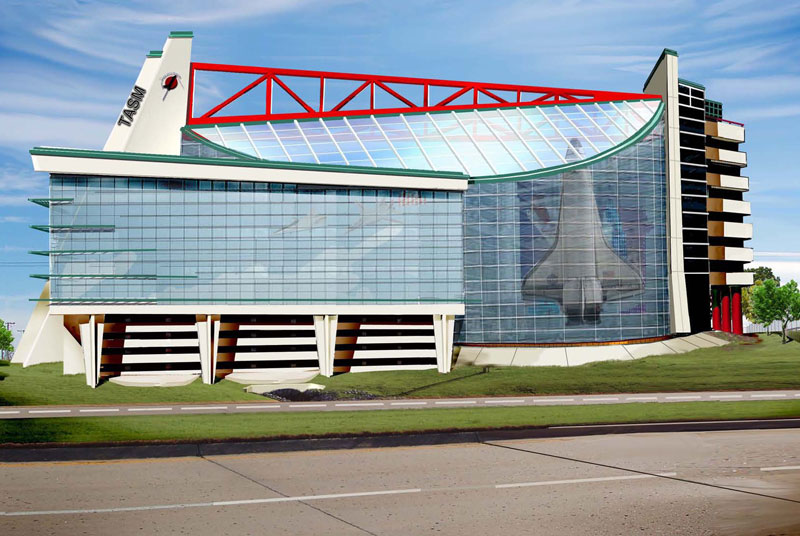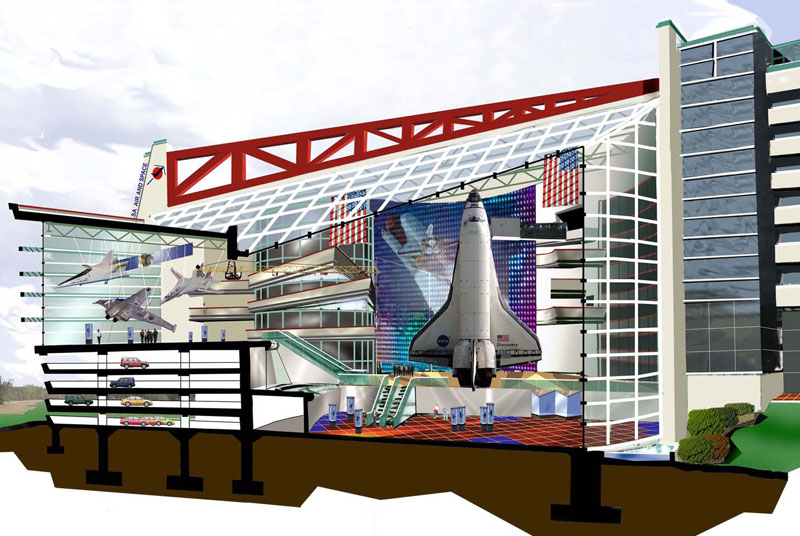 Above:
Tulsa, Oklahoma may not come to mind when thinking about space, but it is where the shuttle's payload doors were assembled. The Tulsa Air and Space Museum plans to show off those doors by displaying the orbiter vertically.
(Credit: Tulsa Air and Space Museum)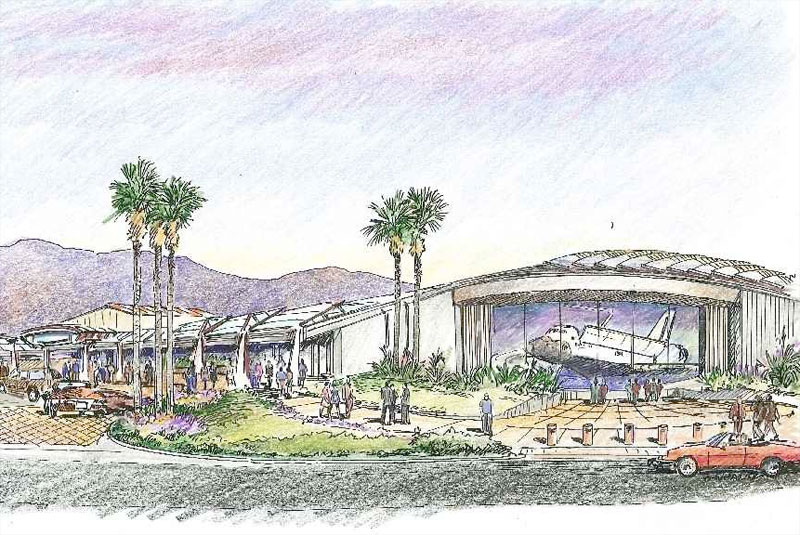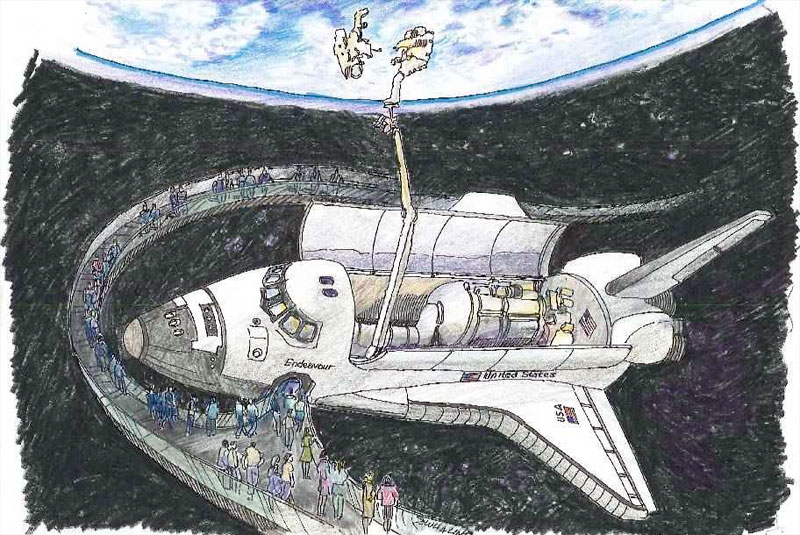 Above:
The March Field Air Museum outside Los Angeles, California has proposed a new "Space Exploration" building that would showcase a shuttle with a transparent walkway circling the orbiter, stopping at platforms for closer public viewing.
(Credit: March Field Air Museum)