Astronaut David Walker dead at 56

April 23, 2001 — Former astronaut David Walker, 56, passed away Monday morning while being treated at the University of Texas M.D. Anderson Cancer Center in Houston, Texas. He is survived by a wife and two sons.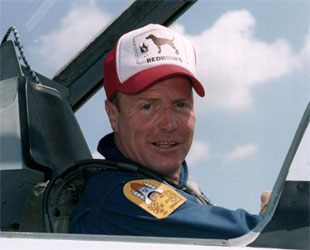 A Navy test pilot, Walker was commander of STS-30, a five-day mission of the space shuttle Discovery during which the Magellan Venus probe was deployed. Eight months after deployment in May 1989, Magellan entered orbit around the second planet and began to produce the most detailed images yet of the cloud-covered surface.

In December 1992, Walker was commander of STS-53. The classified Discovery mission deployed DOD-1, a Department of Defense payload later suggested to be a relay satellite for intelligence data.

STS-69, Walker's third command, released and retrieved the Wake Shield Facility and Spartan solar astronomy satellite during an 11-day Endeavour flight in Sept. 1995.

Walker earlier served as pilot of STS-51A in Nov. 1984, during which astronauts Joseph Allen and Dale Gardner performed the first "space salvage" operation, capturing two malfunctioning satellites and stowing them for their return to Earth. Walker and his crew also let go two new satellites.

Walker was born May 20, 1944, in Columbus, Georgia and grew up in Eustis, Florida where he graduated from high school in 1962. He attended the Naval Academy in Annapolis, receiving a bachelor of science in 1966.

Walker underwent flight training in Florida, Mississippi and Texas, and after becoming a naval aviator in 1967, served two combat tours in Vietnam as an F-4 Phantom pilot flying from the USS Enterprise and USS America.

After returning to the U.S. in 1970, Walker attended the Air Force Aerospace Research Pilot School at Edwards Air Force Base, California and then was transferred to the Navy's Air Test Center at Paxtuxent River, Maryland, as a test pilot. He later became an F-14 pilot aboard the America and was in Virginia when he heard from NASA.

He logged over 7,000 hours of flying time including 6,500 hours in jets.

Walker was one of the 35 astronauts selected by NASA in January 1978 and qualified as a Shuttle pilot in August 1979. He served as a chase plane pilot for STS-1 and has worked on Shuttle computer software at the Shuttle Avionics Integration Laboratory. Other of his technical assignments include a tour as technical assistant to the director of flight crew operations (1981), mission support group leader (1982-83), and head of the astronaut support team at the Kennedy Space Center (1985).

He was in training to command STS-61G, scheduled for May 1986 when the Challenger accident forced NASA to suspend all flights. Following STS-30 in 1989, he acted as director of the space station design and development branch of the astronaut office.

On May 5, 1989, while piloting a T-38 jet to Washington for ceremonies honoring the crew of STS-30, Walker had a near miss with an Airbus jetliner. That encounter and other infractions of NASA flying rules caused him to be grounded from July to September 1990, costing him the command of STS-44, to which he had been assigned in April 1990.

Walker's last technical assignments were as chief of the station/exploration support office in the flight operations directorate and chairman of the JSC safety review board.

Walker retired from the Navy and resigned from NASA in 1996 to be vice president of NDC Voice Communications in San Diego, California. In 1999, Walker joined Ultrafast, Inc. of Malvern, Pennsylvania as vice president of sales.


---
Selected excerpts from Who's Who in Space by Michael Cassutt used with permission.
back to News



© 2018 collectSPACE.com All rights reserved.
Questions? E-mail contact@collectspace.com