April 18, 2016
– Astronauts and cosmonauts joined a star on the blue — like Earth — carpet Saturday night (April 16) at the premiere of "A Beautiful Planet," the latest IMAX 3D film to be shot in space.

Academy Award-winning actress Jennifer Lawrence, who lends her voice to the movie as its narrator, joined the crew mates whose camera work aboard the International Space Station filled the eight-story tall screen at the AMC Loews theater in New York City's Lincoln Square.

"I just really happen to love anything that has to do with space," Lawrence told collectSPACE and Space.com in an exclusive interview.

Directed by Toni Myers, the celebrated filmmaker behind IMAX's eight previous space films including "The Dream is Alive" (1985) and "Hubble 3D" (2010), "A Beautiful Planet" turns the focus back towards Earth to paint a breathtaking portrait of our home planet and the effect we humans have had living on it.


"The astronauts are very careful with conserving resources on the space station, because they have to," Myers said. "The lesson there is that we ought to be doing a little more of that on the Earth to preserve what we have and achieve some sustainability."

"I hope in making the film to inspire people of all ages, but especially young people, [to notice] what a beautiful planet we live on," Myers told collectSPACE, "and what you can learn by looking at it from this vantage point, taking a step back."

Scott Kelly and Mikhail Kornienko, home from their recent year-in-space mission, attended the premiere together with their fellow expedition members Terry Virts, Butch Wilmore and Kjell Lindgren of NASA, Samantha Cristoforetti of the European Space Agency (ESA), and Russian cosmonauts Oleg Kononenko and Anton Shkaplerov.

"It is a beautiful planet we have," said Kelly. "We have to take care of it, no question."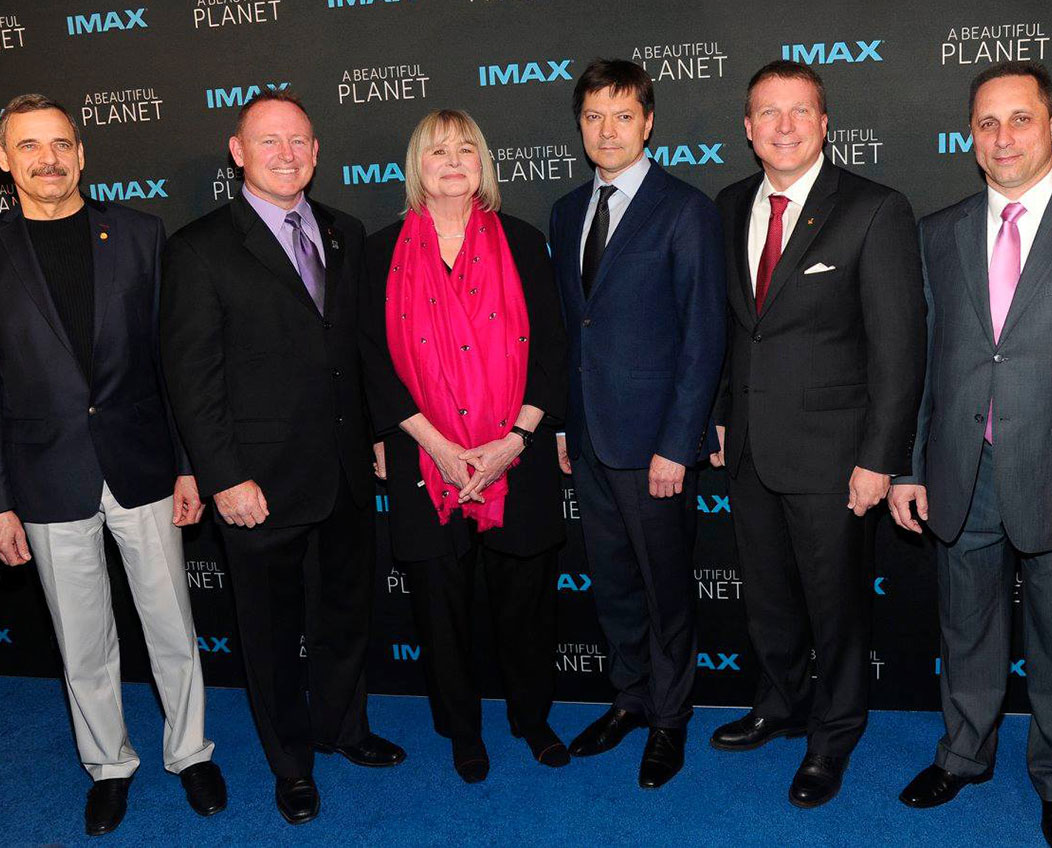 "A Beautiful Planet" director Toni Myers (center) with cosmonauts Mikhail Kornienko (far left), Oleg Kononenko (third from right), and Anton Shkaplerov (at right) and astronauts Butch Wilmore (second from left) and Terry Virts (second from right).
(NASA/Joel Kowsky)
"Just standing and watching the colors go by," recounted Wilmore. "You go all of the way around the globe every 90 minutes and see the variety within such a short amount of time. To be able to transfer that to the big screen, as this does, it is special."

Other astronauts walking the blue carpet included "Hubble 3D" stars John Grunsfeld and Michael Massimino, space station veteran Cady Coleman and Don Pettit and Marsha Ivins, who worked with IMAX to devise the camera settings and on-orbit coordination needed to produce the 46-minute film.

"A Beautiful Planet," which opens on April 29 in IMAX and IMAX 3D theaters, differs from Myers' previous films by its choice of cameras. With the retirement of the space shuttle fleet in 2011, IMAX lost the ability to send large 70mm film cameras and land its bulky film rolls. Instead, Canon digital cinema cameras were used on the space station.

"The big difference is with the digital capture, you can see things that film cannot capture — it's too slow," said Myers. "All of the views of the Earth at night, the auroras, the stars in the sky and the cities [below]. Going over the Bahamas in only moonlight, you can see the colors of the reefs. That blew me away. It was absolutely exquisite."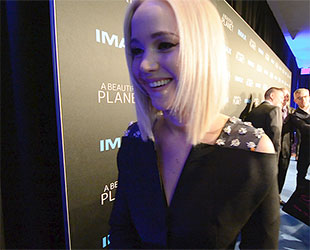 Jennifer Lawrence talks with collectSPACE at the IMAX premiere of "A Beautiful Planet," April 16, 2016 in New York.
(collectSPACE)
Many of the views of Earth in "A Beautiful Planet" highlight the visual results of humanity's activities across the globe, including deforestation in places like Madagascar and the Amazon, fracking fires in the Gulf of Mexico and the glacial melting in Greenland.

Although the movie also features scenes of what life is like for the astronauts aboard the space station and where the next life-supporting planet might be found orbiting a distant star, it is the Earth that needs our attention, said Lawrence.

"I think right now we need to focus our efforts on keeping this planet — that has nurtured us and kept so good care of us for all of these years — let's focus on trying to fix her before we try moving on to try to destroy another one," she said.