Feb. 15, 2016
– A new IMAX 3D space movie promises to let you "experience Earth like never before."

"A Beautiful Planet," narrated by Academy Award-winning actress Jennifer Lawrence, features footage of our home world as captured by astronauts on board the International Space Station. The movie, which was made in cooperation with NASA, will debut in large-format theaters on April 29.

"We're so excited to bring the entertaining and creative 'A Beautiful Planet' to IMAX audiences," Greg Foster, senior executive vice president of IMAX Corp. and CEO of IMAX Entertainment, said in a statement.

The movie's poster, revealed Wednesday (Feb. 10), shows the Earth from the astronauts' vantage point on the space station, 250 miles (400 km) above the planet. The poster confirmed Lawrence as the film's narrator and debuted the tag line, "Experience Earth like never before."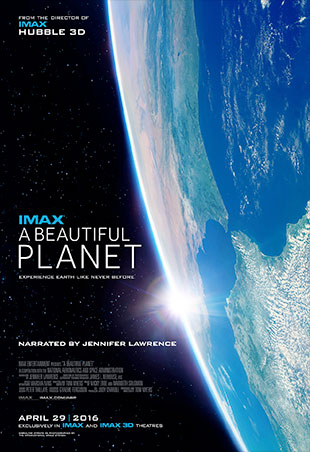 Movie poster for "A Beautiful Planet," opening April 29.
(IMAX)
The film's synopsis describes Earth as a "magnificent blue planet, dotted with gossamer clouds," but cautions that it is changing. "From space, the Earth blazes at night with the electric intensity of human expansion across the globe. But it is within our power to protect the planet."

"While we continue to explore and gain knowledge of our galaxy, we also develop a deeper connection to the place we all call home."

Since September 2014, five astronauts on board the space station have used IMAX-provided Canon digital cameras to film both the Earth below and their activities on the orbiting laboratory. NASA astronauts Barry "Butch" Wilmore, Terry Virts, Scott Kelly and Kjell Lindgren took part in the filming, as did Japanese astronaut Kimiya Yui.

"The crew [has done] an absolutely wonderful job," director Toni Myers remarked in a NASA interview in 2015. "We're deluged with beautiful images."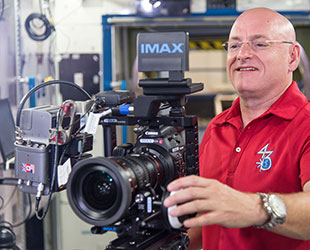 Astronaut Scott Kelly seen training on how to use IMAX's cameras before his yearlong space station mission.
(NASA/Lauren Harnett)
Myers has been making IMAX films since 1971. Her most recent documentary feature and seventh space movie was "Hubble 3D," which chronicled NASA's final space shuttle mission to the Hubble Space Telescope. Since its release in 2010, "Hubble 3D" has grossed nearly $70 million.

"A Beautiful Planet" is Myers' second shot-in-space feature to look back at Earth.

"The 1990 IMAX film 'Blue Planet' was the first time we pointed IMAX cameras from space back to Earth to reveal, on a grand scale, the changes being made to our planet by both natural and human forces," Myers said in 2013. "It is marvelous and important to have this new opportunity to show what has happened to our planet since then."

In addition to "Blue Planet" and "Hubble 3D," Myers' space films include "Hail Columbia" (1982), "The Dream is Alive" (1985), "Destiny in Space" (1994), "Mission to Mir" (1997), and "Space Station 3D" (2002).

"Toni has crafted a remarkable film that uniquely captures the raw beauty of our planet," said Foster about "Beautiful Planet."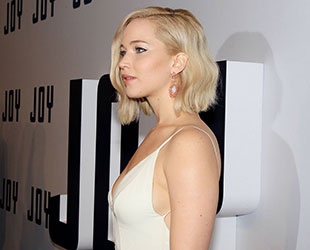 Jennifer Lawrence narrates the new IMAX film "A Beautiful Planet."
(Jennifer Lawrence on Facebook)
Lawrence, who has starred in the "Hunger Games" movie series and won an Academy Award for her role in the 2012 romantic comedy "Silver Linings Playbook," joins Leonardo DiCaprio, Tom Cruise and the late Leonard Nimoy as the celebrities who have lent their voices as narrators for IMAX space films.

"A Beautiful Planet" is the first of two space-related movies involving Lawrence this year. In December, she will star in Columbia Pictures' "Passengers," a science fiction film that is set aboard a spacecraft traveling to a distant planet.