April 15, 2011
— NASA held a ceremony on Thursday to name its "magnificent cathedral of manned spaceflight," the Mission Control Center at the Johnson Space Center (JSC) in Houston, Texas, after the man who not only led the space agency's first missions, but who 50 years ago, laid the foundation for what Mission Control would come to be.

"This is indeed a big day, we're close to unveiling a big sign on a big building where big, hard things get done because of the leadership and vision of a big man," said JSC associate director Milt Heflin, who presided over the dedication ceremony held just outside the newly-renamed Christopher C. Kraft, Jr. Mission Control Center (MCC).

Kraft, who is credited as the "father of Mission Control," said the honor extended to more than just him.

"I am pleased as I can be to have you name this building after me and not because it's for me, but because it is for the flight control people and for those people here at the Johnson Space Center," Kraft remarked.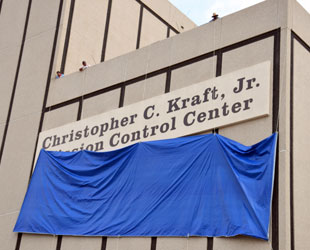 A new nameplate is unveiled dedicating NASA's Mission Control Center for flight director Christopher C. Kraft, Jr.
(collectSPACE)
One of the original members of the Space Task Group that created NASA in 1958, Kraft championed the idea of Mission Control and served as its first flight director.

"He did that job for America's first human spaceflight, first human orbital flight and first spacewalk, which happened during the first flight controlled from Houston MCC," said Mike Coats, JSC's director. "Dr. Kraft set the bar by which all the rest are measured."

A teacher called Flight

In the early 1960s, Kraft founded NASA's original Mission Control in Cape Canaveral, Florida, where the six Mercury manned missions were managed.

"Dr. Kraft helped to define and develop the first-of-a-kind operations facility, including communication networks, spacecraft tracking systems, telemetry, flight plans, timelines, constraints and flight rules, and nominal and contingency procedures," recounted Coats. "Words like discipline, competence, confidence, responsibility, toughness, teamwork and vigilance punctuate a legacy begun by Dr. Kraft and that continues with us today and will be the hallmarks of all future human space exploration missions."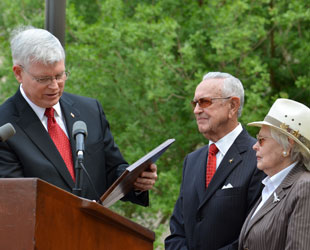 NASA Johnson Space Center director Mike Coats (left) reads the dedication plaque to Chris and Betty Kraft.
(collectSPACE)
Pete Clements, who served as Kraft's technical assistant during the Gemini program, expressed a similar sentiment in a letter read by Heflin in his absence.

"Dr. Kraft had, through personal determination and leadership ability, taken a talented group of people in an unfamiliar environment beginning in the Mercury Control Center in Florida and then to the Mission Control Center in Houston and molded them into the highly professional, nationally appreciated manned spaceflight control team," wrote Clements.

"He truly took an idea which was not born affective and gave it direction. Clear direction, forceful direction, effective direction and sometimes very loud direction, which has led to the safe and successful control center experiences we have had to this day."

For Gene Kranz, who was one of the first three flight directors chosen by Kraft to succeed him, Kraft served as both a leader and a teacher.

"Mercury Control was our first classroom, Chris was our first teacher and mentor," said Kranz. "In Mercury Control, we would write the textbooks for spaceflight, but more importantly, we would learn of leadership, trust, values and teamwork. These are the foundations for the culture of excellence required to perform in the high risk environment of manned spaceflight."

"Chris was our leader, his call sign was 'Flight.' Integrity was his hallmark," Kranz stated.

More than a building

"What you see in front of you is a fairly large building but I think it is not so much the building, the concrete and the consoles, it's the idea behind it," said Glynn Lunney, who like Kranz was selected by Kraft to lead Mission Control.

"This represents a pretty profound idea and Chris brought it to us. He had an idea that we are always going to do our best for human spaceflight. We are going to do our best to see that the flights are safe and that they are successful. He also invested in men like me, who came along after him and he wanted to see us be the best that we possibly could," Lunney said.

Lunney and Kranz were among more than two dozen past and present flight directors who attended the ceremony to pay tribute to Kraft.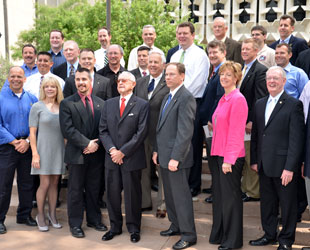 More than two dozen past and present flight directors attended the ceremony in tribute to Christopher Kraft.
(collectSPACE)
John McCullough, current chief of the flight director office, spoke on behalf of those now working in the Kraft Mission Control Center.

"The way we plan, train and fly in space was paved by Chris Kraft and his team. While technology has continued to evolve through the years, the leadership culture of responsibility and accountability that was established by Chris still forms the essence of everything we do," said McCullough.

"I have often heard Chris refer to Mission Control as that 'magnificent cathedral of manned spaceflight.' I know we all share that feeling, everyone from the flight controller to the technician that works in the Mission Control feels the significance and history of this place and draws a strong linkage that binds us all together from that," he continued.

"It is truly fitting that we dedicate this place, which is so precious to [the Mission Operations Directorate] and the nation to the man who pioneered both the technical and leadership cultures of mission operations," McCullough said.

Symbolic of a great organization

Kraft served as flight director from the first American spaceflight, Alan Shepard's Mercury-Redstone 3 mission 50 years ago this May 5, through the second manned landing on the moon, Apollo 12 in 1969. In that time, he oversaw the mid-1960s move from Mercury Control in Florida to the Mission Control Center in Houston, which now bears his name.

"He is a space pioneer without whom we would have never heard those historic first words from the surface of the moon, 'Houston, Tranquility Base here, the Eagle has landed,'" remarked Coats. "Those words effectively put Houston and this building behind us on the intergalactic map forever."

After leaving his flight director console, Kraft led Johnson Space Center, first as its deputy director and then as director from 1972 through his retirement in 1982, helping to guide NASA through the end of the Apollo program, the Skylab and Apollo-Soyuz Test Project missions and the beginning of the space shuttle program.

"Without Dr. Kraft's leadership the concept of Mission Control would not be what it is today. The dedicated people inside this building have accomplished incredible things over the last five decades based on the foundation laid by Dr. Kraft and his early flight control development team," said Coats.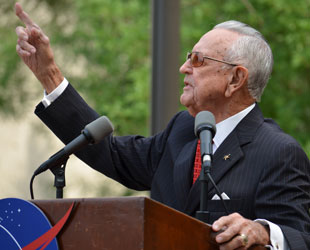 Christopher Kraft speaking at the dedication ceremony naming NASA's Mission Control Center after him.
(collectSPACE)
Standing on Thursday in the shadow of Mission Control Center with its new sign displaying his name, Kraft said that he still sometimes has the desire to assume his former role as Flight.

"Of course I do, but I'm not good enough for that any more. It takes smart guys to do that today. They know the computer world, they know the communications world, they know more about orbital mechanics than I ever knew," said Kraft.

It is those same smart people, Kraft said, that provided meaning to seeing name on the side of the building.

"It's a great building filled with great people and symbolic of a great organization at the Johnson Space Center," he said.

See more photographs from the Christopher C. Kraft, Jr. Mission Control Center dedication ceremony held April 14.