October 11, 2006
— Thirty-eight years ago today, NASA launched its first manned Apollo mission. As soon as the Saturn IB rocket cleared the tower in Florida, the Apollo 7 crew and vehicle became the responsibility of the men in Flight Control Room 1 (FCR-1, pronounced 'ficker-one') in Houston, Texas.

One of two similarly-configured mission control rooms at the Manned Spacecraft Center — later renamed Johnson Space Center — FCR-1 was used to monitor Skylab, the United States' first space station, and later the first flight of the space shuttle Columbia. In total, the room oversaw 61 missions.

Its last full mission was STS-71 in 1995, which marked the first docking between an orbiter and a space station, the Russian Mir.

Last that is, until October 6, when the room, now revived and upgraded, became active again as NASA's mission control for the International Space Station. Today, flight directors from past and present gathered in FCR-1 for a ribbon cutting ceremony honoring the room's reactivation.

More space, more power

The previous space station control room, dubbed Blue FCR, was put into service in 1998 with the first station assembly missions. Though modern for its time, space — no pun intended — became an issue quickly.

"The consoles [were] designed for three displays, two sets of voice configuration loops that you [could] dial in digital voice and that's pretty much it. Anything else you want, we had to pretty much add in," said flight director John McCullough, who led the relocation effort. "Before we left this room, we ended up adding monitors on the side, TVs on the side, and you can see just a bunch of 'band-aids' going into the room."

"When we were doing complex operations, such as spacewalks, launches or rendezvous and dockings, we had to relocate to the larger shuttle flight control room or use back rooms. In that configuration the team didn't have the best possible situational awareness of what was going on," said McCullough.

Having outgrown the 16 large consoles that Blue FCR could offer, McCullough and his team began seeking a new, larger but low-cost solution.

"There are a lot of advantages to having [a] clean slate, except for cost. When we moved into the new room, we had a really tight budget," explained McCullough. So we had to get real innovative on the design, how we did it."

McCullough's budget was $1.6 million. By upgrading and reusing computer equipment, most of the funds went to retrofitting the old Apollo-era systems.

"Most of [the budget] was labor, running the redundant power to the room and making it a flight control room, which has a lot of facility requirements to it versus any other room in the building," said McCullough.

An important requirement was enough power to run the entire space station from just two consoles.

"The lowest staffing [is] during Orbit 1, which is midnight to 8:00 a.m. and the least desirable of any shift anybody works. There is a flight director, a capcom, the planner and two system operators that run the entire [ISS] from their two consoles."

These two controllers — "super-operators" as described by McCullough — are each tasked with monitoring half of the station's systems. They go by call signs of Titan and Atlas and serve in those roles for two year stints.

In the old Blue FCR, Titan and Atlas would each sit at a console, but would be responsible for two more. While a few summary screens were available, if they needed any details about a system not represented by their console, they would need to physically move to the others.

"There was not enough horsepower [from one console] to run half a space station," said McCullough.

"So we needed two super consoles added into this room for the quality of life for these folks that were giving up two years of their lives working in the middle of the night. They didn't also need to be running all over, potentially [missing] data. It's a very challenging job because if there's a problem, they've got to do three times the job."

To move two more consoles into the Blue FCR, which assumes you could find the room for two, would cost 1/3 the budget McCullough was given to spend on FCR-1.

However, while the relocation made sense, it wasn't as simple as deciding to go.

It wasn't just 'Let's go set-up that room,' [as] that room was used by somebody," explained McCullough. "That room was used by the science centers, so it became a juggling act. 'If we're going to go in there, where are they going to go? And if they are going in here, where are those people going to go, because every room is in use?'

"We had to do a house of cards where we'd move in stages — three different phases — and re-position [the] equipment around," said McCullough.

Moving day

While they had nine months to remodel, McCullough and his team had a much shorter window to move.

"We basically had to move in a span of two weeks," said McCullough.

The window to move opened just after NASA's STS-115 shuttle mission landed on Sept. 21 and the shuttle flight controllers left, he added. A team of ISS controllers from the old station FCR moved into NASA's space shuttle operations control room and within 14 days all necessary hardware was hauled from the Blue FCR into FCR-1.

"[We then had to] do our systems testing and three sims [simulations], in order to [certify] the room to be ready to support ops," McCullough said.

Before leaving the original station control room, the team assembled for a portrait wherein the crew in space could see the controllers while at the same time the astronauts were projected on the large screen at the room's front.

Originally, the move had been scheduled for September 28, but the delays launching and returning Atlantis kept the shuttle room occupied. Moving day into FCR-1 finally arrived on October 6.

"On the last day, on the 6th... we came in and set up everything [in FCR-1], fired up all the machines, got everything going... and then we went over to [the shuttle FCR]. We took hand over from the other flight controllers on what's going on with the systems, and then we got up and unplugged and went into [FCR-1] and did a formal changing of the guard ceremony," recalled McCullough.

"It was a big deal."

Ghosts and spirits

"The history of that room is so immense that you feel it when you walk in the room," reflected McCullough.

As a sign in the front of the room confirms, FCR-1 was established in 1965 as the first control room in Houston for manned spaceflight operations. That sign, along with other details and touches to the room were important to McCullough to preserve FCR-1's history.

"I worked very strongly to capture the history of that room. You'll see it in the historic plaques that are there. All the original plaques are in that room that weren't there when it was a science center. The Apollo 7 plaque is the original plaque that was hung by flight controllers."

A few of those flight controllers were in FCR-1 today for the ceremony; among them was flight director Eugene Kranz.

"You walk into the room and it's changed, technology has been upgraded but the beauty of the thing is, is that the culture, the legacy of the early people continues in this room," Kranz told collectSPACE while standing near the flight director console in FCR-1. "You know I think about the controllers who are no longer with us — you've got Cliff Charlesworth, Don Puddy and Pete Frank, several of the guys in the systems area — you walk into this room and you're in touch with them again."

"It's really spectacular to see today's generation as passionate about the business as we were. I think our nation may find the courage to go back in and finish what we started and they've got the right people to do it."

"I just wish that I were young again and give it another shot," said Kranz.

Mission Operations Deputy Director Milt Heflin echoed some of Kranz's comments during a speech to the room.

"'Don't let the ghosts in the room bother you,'" he read from a letter written by former flight director Gerry Griffin, "'They're harmless.' Well, I don't know about that," Heflin continued in his own words, "but I do expect the spirits in this room to inspire us to greater achievements as we journey through the most exciting and challenging time in space station assembly."

NASA's first flight director, Chris Kraft also spoke to the assembled controllers.

"You can't say any words in here that don't make me think of some incident that took place here," said Kraft. "There has been a lot of joy here, there's been a lot of tragedy here, and they all go together as part of space exploration. I've been frightened to death in here, I have seen people wave flags in here, and I have seen every kind of emotion there is."

"I hope someday, and I hope I'm still living, that I will see people land on the Moon as you command it from here," concluded Kraft to applause.

Before cutting the ribbon, JSC Center Director Michael Coats accepted a plaque commemorating the event from Mission Support Operations Contract program manager Dan Brandenstein. Framed together were a piece of the rail from the original room that was present when Apollo 7 launched and a photo taken last Friday when station ops began in FCR-1.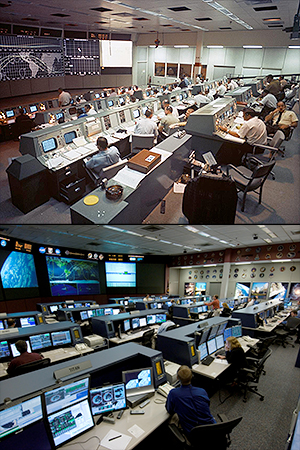 Then & now: Flight Control Room-1 (FCR-1) is seen as it appeared in 1968 during the Apollo 7 mission (a top) and how it appeared on Oct. 6, 2006, when it took over operations for the ISS. (NASA)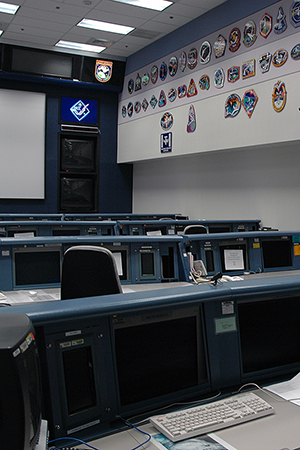 No one's home: The now empty Blue FCR hosted space station operations from 1998 through 2006. (collectSPACE)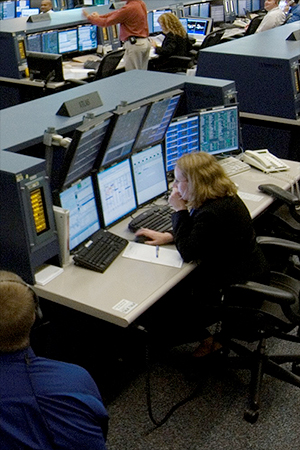 Super console: The Atlas station in the new FCR-1 controls one half of the space station systems. (NASA)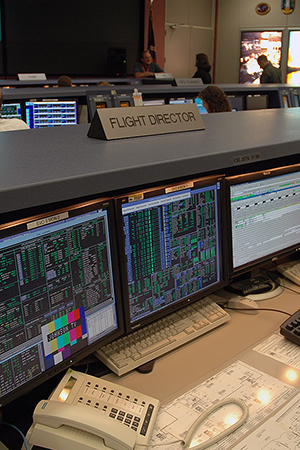 FLIGHT Control: Flight director station in the new FCR-1. (cS)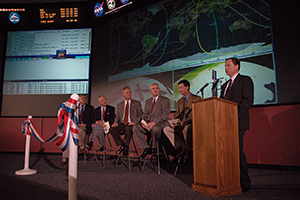 Flight Director John McCullough addresses the FCR-1 team at a ribbon cutting ceremony held October 11. Sitting to his right are Mission Operations Director Allen Flynt, Johnson Director Mike Coats, Mission Operations Deputy Director Milt Heflin, NASA first flight director Christopher Kraft and Mission Support Operations Contract manager Dan Brandenstein. (collectSPACE)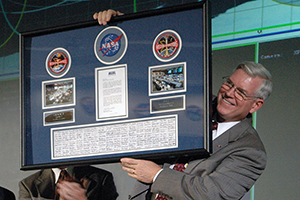 JSC Director Mike Coats holds a plague with a piece of FCR-1's wooden railing from the time of Apollo 7. (collectSPACE)