April 10, 2017
— The 50th person to command a crew on the International Space Station is now back on the Earth, a day after handing off control to the first woman to helm the orbiting outpost twice.

NASA astronaut Shane Kimbrough, who led Expedition 50, landed with Sergey Ryzhikov and Andrei Borisenko of the Russian federal space corporation Roscosmos aboard the Soyuz MS-02 spacecraft on Monday (April 10). The three crewmates departed the space station after spending more than 173 days in orbit (171 days on the space station).

"We've had a great time up here," said Kimbrough during a change of command ceremony on Sunday. "It has been an amazing experience for almost six months now for Andrei and Sergey and [me]."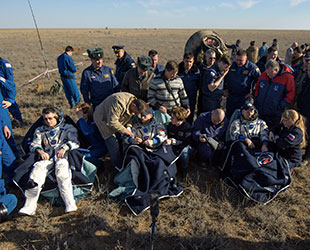 Expedition 50 crewmates Shane Kimbrough, Sergey Ryzhikov and Andrei Borisenko after landing on Soyuz MS-02.
(NASA/Bill Ingalls)
Kimbrough, Ryzhikov and Borisenko undocked their Soyuz MS-02 capsule at 2:57 a.m. CDT on Monday (0757 GMT), backing away from the Poisk module on the same craft on which they launched to the space station on Oct. 19, 2016. Four hours later, the Soyuz descended under a parachute to a touchdown at 6:20 a.m. CDT (1120 GMT or 5:20 p.m. local Kazakh time).

A Russian-led recovery team quickly arrived at the landing site to help the three crew members out of the Soyuz and conduct brief medical examinations. Kimbrough, Ryzhikov and Borisenko all appeared to be in good condition as they began adjusting to gravity after half a year in space.

Kimbrough, Ryzhikov and Borisenko shared the station for five of those months with NASA astronaut Peggy Whitson, Oleg Novitskiy of Roscosmos and Thomas Pesquet of the European Space Agency, who arrived at the orbiting lab on Soyuz MS-03 on Nov. 19 and now remain on the station as the Expedition 51 crew.

"Sergei, Andrei and I certainly want to thank Peggy, Oleg, and Thomas. We have learned so much from you, and so much enjoyed our time together," said Kimbrough."It made this experience so much better having you on board."

Whitson, who recently had her current expedition extended — from a landing with Novitskiy and Pesquet in June to a touchdown in September, thanks to an open seat aboard a Soyuz arriving with NASA's Jack Fischer and Roscosmos' Fyodor Yurchikhin on April 20 — set new world records for spacewalks by a woman on March 30 and will surpass the American record for the most time in space, more than 534 days, on April 24. She also became the oldest woman to fly in space when she launched on this mission.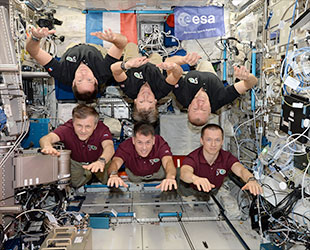 At top, Expedition 51 crew mates Thomas Pesquet, Peggy Whitson and Oleg Novitskiy. At the bottom, the recently-landed Expedition 50 crew Andrei Borisenko, Shane Kimbrough and Sergey Ryzhikov on board the International Space Station.
(NASA/ESA)
And she set another record when she took over command of the space station for Expedition 51.

"She'll set another record at this moment," said Kimbrough during the change of command ceremony. "She has been doing this many times throughout the last few weeks, but she now becomes the first two-time female commander of the International Space Station."

"Up here we don't wear shoes, but Shane is leaving some really big socks for me to fill," replied Whitson.

Together with their Expedition 50 crew mates, Kimbrough and Whitson continued work on hundreds of experiments in biology, biotechnology and physical science, as well as kept the space station running and well-stocked.

"Expedition 50 was incredibly successful," stated Whitson. "[We] conducted four spacewalks, grappled two vehicles, we packed and unpacked three cargo vehicles in relatively short order and got an amazing amount of science done."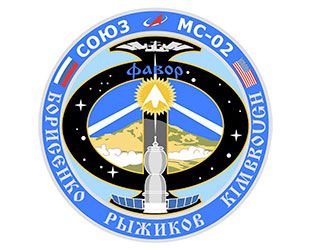 Soyuz MS-02 crew patch.
(Roscosmos/Spacepatches.nl)
Expedition 50 was Ryzhikov's first flight into space and the second mission for Kimbrough and Borisenko, who've now logged 189 days and 337 days in space, respectively.

The three crewmates traveled a total of 73.2 million miles (117.8 million km) completing 2,768 orbits of the Earth.

Back on Earth, Kimbrough, Ryzhikov and Borisenko will be flown to Karaganda for a traditional ceremony, before the cosmonauts depart for Star City, outside of Moscow, and a NASA jet returns Kimbrough to Houston and the Johnson Space Center.

"It's really neat to be part of something this big, bigger than ourselves for one, but even bigger than a nation. We get to interact with things up here that benefit all of humanity. It is really humbling for one, but very neat and special to be a part of something like that," said Kimbrough.