April 8, 2017
— Soviet-era cosmonaut Georgy Grechko, who in 1977 made the first spacewalk wearing a spacesuit design still in use on the International Space Station today, died on Saturday (April 8). He was 85.

Grechko's death at a Moscow hospital was attributed to his age and chronic illnesses, according to his daughter, Olga, in an interview with the Russian TASS news service.

"Roscosmos extends condolences to relatives and friends of Georgy Mikhailovich Grechko," wrote the Russian space agency in a statement on its website. "Eternal memory."

Russian President Vladimir Putin also shared "his deepest condolences" in a brief statement issued Saturday on the Kremlin's website.

Originally selected in May 1968 to train as a cosmonaut to support the former Soviet Union's space race with the U.S. to land on the moon, Grechko launched on three missions to Russia's Salyut space stations. From 1975 to 1985, he logged a total of 134 days and 20 hours orbiting Earth.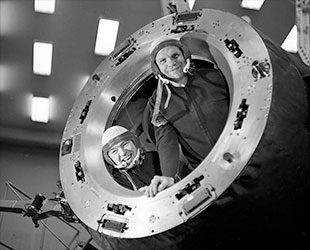 Georgy Grechko (at left) with mission commander Alexei Gubarev prior to their 1975 Soyuz 17 spaceflight.
(Roscosmos/Spacefacts.de)
Grechko's first spaceflight, a nearly month-long mission to Salyut 4, began on Jan. 10, 1975. Launching on the Soyuz 17 spacecraft with Alexei Gubarev, Grechko spent 29 days aboard the space station, testing satellite and tracking ship communication equipment and making observations using the outpost's solar telescope.

Touching down on Earth on Feb. 9, Grechko and Gubarev set a new, if only brief Soviet space duration record, which lasted until the next mission to Salyut 4 in May 1975.

Grechko's second flight, aboard Soyuz 26 to the Salyut 6 station, included his first and only extravehicular activity, or spacewalk, on Dec. 20, 1977, just 10 days after his launch with Yuri Romanenko. Initially slated to test the new Orlan-D spacesuit inside a depressurized airlock, Grechko was given the additional task of inspecting a docking port after a prior Soyuz mission failed to link up with Salyut 6.

Donning the Orlan through the hatch on its back, Grechko conducted a "stand-up" EVA, extending halfway out of the airlock so that "he could inspect and manipulate the outer surfaces of the docking mechanism," as was described by David Portree and Robert Treviño in a NASA chronology, "Walking to Olympus," published 20 years later. "He found everything to be in perfect working order."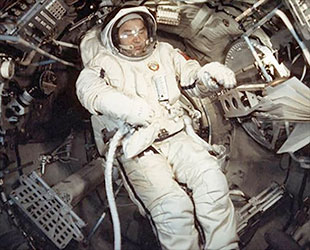 Soyuz 26 flight engineer Georgy Grechko tests an Orlan spacesuit aboard the Salyut 6 space station in December 1977.
(Roscosmos)
Grechko's stand-up EVA lasted just 20 minutes, though he worked in the Salyut 6 depressurized airlock for a total of one hour and 28 minutes. He was only the fourth Russian cosmonaut to walk in space, after Alexei Leonov, Yevgeni Khrunov and Alexei Yeliseyev.

Grechko and Romanenko were joined on board the space station by the Soyuz 27 crew on Jan. 11, 1978, who after just six days returned to Earth on Soyuz 26. Grechko and Romanenko remained on the Salyut 6 station for two more months, during which Grechko reunited with Gubarev, who arrived with Vladimir Remek of the former Czechoslovakia on the first Interkosmos international mission.

Grechko and Romanenko landed from Salyut 6 aboard the Soyuz 27 spacecraft on March 16, 1978, after a total of 96 days and 10 hours in space.

Grechko's third and final launch returned him to space on Sept. 17, 1985 for an almost 9-day mission to the Salyut 7 station. Lifting off on Soyuz T-14 with crew mates Vladimir Vasyutin and Alexander Volkov, Grechko reunited on orbit with Vladimir Dzhanibekov, who had earlier visited Salyut 6 on Soyuz 27, and the two landed together on the Soyuz T-13 spacecraft on Sept. 26, 1985.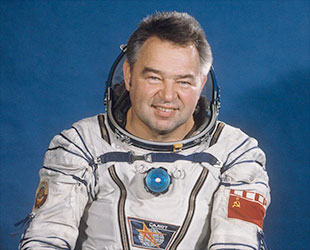 Soviet-era cosmonaut Georgy Mikhailovich Grechko.
(Roscosmos)
Despite his hopes for a fourth mission, perhaps to the Mir station, Grechko did not launch again to space and retired from the cosmonaut corps in March 1992. He became the chief of a science laboratory at the Institute of Atmospheric Physics in Moscow.

Georgy Mikhailovich Grechko was born on May 25, 1931 in the former Leningrad (now Saint Petersburg). He earned a doctorate in mathematics from the Baltic State Technical University (previously, Leningrad Institute of Mechanics).

Twice named a Hero of the Soviet Union, Grechko helped found the Association of Space Explorers, an international nonprofit professional and educational organization of over 400 flown astronauts and cosmonauts from 37 nations.

An asteroid discovered by astronomer Nikolai Chernykh in 1979 is named in Grechko's honor.

He is survived by his wife, Lyudmila, and daughter, Olga.