Soyuz commander Vasyutin dead at 50

July 23, 2002 — Vladimir Vasyutin, who led a Soyuz mission to the Salyut 7 space station, died July 20 after battling cancer, according to Novosti Kosmonavtiki.

A burial service is scheduled for today in Monino.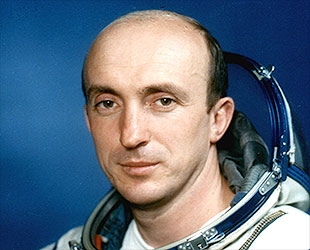 Born March 8, 1952, Vasyutin graduated from Kharkhov Higher Air Force School in 1974, where he served as a pilot instructor until he was selected as a cosmonaut in February 1976.

Vasyutin's first assignment was as backup commander for Soyuz T-7 in 1982. He subsequently assumed similar roles for Soyuz T-9, T-10, and T-12.

Vasuytin's first and only flight came in 1985, when he, Georgy Grechko and Alexandr Volkov were launched on September 17, and docked with Salyut 7 the next day. Already on-board the station were Viktor Savinykh and Vladimir Dzhanibekov, the latter of whom would return to Earth with Grechko one week later.

For the next three weeks, operations aboard the station went smoothly. But in mid-October, Vasyutin developed an infection that resisted antibiotics. By early November, he was fighting a temperature which rose to 104° F.

Eventually, there was no choice for ground controllers: the cosmonauts had to return to Earth, and they did, on November 21. After just 65 days in orbit, Vasyutin was hospitalized for almost a month.

After retiring from the cosmonaut team, Vasyutin was named Deputy Faculty Chief at the Yuri Gagarin Aviation Academy in Monino.

He is survived by a wife and two children.


---
Biographical information used in this article was adapated and excerpted with permission from Who's Who in Space: The First 25 Years by Michael Cassutt.


back to News



© 2017 collectSPACE.com All rights reserved.
Questions? E-mail contact@collectspace.com