Armstrong confirms forgeries on eBay
Article index:
---

Photographer recalls Armstrong agreement

April 24, 2000 — ValuSign.com reported today details from a telephone call with Mark Tuttle, the cameraman who captured the photograph of Neil Armstrong standing next to the Supermarine Spitfire, the same image that was recently confirmed by the moonwalker to be used to market forgeries of his autograph.

Tuttle recalled that the image was developed as a slide and that the only authorized print reproduction was in a 1991 TV Guide. Tuttle and Armstrong suspect that the photograph was extracted from that particular magazine and commercially reproduced illegally.

Tuttle went on to say that Armstrong and he initially had an agreement that Armstrong would never sign a print of the photograph. Since then, Armstrong recalls signing only two. They both believe that any signed copy should be carefully considered, as most are forgeries.


---

Armstrong confirms forgeries on eBay

March 31, 2000 — Neil Armstrong, the first man to walk on the Moon, confirmed his autograph has been forged and placed for sale on an internet auction site, according to a report released yesterday by ValuSign. Armstrong is believed to be the first astronaut to publicly comment on a specific forgery example.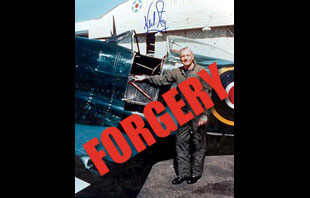 The lot in question, a "rare autographed 8x10 photo" of Armstrong leaning on a British Spitfire prop fighter was posted to eBay on March 20 by "handicapperman" of Huntington, New York. The auction closed at $100.00, after receiving only two bids. The identity of the buyer is unknown.

Russell Still, founder and owner of ValuSign, contacted Armstrong's office after identifying the suspected forgery. A reply was received on March 30 from the astronaut's administrative assistant.

"Definately not his," the letter to Still explained of the autograph. Armstrong reviewed the scan and identified the signature as a fake. Of more interest though, was the certificate of authenticity included with the photograph.

Said Still, "His office further expressed surprise and skepticism over the alleged 'forensic authentication' said to accompany the piece."

According to the seller's description, the certificate was issued by "court certified forensic examiner Donald Frangipani." A Friday evening search of eBay shows an additional 101 items for sale which were authenticated by the same examiner.

Armstrong's assistant closed the letter questioning the validity of this type of authentication.

"We believe that some, if not most, of the [Armstrong] signatures that are offered on the Internet as 'certified authentic' are forgeries." wrote the assistant.

Indeed, an identical autograph and photograph, posted by the same seller, appeared on eBay three days after the first lot opened. The duplicate forgery received four bids, closing slightly better at $152.
back to News



© 2023 collectSPACE.com All rights reserved.
Questions? E-mail contact@collectspace.com