Mar. 11, 2016
– Astronaut Scott Kelly will retire from NASA on April 1, a month after he returned from spending nearly a year in space, the agency announced Friday (March 11).

Kelly, who currently holds the American record for the most time spent off the planet, flew four missions, logging a total of more than 520 days in space.

His most recent flight, a year-long stay on the International Space Station, ended on March 1 after 340 days on orbit.

"This year-in-space mission was a profound challenge for all involved, and it gave me a unique perspective and a lot of time to reflect on what my next step should be on our continued journey to help further our capabilities in space and on Earth," Kelly said in a statement released Friday.

"My career with the Navy and NASA gave me an incredible chance to showcase public service to which I'm dedicated, and what we can accomplish on the big challenges of our day. I'm humbled and excited by new opportunities for me to support and share the amazing work NASA is doing to help us travel farther into the solar system and work with the next generation of science and technology leaders," he said.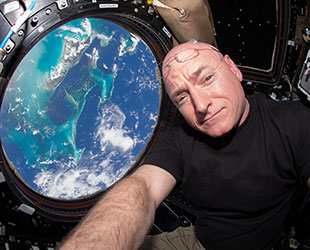 Scott Kelly in the windowed Cupola on the space station.
(NASA)
Selected to be an astronaut in 1996, Kelly first launched as the pilot of the space shuttle Discovery's STS-103 mission to service the Hubble Space Telescope in 1999. On Kelly's second flight, STS-118 in 2007, he served as commander of shuttle Endeavour for his first flight to the space station.

Kelly returned to the space station for a six-month mission in 2010, commanding Expedition 26. His year-long mission included commanding Expedition 45 and Expedition 46 as he collected data to support future astronauts' missions out into the solar system.

"When the first Americans set foot on Mars, they will be following in the footsteps of one of the finest astronauts in the history of the space program, my friend, Commander Scott Kelly," said Charles Bolden, NASA Administrator and former astronaut. "After spending an American record 520 days in space — including his year in space — I can think of no one more deserving of some well-deserved rest and time on the same planet as his family and friends."

After retiring, Kelly will continue to take part in the ongoing research related to his year-long mission. Kelly will provide periodic medical samples and support other tests in much the same way that his twin brother, former astronaut Mark Kelly, made himself available for NASA's twin study during Scott's year in space.

Mark Kelly, a veteran of four shuttle missions, retired from NASA in 2011.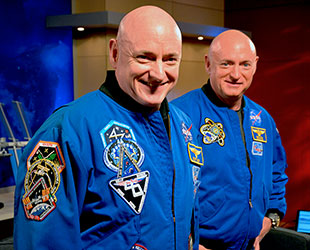 Scott Kelly with his twin brother Mark, a former NASA astronaut, at NASA's Johnson Space Center on March 4, 2016.
(collectSPACE)
During a post-flight press conference, Scott said he would "never be done with space."

"Whether I fly in space again — you know even my brother who has been retired for a bunch of years, he still has not given up the idea that he's going to fly in space again," he said. "I don't think I'd ever say I am absolutely 100 percent done because I think there is a lot of exciting possibilities out there, maybe in the commercial [spaceflight] aspects, and they might need a guy like me someday."

"Maybe in the next 20 years you will be able to just buy a cheap ticket and go for a little visit," Kelly remarked.

"Scott's contributions to NASA are too many to name," said Brian Kelly (of no relation), the director of Flight Operations at NASA's Johnson Space Center in Houston. "His passion for this work has helped to give hundreds of thousands of people a better understanding of what NASA does."

In a letter posted on Facebook on Friday, Scott Kelly wrote that he was "grateful for the remarkable twenty years spent as an astronaut" and that his "journey was not over."

"Our universe is a big place, and we have many millions of miles yet to explore. My departure from NASA is my next step on that journey," Kelly stated. "To continue toward any journey, we must always challenge ourselves to take the next step."