March 7, 2016
— "It was just overwhelmingly beautiful."

Those words, spoken by astronaut Samantha Cristoforetti in the newly-released movie trailer for "A Beautiful Planet," summarize the IMAX 3D film opening on April 29.

"Beautiful Planet," narrated by actress Jennifer Lawrence, features footage of the Earth as filmed by Cristoforetti and her fellow crew members on board the International Space Station. IMAX made the film in cooperation with NASA.

"A crew of astronauts from around the globe capture the wonders of our world as few can," states Lawrence. "From this unique vantage point, we gain insight into the impact we have on the environment and witness what humankind can accomplish when we work together."

The new trailer features scenes of Cristoforetti, who is an astronaut with the European Space Agency, together with Terry Virts and Kjell Lindgren of NASA, and Kimiya Yui of the Japan Aerospace Exploration Agency (JAXA), floating inside the space station, interspersed with sweeping views of the Earth rotating below.


"The best part of being an astronaut is looking back at our home planet — especially at night. The cities are so bright and so vibrant and so colorful," remarks Virts.

"On the Earth, we have everything we need to survive, air to breath and food and water to sustain life. It is incredible the effort that was needed to design this [space station] life support system flying around the planet," he says.

"A Beautiful Planet" is IMAX's eighth movie to be produced using its cameras in space. Director Toni Myers' previous space films include "Hail Columbia," "The Dream is Alive," "Destiny in Space" and "Mission to Mir." Her most recent documentaries were "Space Station 3D" and "Hubble 3D."

Prior to "A Beautiful Planet," Myers looked back at Earth in the 1990 IMAX film, "Blue Planet."

"It is a giant universe out there, there's lots of stars, lots of planets, but there is no where like Earth," says Virts in the trailer for "A Beautiful Planet."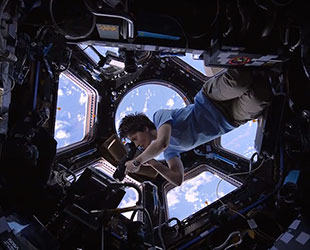 Astronaut Samantha Cristoforetti, inside the space station cupola, photographs the Earth in "A Beautiful Planet."
(IMAX)
"Looking at Earth from space, we need to start to consider ourselves more as crew members, not passengers," says Cristoforetti.

Virts, Cristoforetti and cosmonaut Anton Shkaplerov lifted off to the space station in November 2014 for a six month mission. NASA astronauts Kjell Lindgren, Butch Wilmore and Scott Kelly, the latter who just returned after nearly a year in space, also took turns behind the digital camera for the movie.

Through their footage, IMAX invites the public "aboard the International Space Station for an incredible journey."

"Explore the challenges we face and the changes we can make to secure our future," says Lawrence.