March 6, 2020
— The final flight of a SpaceX first-generation Dragon capsule is now underway, crowning a decade of launches that began with the world's first orbital mission by a commercial spacecraft.

Poised atop a Falcon 9 rocket, the gumdrop-shaped Dragon lifted off on Friday (March 6) at 11:50 p.m. EST (0450 GMT March 7) from Complex 40 at the Cape Canaveral Air Force Station in Florida. The launch marked the start of SpaceX's 20th NASA-contracted mission to resupply the International Space Station (ISS) and its 22nd flight of a Dragon (1) since the first of two demo missions in 2010.

"We're really proud what we did with Dragon 1," said Hans Koenigsmann, SpaceX's vice president for build and flight reliability, in a pre-flight media briefing at NASA's Kennedy Space Center in Florida on Friday.

After delivering the Dragon to altitude during the first two minutes of flight, the Falcon 9 first stage then touched down at SpaceX's Landing Zone-1, achieving the company's 50th successful recovery of a rocket booster since 2015. The same first stage previously flew with the penultimate CRS-19 Dragon in December 2019.

Friday's launch was also SpaceX's last under NASA's first Commercial Resupply Services (CRS) contract. With its next payload delivery to the station, SpaceX will begin using a cargo-configured version of its new, more capable Crew Dragon (or Dragon 2) spacecraft under NASA's CRS-2 contract.

"The [new] cargo Dragon is little bigger than the current Dragon 1 and has more volume at the same up-mass that we currently have," said Koenigsmann, adding that the new Dragon 2 can also autonomously dock to the station.

Packed with science research, equipment and supplies, the uncrewed CRS-20 Dragon will be robotically berthed to the station on Monday morning (March 9).


The capsule will remain attached to the Earth-facing port of the Harmony node for about four weeks as the station's Expedition 62 crew unloads it of its cargo, including a new ESA (European Space Agency) facility, Bartolomeo, which will be mounted to the exterior of the Columbus module and commercial experiments by Adidas and Delta Faucet to be performed as part of the U.S. ISS National Lab.

Once emptied, the Dragon will be repacked with science results and refuse for return to Earth. The spacecraft will be released from the space station to re-enter the atmosphere and descend under parachutes to a splashdown off the coast of southern California for its recovery and return to shore.

And with that, SpaceX's use of the Cargo Dragon (Dragon 1) spacecraft will end.

"We have eight years of [NASA-contracted] service and 520 days attached to the space station, and that's not counting this one [CRS-20]," said Koenigsmann. "It is a pretty major accomplishment, in my opinion."

Over the course of the 20 CRS-1 missions, Dragon capsules were used to deliver approximately 94,000 pounds (43,000 kilograms) of cargo to the space station and returned 74,000 pounds (33,500 kilograms) to Earth.

"SpaceX was the first U.S. commercial provider to bring a visiting vehicle, berth it to the International Space Station and return cargo home," said Joel Montalbano, NASA's deputy manager for space station program.

In total, SpaceX built 13 first-generation Dragon spacecraft, of which one was lost in a launch failure in 2015 and six were serviced and re-flown at least once. Three of the Dragons flew three missions each, including the CRS-20 spacecraft, which was previously used for the CRS-10 and CRS-16 missions in February 2017 and December 2018, respectively.

"We learned a lot on the Dragon 1," said Koenigsmann. "With Dragon, we became a space operator. We have a team that is very capable of operating spacecraft."

Dragon 1 taught SpaceX how to work with NASA, how to use parachutes to return from space and how to recover spacecraft from the ocean. It also gave the company experience servicing the Dragon for reuse, a lesson it will need for the spacecraft's successor, Koenigsmann said.

"All in all, Dragon 1 had a great career," he said. "We are really proud how it contributed to the important science on the ISS, we are grateful to NASA for the ongoing support and we're looking forward to the continued success of Dragon."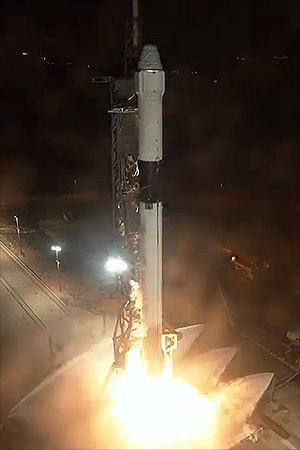 A SpaceX Falcon 9 rocket launches from Complex 40 at the Cape Canaveral Air Force Station, Florida with the last first-generation Dragon cargo capsule to resupply the International Space Station, Friday, March 6, 2020. (SpaceX)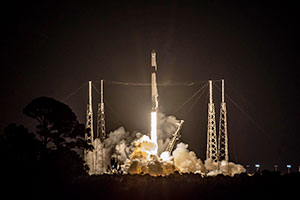 The last flight of SpaceX's first generation Dragon cargo spacecraft launches to resupply the space station, March 6, 2020. (SpaceX)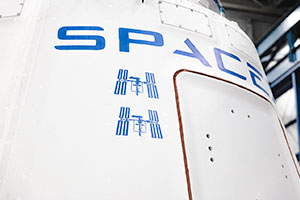 Markings on SpaceX's CRS-20 Dragon indicate that the spacecraft flew two prior missions to the space station. (SpaceX)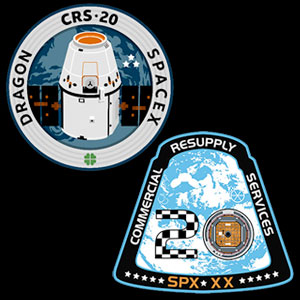 SpaceX and NASA CRS-20 Dragon flight patches. (SpaceX/NASA)