February 19, 2017
— For the first time since 2011 and the retirement of the space shuttle, a rocket on Sunday (Feb. 19) lifted off from NASA's Launch Pad 39A, the historic site in Florida where astronauts departed for the moon.

A SpaceX Dragon spacecraft, loaded with 40 live mice and other research for the International Space Station, leapt off Pad 39A at Kennedy Space Center atop a Falcon 9 rocket at 9:39 a.m. EST (1539 GMT). About eight minutes later, as the Dragon cargo capsule flew into orbit, the Falcon 9's first stage landed at the Cape Canaveral Air Force Station, achieving SpaceX's eighth experimental propulsive landing (the third on land and the first of which during the day).

The launch marked the beginning of a new chapter for the Apollo and shuttle complex.


"This pad would have just sat here and rusted away in the salt air had we not had the agreement with SpaceX," said Bob Cabana, Kennedy Space Center director and a former astronaut who launched on four shuttle missions from Pad 39A. "What an awesome use of a great American asset."

"This is probably the most exciting launch for me," SpaceX president Gwynne Shotwell said. "Because it's with NASA, which has been such an extraordinary partner for us in our journey here, and because where we are launching from."

Of mice and (moon) men

Sunday's Falcon 9 became the 95th rocket to launch from Pad 39A since 1967, following 12 Saturn V moon boosters and 82 shuttles. Apollo 8, the first mission to fly astronauts to the moon, and Apollo 11, the first flight to land humans on the lunar surface, both began their iconic journeys from Pad 39A.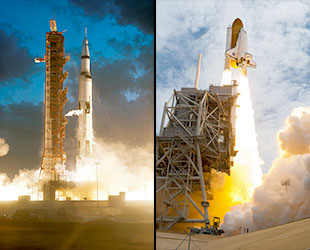 Prior to SpaceX's first Falcon 9 lifting off from Pad 39A, the Apollo 4 Saturn V launch (left) and STS-135 space shuttle lift off were the first and last to leave39A in 1967 and 2011, respectively.
(NASA)
As did STS-1, the maiden launch of the space shuttle, and STS-135, the final mission, which like the Dragon, lifted off for the International Space Station.

Launched on SpaceX's 10th commercial resupply services (CRS-10) mission for NASA, the Dragon is now on its way to a rendezvous with the outpost on Wednesday (Feb. 22), bringing about 5,500 pounds (2,500 kg.) of equipment and experiments for the station's Expedition 50 and 51 crews.

"We have really dedicated this Dragon mission to research and it's chock full," Dan Hartman, NASA's deputy manager for the space station program at Johnson Space Center in Houston, said on Friday. "The crew is really going to enjoy the science we are bringing up."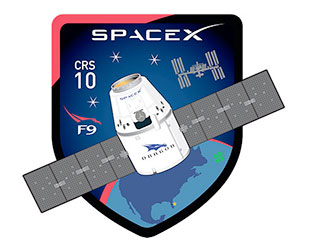 SpaceX's CRS-10 Dragon space station mission patch.
(SpaceX)
In addition to the mice, which will be used for a study into what prevents vertebrates from regrowing bone and tissue, the Dragon's payload includes an autonomous rendezvous technology demo and research using a lethal pathogen to support antibiotic drug development.

The Dragon will remain connected to the space station for about a month before splashing down on Earth, re-packed with experiment results and no longer needed equipment.

Building on its heritage

SpaceX signed a 20-year lease for Pad 39A in 2014. Since then, it has worked to modify the complex to be compatible with its Falcon rockets.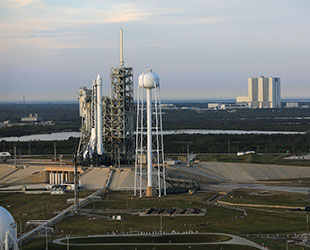 Aerial view of SpaceX's Falcon 9 rocket standing poised for launch atop NASA's Launch Pad 39A at Kennedy Space Center in Florida. The Vehicle Assembly Building is seen in the background.
(NASA)
The company added new propellent, data and power lines, modified the flame trench, erected a horizontal integration hangar at the base to process its rockets and designed a transporter erector launcher (TEL) to move the boosters to the launch platform and stand them vertical for flight.

"We had to make a lot of infrastructure and ground system upgrades to make this a modern day launch pad," Jessica Jensen, SpaceX's mission manager for Dragon, said. "We wanted to do that while also preserving its heritage."

SpaceX still has more work to do the pad to get it ready to fly astronauts to the station — and beyond. A crew access arm will be added before the end of the year and a shuttle-era gantry, the rotating service structure, is in the process of being removed.

"We're pulling it down piece by piece," said Shotwell.

SpaceX plans to use Pad 39A to launch its more powerful Falcon Heavy rockets beginning as soon as this summer. Its first Crew Dragon test flight without astronauts is slated for late 2017.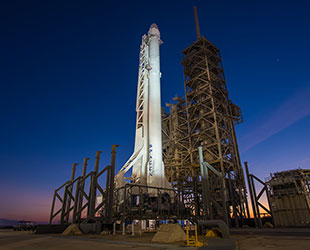 SpaceX's Falcon 9 rocket with the CRS-10 Dragon is seen standing poised for launch atop NASA's historic Pad 39A.
(SpaceX)
Crewed missions to the space station are slated to begin in 2018, though a report from the Government Accounting Office warned that the first flights could slip another year.

"Provided [Crew] Dragon demo missions go well, SpaceX is highly confident of being able to fly astronauts in 2018," wrote Elon Musk, SpaceX CEO and chief technical officer, on Twitter on Saturday.

SpaceX ultimately intends to use Pad 39A to launch future missions to Mars, with designs on settling the Red Planet, adding to the site's heritage.

"We are proud and extremely honored to be launching off the historic Apollo and space shuttle launch pad at 39A," said Jensen. "It is very humbling to walk out to the pad and see the Falcon 9 standing up next to the 39A tower. It is a sight to see."