Full Coverage: Sanford & Son's spacecraft
Article index:
---

Sanford & Son sells Soviet spacecraft

March 5, 2003 — With an opening bid of $5,000, the Soviet Foton 6 satellite/spacecraft auctioned tonight by Sanford & Son was sold to an unidentified bidder for a reported hammer price of $31,000.

Additional details about the spacecraft's history have emerged, courtesy the description published by Superior Galleries in their auction catalog in October 2000:

The satellite was purchased at auction in Paris on April 23, 1992. Slava Cosmos was designated by the Space Museums Association of the USSR as its agent at the sale. The satellite was sold for 1 million francs (about $200,000 at the time) to a buyer in the United States.
After failing to sell despite a bid of $69,000 in October 2000, the Foton 6 satellite was placed on display at the Santa Monica Museum of Flying in California.


---
Sanford & Son to sell Soviet spacecraft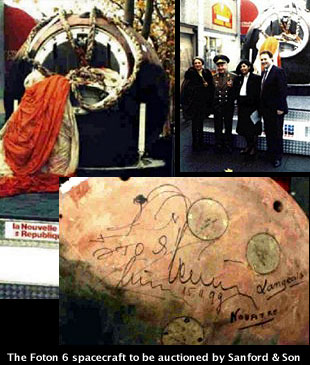 March 3, 2003 — It's a story that could be made for TV: a Soviet spacecraft that circled the Earth with French experiments lands in Siberia and ultimately ends up for sale by an American junk dealer.

Yet that's exactly what has transpired, according to Alan Gorsuch of Sanford & Son.

No, not the 70s sitcom; rather Sanford & Son Antiques and Auctions in Tacoma, Washington.

On Wednesday, March 5, Sanford & Son will host a no-reserve auction that among artwork and scientific instruments, will feature a 7.5 foot diamater, 2.5 ton Foton capsule.

Launched April 11, 1990, Foton 6 carried Russian, French, and European science experiments on a 250 orbit, 15 day unmanned mission. Recovered in Siberia on April 26, 1990, having traveled 7.4 million miles, its adventure was only beginning.

According to the auction house, the Foton 6 spacecraft toured Europe for a number of years before departing for the United States. "It came over here during the Goodwill Games," said owner Mike O'Dell in an interview with KOMO TV. When the French company funding the US tour couldn't meet their storage bills, O'Dell decided to auction the satellite to recoup expenses.

The capsule, which is accompanied by its original reentry parachute, is also autographed by Gherman Titov, the second person to orbit the Earth. It comes with a custom flatbed trailer for transport and display, as well as a custom-made metal shipping capsule.

Sanford & Son will sell the spacecraft Wednesday with no minimum or reserve, though a 10% buyer's premium applies. Interested buyers can participate in-person, or through phone, fax, and the Internet at tradermick.com.

Though the details and timeline are not clear, this same Foton satellite may have been auctioned by Superior Galleries of Beverly Hills in October 2000. At the time, it was expected to sell for $100,000 to $150,000, but the highest bid received was $69,000.
back to News



© 2023 collectSPACE.com All rights reserved.
Questions? E-mail contact@collectspace.com