March 2, 2019
— For the first time, a U.S.-built commercial spacecraft capable of carrying astronauts is now on its way to the International Space Station.

SpaceX on Saturday (March 2) launched its first Crew Dragon on a uncrewed test flight to demonstrate its ability to safely fly to and from the space station, prior to doing the same with NASA astronauts on board. The Demo-1 (DM-1) Dragon lifted off atop a SpaceX Falcon 9 rocket at 2:49 a.m. EST (0749 GMT) from Pad 39A at the Kennedy Space Center in Florida.

"Tonight was a big night for the United States of America, a great night for NASA. What today really represents is a new era in spaceflight," said NASA Administrator Jim Bridenstine at a post-launch press conference.

The early morning launch, which culminated in the Crew Dragon being deployed into Earth orbit 11 minutes after liftoff, set up a scheduled rendezvous with the space station approximately 24 hours later on Sunday. SpaceX flight controllers oversaw the vehicle's ascent from Firing Room 4 inside NASA's Launch Control Center (LCC), continuing the room's Apollo and space shuttle program-use legacy.

"That was super stressful, but it worked so far. We have to dock to station and come back, but so far it has worked. We have passed some of the riskiest items," said SpaceX CEO Elon Musk.

First revealed in 2014, SpaceX's Crew Dragon builds off the capsule design that the Hawthorne, California-based company has been using to fly cargo for NASA for seven years. The Crew Dragon adds an environmental control and life support system and a launch escape system, the latter capable of carrying the Dragon to safety during its climb to orbit or in the event of a catastrophic problem on the pad.

"Early Dragon 1 had a window on the side and this was clearly a hint to everybody that we wanted to fly humans into space," said Hans Koenigsmann, SpaceX's vice president for build and flight reliability, at a pre-launch press conference on Thursday. "We want to do this, this is our goal, this is why we are actually here. So clearly this is super important for us and incredible."

For DM-1, the Crew Dragon is transporting 450 pounds (200 kilograms) of supplies and equipment for the space station's Expedition 58 crew. In addition, the capsule is loaded with mass simulators and is carrying an anthropomorphic test device (ATD), a "dummy" fitted with sensors around its head, neck and spine to gather data ahead of SpaceX's second Crew Dragon demo mission, DM-2, with NASA astronauts on board.

"With respect to the 'dummy,' it's actually a smarty, right? It has lots of sensors, so we call it a smarty," said Koenigsmann, adding that the ATD was dubbed "Ripley" after actress Sigourney Weaver's character in the "Alien" movie franchise.

Live camera views from on board the Dragon provided a look at Ripley, garbed in SpaceX's black and white spacesuit and strapped into one of the spacecraft's four seats, during the launch. The broadcast also showed a small plush toy Earth with a face, hands and feet placed there to float loose in the cabin.

"Super high tech zero-g indicator added just before launch!" joked Musk on Twitter prior to the launch.

Once the Dragon catches up with the space station in orbit, it will execute a series of autonomous maneuvers to approach a link up with an international docking adapter (IDA) mounted to the end of the station's space shuttle-era Pressurized Mating Adapter-2 (PMA-2).

"On the approach, the vehicle will come in to about 150 meters [490 feet] on the V-bar [Velocity-bar or vector]," said Joel Montalbano, NASA's space station program deputy manager. "As it comes a little closer, the [space station's] crew will test a retreat command. The vehicle will move back out to about 180 meters [590 feet] or so and sit there for about ten minutes. This is all part of the testing we do to insure the safety of the space station."

"Then [the Dragon] be commanded in," he explained. "It will do one more stop at about 20 meters [65 feet] for a little bit. Again, just to do some testing, making sure everything is good to go. Then it will come in for docking."

About two hours after the Dragon arrives at the space station, Expedition 58 flight engineer Anne McClain of NASA and commander Oleg Kononenko of Roscosmos will open the spacecraft's hatch, beginning five days of docked operations.

The Crew Dragon is slated to undock from the space station on Friday (March 8) at approximately 2:30 a.m. EST (0730 GMT). About five hours later, the spacecraft will conduct a 15-minute de-orbit burn, beginning its return to Earth.

The capsule will re-enter the atmosphere, deploy parachutes and splash down in the Atlantic Ocean off the coast of Florida at about 8:45 a.m. EST (1345 GMT), marking SpaceX's first Dragon recovery on the east coast of the United States.

Pending the DM-1 mission going as planned, SpaceX is scheduled to conduct an in-flight abort test using the same spacecraft later this spring. The DM-2 crewed mission would then follow, flying NASA astronauts Bob Behnken and Doug Hurley for a short duration visit to the space station no earlier than June.

"We are taking the opportunity with this Demo-1 flight to learn all that we can in preparation for our upcoming crewed flight," said Hurley. "It really is our chance, not to be on board, but to be with the rest of the team that will support us when we fly on the vehicle."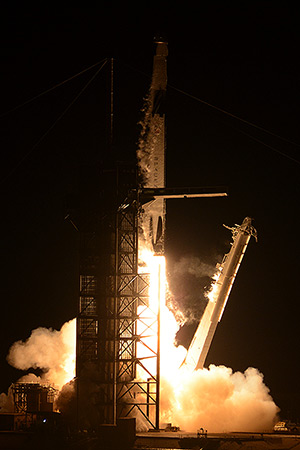 SpaceX's first Crew Dragon launches atop a Falcon 9 rocket on the Demo-1 mission to the International Space Station from Pad 39A at Kennedy Space Center in Florida, March 2, 2019. (collectSPACE)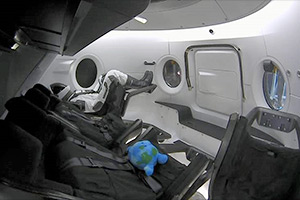 Video frame of SpaceX's anthropomorphic test device "Ripley" and a Celestial Buddies Earth inside of Crew Dragon. (SpaceX)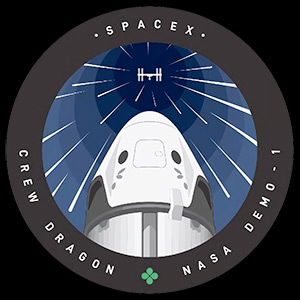 SpaceX's Crew Dragon Demonstration-1 mission patch. (SpaceX)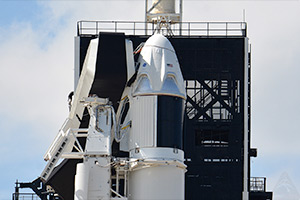 SpaceX's Demo-1 Crew Dragon seen atop Pad 39A at the Kennedy Space Center in Florida on March 1, 2019. (collectSPACE)