Feb. 22, 2019
— NASA has given its "go" for the launch of the first crew-capable SpaceX Dragon spacecraft to fly to the International Space Station.

SpaceX's Demonstration Mission 1 (DM-1) is set to fly a Crew Dragon on a six-day test flight to and from the space station. The uncrewed mission is scheduled to lift off atop a SpaceX Falcon 9 rocket from Launch Complex 39A at NASA's Kennedy Space Center in Florida on March 2 at 2:49 a.m. EST (0749 GMT) and dock to the orbiting outpost the next day.

The DM-1 mission will mark the first time that a commercially built and operated U.S. rocket and spacecraft designed for humans will launch to the space station.

"This is an absolutely critical first step as we move towards eventually returning crewed launch capability back here to the U.S., so it's just a very, very exciting day today," said Bill Gerstenmaier, NASA's associate administrator for human exploration and operations, at a press conference following the completion of the DM-1 flight readiness review on Friday (Feb. 22).

"We're go for launch, we're go for docking," said Gerstenmaier. "It is great starting to get that feeling of launching again and getting ready to go fly."

The DM-1 flight will test the Dragon's avionics and life support systems before SpaceX launches a crewed test flight, Demo-2 (DM-2), currently targeted for July. Among the DM-1 mission objectives are to determine the stress loads across the exterior and interior of the spacecraft and demonstrate launch escape, or abort, trigger monitoring. (SpaceX plans a separate in-flight abort test before DM-2 flies.)

The mission will also gauge the acoustic and vibration levels aboard the Dragon, in part by flying an anthropomorphic test device (ATD), or "dummy."

"There is a — should I say 'dummy,' is that the right word? Puppet, dummy, ATD, whatever, it is in there and it will measure the responses on the human body and measure the environment. We want to make sure that everything is perfect for the safety of the astronauts," said Hans Koenigsmann, SpaceX's vice president for build and flight reliability, adding that the ATD will be dressed in the same type of spacesuit that astronauts will wear aboard the Dragon.

"There is nothing like actually flying a mission to be able to really check out all the key systems that we will need to be exercising to get ready for our next mission," said Kathy Lueders, NASA's Commercial Crew Program manager. "Even though this is a test mission for us, getting ready to fly our crew test flight, we have also been very aware this is a mission and a vehicle that is going to the space station."

"We need to make sure it can safely rendezvous and dock with the space station, and undock safely, and not pose a hazard," she said.

Though the flight readiness review (FRR) ended with a decision to go for flight, the teams have one more issue to close out before DM-1 can safely fly to the station.

"We still carried out of this review one action," said Gerstenmaier. "We want to go look at how the software operates when we are on [approach to] the space station and how all that works, how the abort scenario works and what triggers can occur. So there was an action assigned to go look at that."

As a partner in the station, Roscosmos raised a concern about how the Dragon is controlled in proximity to the complex.

"We had a dissenting opinion from one of our international partners, so we will continue to work that," said Gerstenmaier. "I don't think it'll be a problem once we go through the details of why it's safe, and we can explain to them the details of why we're moving forward."

DM-1 will deliver supplies for the station's crew and return with science samples, as well as a failed part of a spacesuit for analysis and repair. The Dragon will complete its mission with a splashdown under parachutes in the Atlantic Ocean, off the coast of Florida.

Despite the results of the FRR, Gerstenmaier said he was sure that not everything would work exactly right, but "that's cool, that's exactly what we want to do. We want to maximize our learning so we can get this stuff ready, so when we put crew on we are ready to do a real crew mission."

Even if DM-1 is a success, there is still work to be done to complete the testing of the parachutes and to understand the parameters of the Dragon's thrusters before the spacecraft can be considered ready to fly astronauts, Gerstenmaier explained.

For his part, Koenigsmann said his company was thrilled to reach this milestone.

"Human spaceflight is the core mission of SpaceX, so we are really excited to do this. There is nothing more important for us than this endeavor. We really appreciate the opportunity from NASA to really do this and have a chance to fly up to the station," he said.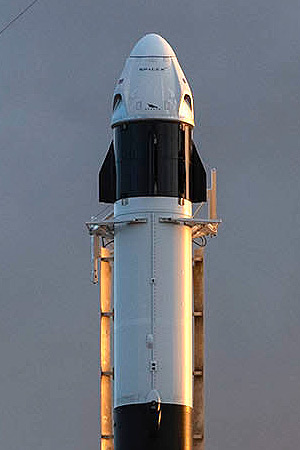 SpaceX's Crew Dragon stands poised atop a Falcon 9 rocket on Launch Complex 39A at NASA's Kennedy Space Center in Florida ahead of a static fire engine test in January 2019. (SpaceX)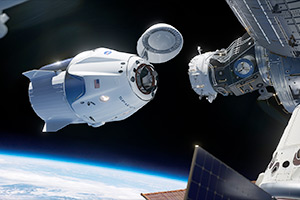 Artist's rendering of SpaceX's Crew Dragon approaching a docking at the International Space Station. (SpaceX)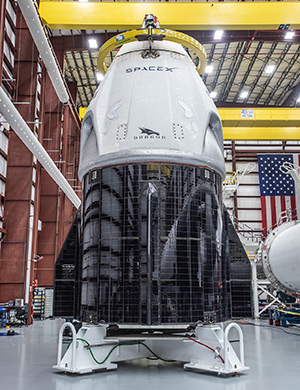 SpaceX's Crew Dragon is seen being prepared for Demonstration Mission 1 (DM-1), scheduled to launch in March 2019. (SpaceX)