Kraft takes Flight on nationwide book tour

March 1, 2001 — Despite his namesake, Christopher Columbus Kraft, Jr. could not have known as a child that he would someday be one of the pioneers in the U.S. space program. After all, the program did not yet exist.

But when NASA was founded and he was approached to become a part, Kraft knew it was an opportunity he could not pass up.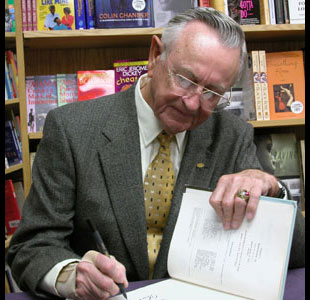 Flight: My Life In Mission Control (Dutton; on-sale: March 5, 2001; $25.95) follows Kraft's career from his early days at the National Advisory Committee for Aeronautics (NACA) to his work as one of the original members of NASA's Space Task Group managing Project Mercury.

As flight director for all of the Mercury missions, most of the Gemini missions and Director of Flight Operations for most of the Apollo missions, Kraft takes the reader into the behind-the-scenes intrigue, near-disasters, calculated gambles and flat out luck that accompanied each flight. In the process, he shares his perspective on key events in space history, including:

why he considers Scott Carpenter's Aurora 7 mission nearly disastrous.


his perspective on why Neil Armstrong was chosen over Buzz Aldrin to be the first man on the moon


more on the memorabilia scandal that resulted in the suspension of a number of astronauts
Kraft shows just what can be accomplished even when the odds are against you. He offers a new perspective to those who were present and a detailed expose for those who grew up only hearing about what it was like. And by looking at what came before, he offers his insight on what may lay in store for the future of space exploration.


---
Chris Kraft will be giving all his proceeds from Flight to the NASA Johnson Space Center Scholarship Fund.
---

Here are the dates and locations for Kraft's book tour:


| | | | | | | |
| --- | --- | --- | --- | --- | --- | --- |
| Date | | Time | | City | | Location |
| | | | | | | |
| 3/07 | | 4:00pm | | Houston, TX | | Arts Alliance |
| 3/10 | | 5:00pm | | Galveston, TX | | Hastings |
| 3/15 | | 7:30pm | | Corte Madera, CA | | Book Passage |
| 3/16 | | 7:30pm | | San Jose, CA | | Barnes & Noble |
| 3/22 | | 7:00pm | | Dallas, TX | | Borders Books & Music |
| 3/24 | | 1:00pm | | Vero Beach, FL | | Vero Beach Book Center |
| 3/25 | | 12:00pm | | Kennedy SC, FL | | KSC Visitors Complex |
| 3/29 | | 1:00pm | | Washington, DC | | Air & Space Museum |
| 3/30 | | 4:00pm | | Norfolk, VA | | Norfolk Naval Base |
| 3/31 | | 8:30am | | Hampton, VA | | Virginia Air & Space Center |
| 4/05 | | 7:30pm | | Webster, TX | | Barnes & Noble |
| 4/24 | | 1:30pm | | Houston, TX | | Johnson Space Center |
back to News



© 2018 collectSPACE.com All rights reserved.
Questions? E-mail contact@collectspace.com