John Glenn honored with postage stamp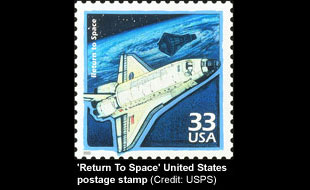 February 5, 2000 — Senator John Glenn's 1998 flight on the space shuttle Discovery was honored today when a new commemorative postage stamp was unveiled by the United States Postal Service in the rotunda at the Mall of America in Bloomington, Minnesota.

The "Return to Space" stamp was selected by the public during nationwide public voting in May 1999 as one of 15 stamps saluting the 1990s. The postage stamps, part of the USPS Celebrate The Century program, are scheduled to be released on May 2, 2000, in San Diego, California.

"John Glenn's return voyage did more than advance our knowledge, it lifted our spirits," said Deborah Willhite, Senior Vice President, Government Relations and Public Policy, who unveiled the stamp.

"It also reawakened our interest in space, inspired millions young and old and cemented John Glenn's place as one of the world's greatest astronauts," she said.

Joining Willhite at the unveiling ceremony were astronaut Timothy J. Creamer and Wayne Rogers, USPS Northland District Manager.

In 1962, on-board the Mercury Friendship 7, John Glenn became the first American to orbit the Earth. He returned to space 36 years later at the age of 77 to help scientists investigate similarities between the effects of low gravity environments and aging.

The national unveiling of the Return to Space stamp is part of a "Government on Display Exposition" held today and tomorrow at the Mall.

Drew Struzan of Pasadena, Calif., illustrated the Return to Space stamp. Howard Paine of Delaplane, Va., was the art director.

In addition to Glenn's stamp, other subjects chosen for the 1990s commemoratives were: cell phones, Titanic, recovering species, World Wide Web, Jurassic Park, sport utility vehicles, Gulf War, Special Olympics, virtual reality, new baseball records, computer art and graphics, extreme sports, improving education and Seinfeld.

The Celebrate The Century program honors the people, places, events and trends of each decade of the passing century. Over a two-year period the public was offered opportunities to vote for stamps subjects celebrating the 1950s through the 1990s.

Each decade-specific ballot offered a total of 30 choices in five categories. The top two in each category, along with the next five highest overall, become stamps for 15 stamps per 10-year period. The Citizens' Stamp Advisory Committee recommends all stamp subjects and designs to the Postmaster General for final approval. The CSAC also selected the stamps to honor the 1900s through the 1940s.

The Celebrate The Century stamp series concludes May 2 with the issue of the 1990s stamps. The 1900s -1980s stamps are now available at nationwide post offices. The stamps can be ordered online at www.stampsonline.com.