Auction to launch with rocket mail

January 28, 2003 — Aurora Galleries will dedicate ten percent of its next space memorabilia auction, over 150 lots, to "rocket mail" that has reached the upper reaches of the atmosphere and beyond. Scheduled for May 31 to June 1, 2003, in Los Angeles, California, the auction will be Aurora's third since opening their doors in April 2002.

According to Aurora, their rocket mail auction will differ from others due to its size and scope. "[This] is one of the largest rocket mail offerings to come on the market in years. What is especially important is that these 150 + lots... include only better covers, offered either singly or in related pairs/groups."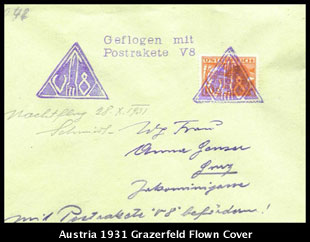 Covers are envelopes that are stamped and cancelled to mark key dates and events. Rocket mail, as its name implies, are covers and other philatelic items that were delivered to a location by rocket.

Aurora's sale includes covers from Australia, Austria, Belgium, Cuba, France, Germany, Great Britain, Holland, India, Yugoslavia, Poland, Sikkim, Sweden and the United States. Most are mounted on exhibition album pages with descriptive text and are in pristine condition, excluding any damage that resulted from their flights.

Highlights include:

Austrian 1938 Grazerfeld cover valued at $1,000;
Cuban 1939 Havana cover also valued at $1000;
German 1931 Dielingen cover (widely known as a "Tilling card") at $2,500;
two 1935 Furstenwald covers at $2000; and
two different "All-India Scout Jamboree covers catalogued at $1400 each.
According to Aurora, with the exception of the rare Austrian "trial" and US "cartoon" covers, "virtually every important rocket cover is included in this collection."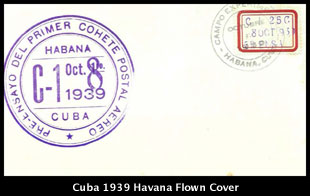 The auction will also include a rocket related "propaganda leaflet" collection with over 200 examples from Germany, England, France, Poland, and the United States. Intended for delivery by rocket, several have scorch marks around their edges. According to Aurora, this is thought to be one of the largest collections of its type ever offered.

Also featured is are 17 documents all pertaining to Rudolf Vohrmann, an electrical engineer who worked in Germany on the V-2 rocket, who saved research papers before the facility he was at could be demolished. The collection has both pre- and post- World War II documents.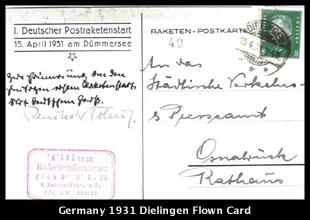 Aurora will be reprinting a limited edition version of Bill Kaufmann's two-part 1996 update to the American Air Mail Society's "E-Z catalog", considered by collectors to be the most comprehensive published guide to rocket mail. Long out of print, Aurora will be making the reprints available at no charge to successful bidders and for a nominal fee to others.
back to News



© 2023 collectSPACE.com All rights reserved.
Questions? E-mail contact@collectspace.com