Air and Space's Garber ceasing tours

January 26, 2003 — The Paul E. Garber Preservation, Restoration and Storage Facility of the Smithsonian's National Air and Space Museum, home since the mid-1950s for much of the museum's reserve collection of aviation and space artifacts, will cease conducting public tours effective March 31.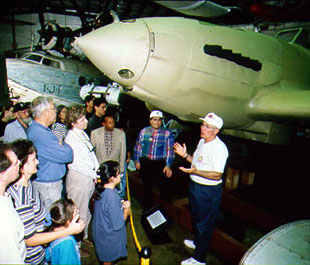 Workers at the popular Suitland, Maryland attraction, which houses many rare and one of a kind artifacts, will begin devoting all of their time to preparing artifacts for the move to the museum's Steven F. Udvar-Hazy Center, being constructed at Dulles Airport in Virginia.

Gen. Dailey, director of the museum said, "In order to open the [Udvar-Hazy] in time for the centennial of flight, we must begin the process of transporting and installing the scores of aircraft and spacecraft that will dynamically depict the history, science and technology of flight. Beginning on Dec. 15, 2003, visitors to the National Air and Space Museum will be able to experience more than ever before - more to see, more to do and more to learn."

Among the anchor artifacts to be at the Udvar-Hazy will be the shuttle Enterprise, a Lockheed SR-71 Blackbird reconnaissance aircraft, a rare Boeing 307 Stratoliner, and the Boeing B-17 Swoose. More than 70 aircraft and 50 spacecraft artifacts will be on display for the opening.

The museum's flagship building on the National Mall and the Udvar-Hazy Center will together comprise the world's largest air and space museum complex.

The Udvar-Hazy will eventually house the 80 percent of the museum's collection that has not been accessible to the public. It will also include an observation tower, IMAX theater, classrooms and a learning lab, and a food court.

Garber had been used as a preservation, storage and research facility until 1977 when some of the buildings were opened to the public for "no frills" tours. Visitors will be able to tour the Garber Facility until the end of March, but are asked to make arrangements in advance.

Located at 3904 Old Silver Hill Road, the facility offers tours Monday through Friday at 10 a.m. and Saturday and Sunday at 10 a.m. and 1 p.m.

Paul Garber (1899-1992), who was associated with the Smithsonian Institution for 72 years, was responsible for the acquisition of some of the National Air and Space Museum's most significant artifacts, including the Spirit of St. Louis. The first curator of the museum, Garber retired as historian emeritus and was the museum's first Ramsey Fellow.


---
For reservations and information, visitors can call (202) 357-1400 (voice) or (202) 357-1505 (TTY) between 9 a.m. and 3:15 p.m., Monday through Friday.
back to News



© 2023 collectSPACE.com All rights reserved.
Questions? E-mail contact@collectspace.com