Apollo 13's Lovell to sign for collectors

January 25, 2001 — In a rare departure from his "book only" signing policy, Gemini and Apollo astronaut James Lovell will autograph memorabilia in conjunction with a book signing to be held on April 7 in Tucson, Arizona. The one-day, one-time only appearance was announced today by event host and organizer Novaspace Galleries.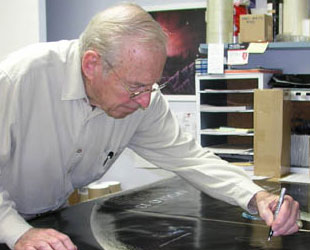 "We are humbled that Capt. Lovell will come to Tucson and sign for us," said Novaspace owner Kim Poor in an interview with collectSPACE. "We've been working on this for four years. It's been over two years since Gene Cernan and Alan Bean were here, and I thought we had seen the last of Apollo astronaut appearances... but here we go again!"

During his public appearance at the gallery, Lovell will only sign copies of the 30th anniversary edition of his book Apollo 13 purchased from Novaspace. However, collectors who arrange to mail memorabilia in advance to the gallery will have an opportunity to have their items autographed by Lovell during a private, staff-only session to be held at an unspecified time and location.

Novaspace will accomodate suggestions of pen color, placement, personalizations and inscriptions, though the latter will be subject to approval by Lovell. Likewise, baseballs, baseball caps, and non-space related items will not be accepted. All pre-approved items, up to five per person, needs to arrive before a March 31 deadline.

Lovell will add his autograph to books, photographs, art and similar items for $75 each. For $10 additional, he'll personalize the autograph (e.g. "To Robert") or add his mission designation (e.g. "Apollo XIII CDR"). Fees will also apply for inscriptions ($10 per word with a maximim of 10 words), philatelic covers ($90), multi-signed items ($125), beta-cloth ($95) or the use of a metallic pen ($15).

Poor recommended that collectors interested in taking part of this offer should make contact sooner than later.

Says Poor, "Since we are a small gallery with limited staff, attendance will have to be prioritized to Novaspace customers first."

This event does not mark a change in how Lovell views requests for his autograph. He ceased signing anything but his autobiography after the release of the feature film based on his book, Apollo 13.

According to Poor, "one reason [Lovell] agreed to this signing is to take some of the pressure off his mail load, which his poor secretary has to answer."
back to News



© 2018 collectSPACE.com All rights reserved.
Questions? E-mail contact@collectspace.com